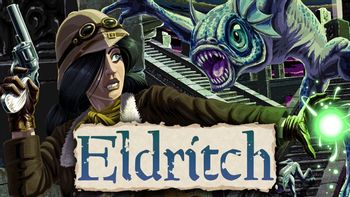 Eldritch
is a 2013
indie
video game developed by Minor Key Games for Windows, Mac and Linux. Its gameplay is a combination of
First-Person Shooter
and
Roguelike
(with some
Platform Game
and
Stealth-Based Game
elements), using
Minecraft
-like graphics.
It is set in the Cthulhu Mythos universe and requires the player character, an amnesiac librarian, to explore randomly generated levels in strange worlds in order to retrieve three souls, which are needed to open a library door leading to the final level. The world is separated into several parts:
The Library (hub)
Dagon

Nyarlathotep

Lost City of R'lyeh

The Endless Library (unlocked in the Library with the souls found in each of the other worlds)
A free update was released on December 19th, 2013, which adds The Mountains of Madness as a new world, complete with new enemies, traps, and weapons. You can find it on Steam here
.
There is also a Halloween-themed update, and a Timed Mission Bonus Level called the Asylum.
Unrelated to the same-name webcomic.
---
Eldritch features examples of the following tropes:
---