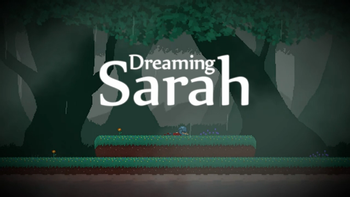 Dreaming Sarah is an exploration Platform Game made by Asteristic Game Studio
and inspired by Yume Nikki. You play as Sarah, a comatose girl who explores various dream worlds in a search for effects to advance further in the dream world and try to wake up.
The creator put the game on early access and released a version of the game on May 31, 2014. It was officially released on March 12, 2015. A demo of the game can be found here
.
Talks of a sequel began towards the end of 2017. In February 2018 it was officially announced and given the title Awakening Sarah. A trailer has been published
and a prototype
is available. Between both installments, a Game Boy interquel named Wishing Sarah
was released in 2020.
Has nothing to do with Dreaming Mary, despite the similar title and premise.
---
Dreaming Sarah contains examples of:
---