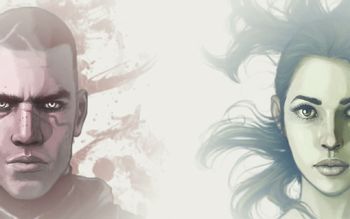 The third game of the The Longest Journey Saga, Dreamfall Chapters is the episodic sequel to the 2006 Action-Adventure game Dreamfall: The Longest Journey. Although announced back in 2007, it only entered pre-production in 2012
, since most of its key personnel (including the original creator, Ragnar Tørnquist) had their hands full with The Secret World. The game has been funded via Kickstarter
, raising over $1.5 million from almost 22,000 pledges, which was about 180% of the original goal. With the extra money it was possible to add Linux and Mac versions, new language localizations and more content to the game (resulting in a Director's Cut and developer commentaries), all of which had to be cut earlier in order to make room to a smaller goal. The first episode, Book One: Reborn, was released on 21 October 2014.
Had it reached $2M, the devs would have greenlit the pre-production of The Longest Journey Home (essentially, The Longest Journey 2 with April in the lead role, which is a conclusion of her story). While Tørnquist has stated that he one day hopes to release Home in some form, he also said that the project isn't happening for "a long, long time, if at all
."
The story takes place in 2220, picking up soon after the events of Dreamfall. The Dreamer Console that allows people to experience lucid dreams has been released to the public, and is a great success as many find themselves addicted to the new technology, which also seems to have some rather sinister side-effects that might not be entirely unintentional. Meanwhile, following the events of the previous game, Zoë Castillo lies in a coma, with her consciousness trapped in the realm of "Storytime". But the realm's mysterious caretaker, "the Vagabond", informs her that she must wake up to face a threat outside of Storytime that threatens all of existence. Upon waking, however, Zoë discovers that she suffers from partial amnesia. In effort to pick up the pieces and begin again, she moves to the dystopian megacity Europolis. Though she manages to carve out quite comfortable niche for herself, she finds herself increasingly caught up in shady events surrounding Europolis' upcoming parliament elections, and she has a nagging feeling that is something she really ought to remember...
In Arcadia, Kian Alvane is saved from a summary execution as the Marcurian resistance, seeking to recruit him, springs him from prison. With his new acquaintances' backing, Kian now has an opportunity to get to the bottom of the conspiracy that seems to fester within the Azadi leadership in Marcuria. But can a person with his past gain the trust of the same people he fought against? And who can he trust to help him?
The game consists of the five episodes:
Book One: Reborn (October 21, 2014)
Book Two: Rebels (March 12, 2015)
Book Three: Realms (June 25, 2015)
Book Four: Revelations (December 3, 2015)
Book Five: Redux (June 17, 2016)
A Updated Re-release, with the subtitle The Final Cut, was released in July 2017. It adds a graphical overhaul, new features such as maps in open world areas, and streamlines some quests.
Please put tropes concerning characters introduced in this game to its character list, and tropes common to the series to the series page.
---
Tropes found in the game:
---