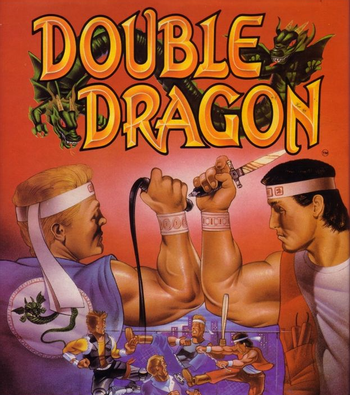 Double Dragon
was originally released as an arcade game in 1987 (having begun development as a sequel for
Renegade
). Though not the first
Beat 'em Up
, it was the genre's
Trope Codifier
, and its incredible popularity inspired numerous imitators in its day — and beyond.
Martial artists Billy and Jimmy Lee (or Hammer and Spike, as they were inadvertently renamed briefly in the U.S.) must rescue their lady friend Marian from the clutches of the Black Warriors, the dominant street gang of New York City. The Lee brothers must punch, kick, and jump their way through enemy forces across four stages to rescue her from the clutches of Willy, the leader of the Black Warriors. The original arcade game also had an infamous Twist Ending: if two players clear the game, they must fight to the death for Marian's love.
The NES port was developed in-house by Technos and published outside Japan by Tradewest in 1988. Because Technos was inexperienced in developing NES games at the time (having only ported Renegade to the NES prior to it), the arcade game's popular co-op two-player mode was omitted, replaced with a turn-based one and a "Mode B" one-on-one fighting mode where the player controls the Lee brothers or five enemy characters (with match ups being limited to mirror matches due to memory limitations). The game's plot was altered to fit this change: Billy ventures out on his own to save Marian, and fight his own brother Jimmy, who is now the "Shadow Boss" of the Black Warriors. The level designs were changed to make the adventure longer than the arcade game, and it added a Character Level feature (the player earns experience points by beating up enemies, which allows Billy to gain new techniques as he levels up).
Other versions of Double Dragon were released for the Sega Master System, Atari 2600, 7800, Game Boy, Genesis, Lynx and various home computer formats with varying degrees of quality. Atlus released a remake, titled Double Dragon Advance, for the Game Boy Advance in 2003; this remake integrated elements from the various sequels and console ports and also updated the combat system to more modern standards. In 2011, another remake (simply titled Double Dragon) was released for iOS and Android devices; Brizo Interactive, who also handled the rarely-seen Zeebo version released only in Brazil and Mexico, developed this remake.
---
Double Dragon provides examples of:
---