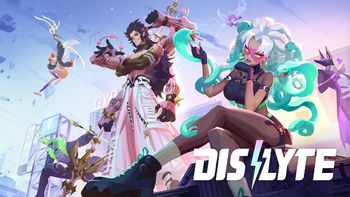 "Once upon a time, mankind were the unquestioned rulers of this world. It wasn't until the day the Miracle arrived that everything changed. The divine power spread across the land like wildfire, bestowing magnificent abilities to the chosen ones. And in its wake, unimaginable death and destruction was left. Heroes rose from the ashes to protect mankind's remaining cities. There is still a glimpse of hope. But even these heroes have different beliefs and feuded among themselves. Outside of battles, they're just normal human beings. Welcome to the world of Espers."
Opening Narration by Brynn
Dislyte is an urban-mythological RPG Gacha Game developed by Farlight Games and Lilith Games, being released on May 10, 2022, for iOS and Android.
It's set in a futuristic world with cities inhabited by strange monsters called Miramon that threaten humanity and powerful citizens known as Espers. The Espers are the characters you recruit who host the powers of deities from various myths and religions, each with their own abilities and tactics which are based on their mythological inspirations.
The game's story begins with Brynn, a singer who's on tour with her partner, Sieg. On a particular night after their farewell concert, they get attacked by Miramon. As Brynn and Sieg run from the Miramon, the former suddenly awakens as an Esper, obtaining the abilities of a Valkyrie. Shortly afterward, Sieg is captured by the Shadow Decree, an organization of villainous Espers who want to experiment on him. Brynn ends up joining the Esper Union, a group devoted to protecting humanity, led by the enigmatic Discboom. Accompanied by the polite butler, Drew, and the social influencer, Q, Brynn sets out to save Sieg from the Shadow Decree.
Gameplay is based around fielding teams of up to five Espers into turn-based combat. Each Esper can use up to three Abilities, with the third one being their Ultimate, which is capable of changing the tide of battle from dealing heavy damage towards enemies, support their allies with heals and buffs, or debuffing foes with detrimental status ailments. Most Espers also have Captain Abilities, which grant a team wide buff such as increasing their damage output or strengthening their defense, though some are restricted to certain game modes. In battle, the fastest Esper usually gets to move first, unless certain buffs or debuffs are used.
There are several game modes that consist of:
Story: The main campaign of the game. There are 12 chapters to go through alongside practice stages for grinding.
Ritual Miracle: Relics are obtained from this mode by fighting one of three bosses.
Sonic Miracle: The mode needed to acquire Waves through fighting bosses that represent the 4 Esper Attributes, with a different set of bosses available depending on the day of the week.
Cube Miracle: A labyrinth-like space with 3 unique, explorable floors that's open every 2 days, remains open for the same period of time, and always has a different map every time it's entered.
Infinite Miracle: Climb two towers, the shorter Spatial Tower and the longer Temporal Tower, clearing enemies as you progress through the floors.
Calamity Island: Three different elemental islands of 200 floors each where only Espers with compatible elements can be deployed. A player can only progress 10 floors per day, with each day opening one element (except Sundays, when all islands can be explored 10 floors each).
Sonic Rift: A rift where a player can collect a bunch of Experimon to raise Esper levels.
Ripple Dimension: A Bonus Stage mode that's accessed via randomly occurring Ripples, each one based around a specific Esper. Getting enough Ripples of an Esper will let you directly summon them.
Desolate Lands: A mode where the goal is to try to last as long as possible while doing damage against bosses with infinite HP in order to obtain Relic Boosts.
Other features include Expeditions where groups of Espers are sent on hours-long missions to obtain items from certain areas, doing bounties for the player Guide, Discboom, Point War, which is the PvP mode and the War Room where players can fuse Relics and Espers.
---
Dislyte provides examples of the following tropes:
---