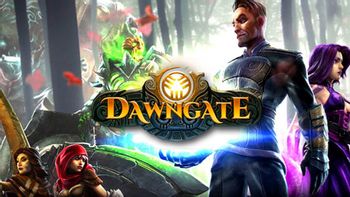 The Dawngate opens...
Dawngate was a MOBA developed by Waystone Games. First released mid-2013, the game entered open community beta a year later.
Pitting two teams of five "Shapers" against each other, Dawngate seeked to "break the meta" with the inclusion of such features like the role system (Gladiator, Tactician, Hunter, and Predator), a two-lane map, and objectives like Spirit Wells. Instead of a defenseless objective you must destroy to win, you worked to defeat the enemy Guardian, a powerful titan who can almost fend off an entire team without assistance, and easily sway the outcome of a fight with its damaging area-of-effect attacks. Items were very neatly categorized and Color-Coded for Your Convenience, and only offered passive effects so players don't forget to use an active effect.
Shapers were creatures who are bonded to a Vitality, or spirit. The Vitality a Shaper actually binded to was generally determined by their personality, philosophy or occupation. Relevant abilities were bestowed.
The game's story was called the Living Lore, literally written by and for the community. The creative team at Waystone gathered stories written by fans of the game and had the community vote on which outcome they most prefered. Great efforts were taken to avoid Gameplay and Story Segregation; a character would generally only use skills and abilities that were represented in the game, and the cast of Shapers was presented to have varied, but equal strengths and utilities.
Dawngate was downloadable at Waystone's main site
. Fan-made resource sites such as MOBA-Champion
and The Shaper's Guild
also exist to better explain the game and its intricacies.
Despite a healthy player base and an ongoing tournament, Electronic Arts cancelled the project on November 4, 2014. In February of 2015, Dawngate became a Defunct Online Video Game — the Dawngate closed.
---
Dawngate provides examples of the following tropes:
---