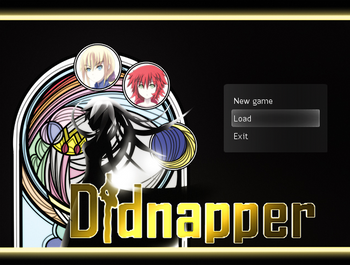 DIDNapper is a non-profit fan RPG Maker game that revolves around a princess from a unnamed fantasy kingdom named Suki who — after being betrayed and sold as a captive to a Kidnapping Guild by her cousin Cherisa who wanted to inherit the throne instead of her — is given the choice to join the Kidnapping Guild that held her captive in exchange of not being Bound and Gagged in a cell and to discover why Cherisa betrayed her.
As a kidnapper, she is tasked to kidnap girls for ransom while her guild searches for information on her cousin's whereabouts.
The game is a RPG Maker game that focuses on softcore bondage and Damsels-in-Distress in a medieval fantasy setting. Has a lot of Fanservice, Lampshade Hanging, humour, and, of course, damsels in distress. You can learn more at its wiki
or on the project's DeviantArt group
.
The final version of the game (1.8) was released to the public in August 2017.
The developers have since begun to work on new projects. Bonds, a Visual Novel about two friends in college who discover a mutual love of Bondage and begin to experiment together. Following Bonds is Didnapper 2 that is currently in production and will be set in the same setting as the original but will feature a different cast of characters and places.
Note: Due to their similarities, the tropes true for Version 1.7note The part of the development that saw a lot of modifications. are also true for Version 1.8note The definitive version. As the older versions of the game are different from the newer, unless it's stated otherwise, all the tropes mentioned on this page are those of the definitive version.
---
This videogame provides examples of: