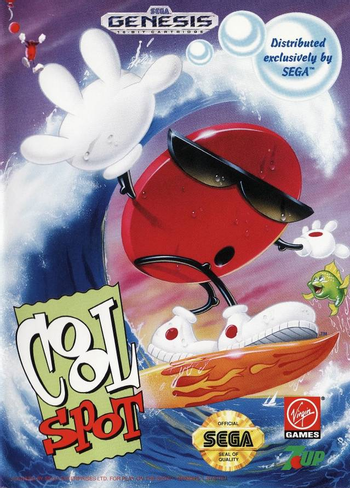 Cool Spot is one of the more notable aversions to The Problem with Licensed Games. The game was released on several systems during the 16-bit era. It is a Platform Game starring the red spot in the 7-Up logo. As this spot, your goal is to explore what appears to be a tourist town or seaport of some kind and rescue others of your number from cages that, for some reason, they are imprisoned in. Although this concept sounds lame, the game itself is surprisingly well-made and fun, with catchy music, large levels, intuitive controls, a decent level of challenge, and plenty of secret areas. With its generous time limits, the game encourages—and sometimes requires—you to take your time to explore rather than immediately free your buddy and end the level.
A sequel, Spot Goes to Hollywood followed in 1995.
---
This game provides examples of:
And notably averts:
Big Bad and Boss Fight: Conspicuous by their absence, in that they're practically a given in traditional platformers. You never even get a hint of who put your fellow spots in cages, let alone why.

All There in the Manual: The cages are set up by one "Wild Wicked Wily Will", who has been trying to prove for years that Spots actually exist.
Bosses are, however, present in the less famous Spot Goes to Hollywood.
---