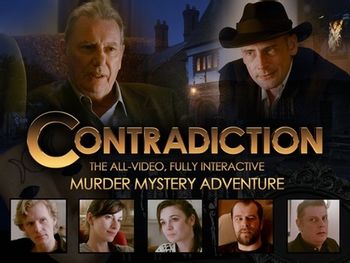 Contradiction: The All-Video, Fully Interactive Murder Mystery Adventure
or
Contradiction - Spot The Liar!
or simply
Contradiction
is a
Full Motion Video
mystery game, made by Tim Follin and released on
iOS
on January 13th, 2015 and
PC
on July 10th, 2015.
You play as Detective Inspector Frederick Jenks, who has been called into the small village of Edenton to investigate the mysterious death of Kate Vine, which everyone believes is a suicide. However, once you get there certain things start to not add up - particularly involving the Atlas business course that she and several other locals were members of.
The name of the game comes from the primary way you move the story along. You must interview people and then search for any contradictions they might have made earlier.
Provides examples of:
---