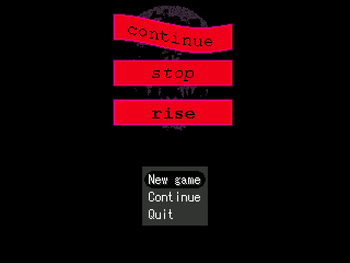 "Are you even worth anything now that you've done your purpose?"

—

The Judge to Batter in a Dream
The switch has been flipped to OFF. But instead of darkness, there is light.
The Batter, having just finished his mission, wakes up in an empty field, and immediately discovers that his Add-Ons are missing. So, with nothing else to do, he decides to go looking for them.
He searches all day, but no matter how long he walks, he can't find the Add-Ons anywhere, so he finally decides to just go to sleep for the night. The next morning, he finds himself confronted by two other versions of himself: The hot-tempered, foul-mouthed Ghost Batter, and the seemingly sweet and polite but Axe-Crazy Bad Batter. This being The Batter, of course, he's not that bothered by this new mystery, and chooses to drag them along as he continues his search.
It isn't too long after that that the trio discovers an odd set of rainbow stairs, which take them straight up to heaven. It's here where the adventure really begins, as the mysteries continue to pile up while they explore the place. The Three Workforces of Heaven have recently been taken over by new overseers, known as Mr. A, Dr. O, and E, and while the Elsen living there are pretty happy with what they've been doing, it seems that their operations are causing heaven to sink, which is allowing more specters to invade it. And possibly worse.
Will Batter and his two companions help the situation in heaven or make things worse? Will they find out what happened to the Add-ons? What about the rest of the cast? Is there a place left for Batter now that his mission is complete?
Continue/Stop/Rise is yet another Fan Sequel to Mortis Ghost's Indie RPG Maker game OFF made by M-256
on Tumblr. It can be downloaded here.
There's also a lesser known prequel of sorts that is a fusion crossover with Yume Nikki, called InterExtraIntraAdd that is also worth checking out. The download is on M-256's blog, here.
And there is also a spinoff for RPG Maker VX Ace, called Bx: Execute, which can also be found on M-256's blog, as well as the third demo of UNLOAD, a fangame within the CSR universe.
Within the general RPG Maker sphere, she has also made Yume Nikki fangames called Me (2011) and Somnium, and has also made an original game called White's Adventure.
Note: There's a lot of spoilers for the original game below, since this is a Fan Sequel. It's recommended that you play the original game first.
---
The game provides examples of:
---