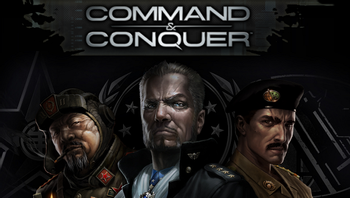 The [intended] sequel to the strategy game Command & Conquer: Generals, which was developed by Victory Games and entered internal beta testing in 2013. This game was intended to start a new Command & Conquer franchise, one that would've been Free to Play. It's client was also supposed to eventually gather all Command and Conquer series into a single client. However, its production was then cancelled in October 2013 by Electronic Arts. Below, you can only read what it was intended to look like:
Ten years after the conclusion of the original, the China-dominated Asia-Pacific Alliance (APA) found itself challenged on all fronts, after being the world's foremost geopolitical power for nearly a decade. The upstart European Union, a high-tech, single-state entity with an increasingly expansionist agenda continues to flex her muscles, while a series of increasingly bloody uprisings have torn key APA and EU satellite nations asunder. Rumors point to a newly reconstituted Global Liberation Army (GLA) as the instigator, but witnesses have described technology far beyond the reach of any normal terrorist organization. Concerned, the APA dispatches an elite force to infiltrate the latest, most volatile rebellion, one targeting an EU backed dictator.
Three factions are once again slugging it out:
The European Union: Liberated by the Chinese after having been invaded by the GLA during the events of the first game, after the United States' military saw itself humbled by the GLA and redeployed to 'better defend the homeland', the EU has since then been fighting for independence from their asian overlords.
The Asian Pacific Alliance: After becoming the major world power by the end of the first game, the APA finds themselves dealing with uprising amongst their satellite countries, with rumors pointing to a new GLA on the rise and with the EU harboring a more and more expansionist agenda, the China-led APA has realised that hubris has cost them dearly with ghosts from their past rising anew.
The Global Liberation Army: Having been decisively routed by the end of the first game's expansion pack, the GLA laid low untill the time was right, orchestrating insurgencies and and instigating uprisings, gaining influence due to the APA harsh methods in dealing with said insurgencies.
---
The available material provided examples of: