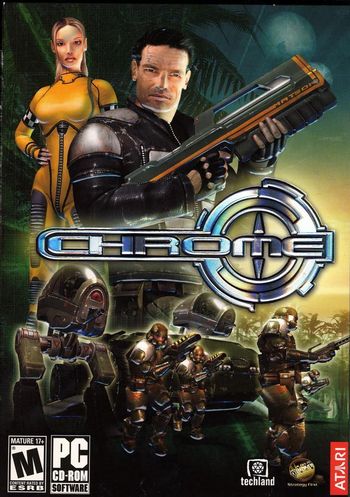 Chrome
is a 2003 sci-fi
First-Person Shooter
for the
PC
developed by Techland, best known for their later releases like
Call of Juarez
,
Dead Island
and
Dying Light
. It was the first major release by Techland, and the "Chrome" name, after the game and their arguably first in-house game engine for this game, has been used in all of their major games since then with incremental updates to support new features and genres. A prequel,
Chrome: SpecForce
was released in 2005.
The game focuses on the adventures of Bolt Logan (voiced by Jon St. John, best known as the voice of Duke Nukem), a space bounty hunter in the distant future. Partnering with a drifter/computer hacker named Carrie after his old Space Marine partner Pointer betrays him, Logan embarks on a series of bounty missions in a distant sector of colonized space, eventually being caught up in a power struggle between the Zetrox and Coretech Mega-Corporations over the valuable resource Chrome, a substance that makes terraforming human-habitable planets possible. The prequel, Chrome: SpecForce takes place during Logan's past as a member of the Space Marine special forces.
The game features massive wide-open outdoor maps, drivable vehicles (including mech walkers), an inventory system, and "bionic implants" that can be activated for various enhanced combat abilities (visual zoom, decreased bullet spread, increased damage resistance, bullet-time, etc.) It can be thought of as Halo meets Deus Ex.
Both games were available on Steam but got pulled due to licensing issues. The fan-made HD patch to help the game run on modern systems is highly recommended.
---
Chrome and Chrome: SpecForce provide examples of:
---