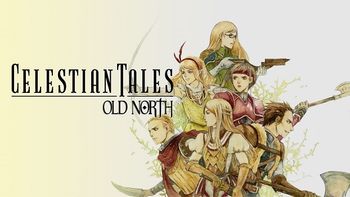 Celestian Tales: Old North is a Kickstarter-funded JRPG-inspired turn-based RPG released by Indonesian video game company Ekuator Games for the PC in 2015. The game is intended to be the first of a trilogy.
The game is set in a medieval-inspired fantasy world and follows the parallel stories of six squires (knights in training) as they learn the ways of knighthood and nobility together, and individually face the hard decisions they will have to make on their own. You are given the choice to play as any one of the six squires. Each playable character generally follows the same linear story track, but each character arc also includes moral dilemmas unique to each of them, and if you wish to learn every last detail of the story, you will need to play through all six individual scenarios.
As previously mentioned, since the game is the first of three planned installments, this game centers on the formative period of the main characters' lives, particularly their first exposure to the vastly complicated world that they inhabit.
The game also contains a DLC episode, Howl of the Ravager, which is a prequel to the main game, as it documents the early days of Severin Leroux, one of the game's main supporting characters, and how he came to be a hero of the Old North.
A sequel, Celestian Tales: Realms Beyond, was released in May 2020.
Now has a character sheet.
---
The game provides examples of the following tropes:
---
The Howl of the Ravager DLC provides examples of the following tropes:
---