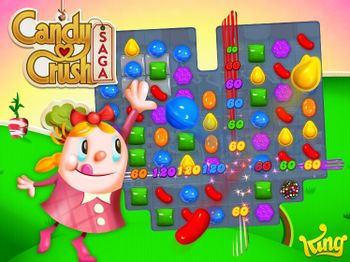 Candy Crush Saga is a free-to-play Match-Three Game by Maltese developer King.com. It is available for Facebook (link
), Android and iOS, and Windows 10, with a storyline and level progression. There's also a best-score-in-three-minutes
version available at their website. As suggested by its name, the items you try to match three of are candies. Your main character is Tiffi, who goes around trying to help characters out, such as trying to get a candy machine working and waking up a yeti. There's also another character named Mr. Toffee who gives you tips along the way.
As in most Match Three Games, you get special candies for matching more than three candies at once:
Striped candies, which you get by matching four candies in a row. When used in a match, they clear an entire horizontal or vertical line of candies (the direction of the stripe tells you whether it will clear a horizontal or vertical line).
Wrapped candies, which you get by matching two three-candy matches in a cross-shape (T-shape or L-shape) pattern. When used, they explode in a 3×3 square area twice.
Color bombs, which you get by matching five candies in a row. When used, they destroy all candies of the color of your choice.
If you can get them next to each other, you can get even fancier
Combination Attacks
.
Other special items include Lollipop Hammers (used to crush candies or obstacles on single spaces), Jelly Fish (which multiply and eat jelly on Jelly levels), Lucky Candies (used to create combos needed to complete Orders levels), and Coconut Wheels (which, on Ingredients levels, turn three candies in a row into striped candies that go off automatically). Note that many boosters can only be used on certain types of levels - for example, the Coconut Wheel is available only for Ingredients levels (although it will sometimes appear from a mystery egg in other types of levels).
There are currently six types of levels that are in Candy Crush. All of the levels have a distinct kind of background music, although the Score and Order levels share the same background music (which is also used in the free version). They were also Color-Coded for Your Convenience prior to 2022.
Score Levels / Moves Levels: The player to earn a certain score before their moves run out. They frequently serve as tutorial levels, and are more or less fazed out as the game progresses. They were removed entirely in 2021.
Jelly Levels: The player must clear "Jelly Squares" by matching or destroying candies on them, or by hitting them with a special candy if they are no jellies on it. They were the most common level type for a long, with most episodes generally containing at least six, at least until mixed levels were introduced.
Ingredients Levels: The player must bring down cherries and hazelnuts to the bottom of the screen (or in other specific locations later on). From 2021, hazelnuts were phased out (due to being functionally identical to cherries), eventually being removed by the end of 2022. In March 2023, it was announced that all ingredients will be replaced with Dragons, which function the same way as ingredients do.
Timed Levels: The player has infinite moves, but a finite time limit. They were removed entirely in 2018.
Order Levels: The player must collect certain items, including candies, blockers, special candies, and combinations of special candies.
Mixed Levels: Two or more of the previous level types combined. It's almost always jelly + ingredients, although different variants exist. First appears in level 1688, which is ironically quite hard for a tutorial level. From around 2021, they have become the most common level type, at least partly because there are six possible combinations of mixed levels and only five distinct level types by this point.
Rainbow Rapids levels (released in 2020). They require you to make rainbow candies. This involves directing a rainbow stream to jelly molds by removing all of the blockers in the way. This level type makes its debut in Episode 476, a whopping four years after the previous level type was introduced.
Besides Jelly and Ingredients, there are other things cluttering up your board:
Icing (later renamed to Frosting in 2020): Solid blocks that cannot be moved but can be destroyed by creating a match adjacent to them. The icing can be multi-layered with up to 5 total layers.
Licorice Locks: Some candies are locked in cages made of licorice stripes. You must make a match that includes the candy in the cage to free them. In later levels, blockers, including chocolate spawners, are also locked in licorice.
Chocolate: They clutter up the board and eat candies, turning them into more chocolate. You can destroy them by destroying the candy adjacent to them (the destroyed candy need not be part of a match; a candy destroyed by striped candy, for example, also destroys chocolate blocks adjacent to them).

Dark Chocolate appears much later in the game (it was released in the second half of 2018, whereas regular chocolate was released in Spring 2012). It's very similar to regular chocolate, except it has up to three layers and can regenerate those layers when given the chance.

Teleporters: Items falling into blue teleporters reappear from pink ones.
Licorice Swirls: Like icing and chocolate, they can be destroyed if you make the proper candy matches. Unlike chocolate and icing, they can be moved around, but more of them may fall from the top of the board on some levels. Also, they block striped candy explosions.
Marmalade: Encases candies, usually Special Candies that the player will need to break out of the marmalade to be able to complete the level with. They can be broken in the same way as with icing (i.e. making a match next to them).
Chocolate Spawner: Makes chocolate blocks, but cannot be destroyed like normal chocolate blocks. If locked in licorice locks (see above), they will not spawn chocolate while locked. Dark chocolate spawners are almost the same, except they spawn the harder to clear dark chocolate. Regular chocolate spawners were released in the second half of 2012, dark chocolate spawners weren't released until April 2021.
Candy Bombs: Will end the game if you don't defuse them by including them in a match. Each bomb indicates the number of moves you have left until the bomb explodes; once a bomb explodes, it's an instant fail. Bombs will still count down and explode even if locked in licorice or a Sugar Chest. On the plus side, candy bombs yield more points when defused, which comes in handy in timed levels (particularly if the player uses a color bomb on the same color candy as a bomb).
Mystery Candy: Can turn into almost anything, including special candies (helpful) and unwanted blockers like icing and chocolate (not so helpful). Formerly, they could even get rid of the tile (this was later changed). As of 2020, they stop appearing, and in 2021, many levels have been redesigned to not have mystery candies. By the end of April 2021, they were removed altogether.
Chameleon candy: Alternates between two candy colors with every move. Similar to mystery candies, they stop appearing in later levels and have been removed from most earlier levels in 2021, before being removed entirely at the end of April 2021.
Cake Bomb: 2×2 impassable blocks divided into 4 quarters and 8 segments. Making matches adjacent to the cake or blasting special candies into it destroys a segment or two of it, and destroying it completely clears the board of all candies and strips a layer from all blockers.
Toffee Tornadoes: Randomly switch to new squares every turn. They cannot be matched and leave cracks in previously occupied squares which prevent candy from falling into them for one more turn. They can actually be helpful if they land on a blocker as they will destroy a layer of it, but they do not remove jelly. Can be removed for 5 turns by blasting special candies into them. They have been removed from the game since October 2015.
Conveyor Belts: Moves candies (and eventually blockers) along a predetermined path with every move.
Sugar Chests (released Halloween 2014, and also known as Multi-Locks as of 2020): Locks up candies, ingredients and eventually other blockers, but unlike licorice locks and marmalade, can only be opened with keys.
Liquorice Shellnote : They hide Color Bombs underneath, but they must be hit three times (with the color bomb becoming more visible with each hit) first. This is accomplished usually by hitting them with special candies. Jelly Fish used to not work against them, but now they can damage. In jelly levels, they also often have jelly underneath, meaning that the liquorice shells must be destroyed in order to clear all the jelly.
UFO: They spawn three wrapped candies when hit. Released in early 2015.
Magic Mixers: They turn surrounding candies into blockers such as licorice, bombs, chocolate etc. at regular intervals (usually every three or four moves). They can be destroyed by making matches with adjacent candies (though it takes five or so hits to destroy them). Just as with chocolate, making a move adjacent to a mixer will keep it at bay for an extra move, and when destroyed they create a small explosion similar to that created by matching a wrapped candy which will set off nearby special candies and damage liquorice shells. However, on orders levels in which the objective is to destroy a certain number of blockers and the mixer creates the blockers, destroying the mixer too soon is an instant fail. Released late 2015, redesigned in 2020.
Bobbers: They are indestructible and spawn jelly fish when hit by special candies. Released Spring 2017.
Candy Canes: They are indestructible and appear between tiles to prevent matches from being made and candies from falling. Later levels have destructible candy canes that take up to three hits to destroy. There are also versions of both types of candy canes that can block special candy effects (not unlike licorice swirls) in much later levels. Regular candy canes were released in Spring 2018, destructible candy canes were released in late 2018, and both liquorice variants were released in the second half of 2020.
Waffles: They are similar to icing, except they are movable and not immune to gravity. They can have up to 5 layers. Released Summer 2018, changed to a new blocker called Toffee Swirls in March 2021.
Crystals: Candies and other movable elements can fall through them due to gravity. A candy outside a crystal can be moved inside it but not the other way around. If a crystal encased an immovable blocker, it acts like a multilayered licorice lock. Crystals take up to three hits to destroy. Released Spring 2019.
Rainbow Twists: They are usually linked together in a chain. Destroying any one of them destroys the whole chain. Individually, they take up to five hits to destroy. Released Fall 2019.
Sugar Coats: They take up to three hits to destroy and act like very much like multi-layered licorice locks, except they are mobile. Released at the end of 2019.
Bubblegum Pop: They take up to five hits to destroy and make a 3×3 explosion (similar to a wrapped candy) when destroyed. Released early 2020.
Order Lock: Requires a certain quantity of a certain element to unlock, but can appear in any level type. Released Fall 2020.
Skull Pedestal/Sour Skull: A blocker that can only be removed by destroying the skull on it. The skull takes five hits to destroy and moves to another skull pedestal every time it is hit. Destroying the skull removes all of the skull pedestals. Released Halloween 2020.
Bonbon Blitz: Generates the effect of the special candy within it when activated (i.e. a wrapped candy bonbon blitz would create a 3×3 explosion when activated). There are five types: horizontal striped, vertical striped, wrapped, colour bomb, and jelly fish. Released early 2021.
Jelly Jar: Explodes when destroyed and covers all affected tiles with jelly in a 1-3-5-3-1 pattern around its radius. Maximum of two hits, can only appear in jelly levels (and mixed levels that require jelly). Released Summer 2021.
Candy Cobra: An element that resembles a gummy worm/snake, and its name was chosen by a fan poll in May 2021. It has five segments in an alternating pink and green pattern, with one segment being lit up every time it's hit. When all five segments are lit up, the next hit will make it charge across the board in the direction it's facing, until it reaches its basket, hops in, and disappears. Everything in its path that isn't Made of Indestructium will be taken out in the process, and the Cobra will create tiles on any empty spaces between it and the basket. According to a reply from King on said poll, it was going to be released "later this summer (2021)", but was delayed to October 2021.
Wonderful Wrapper: A candy wrapper that takes up two spaces and contains special candies inside. It is unwrapped after removing all of the coloured ribbons from it, but the ribbons can only be removed with candies with the same colour. Released in Spring 2022. It was the last fully original blocker to appear in the game for over a year and a half, and was believed by many to be the last blocker introduced until the release of the...
Gumball Machine: A gumball machine will make you collect one gumball for every time the machine was triggered (either through adjacent matches or special candies). Collecting enough gumballs (the required amount varies from level to level) will cause all gumball machines to disappear, otherwise they are invulnerable. Released in November 2023.
Countdown Crystal: An altered version of the Candy Bomb that spawns crystals when it explodes (rather than causing a Game Over), making it much easier to deal with. It replaced the Candy Bomb on some versions of the game around mid-2022, before being reverted back to the traditional Candy Bombs later in July of the same year. Currently, it's absent from the game; whether it will be brought back remains to be seen.
It's fairly complicated, but addicting in the way Match Three Games can be. Accusations have flown around about its Allegedly-Free nature, particularly concerning Difficulty Spikes that encourage Bribing Your Way to Victory. Whether this is true or King have simply managed to adjust the difficulty curve correctly, the net result is that Candy Crush Saga is the highest-grossing game on both Apple's App Store and Google Play. (For contrast, the most lucrative pay-to-purchase app, Minecraft Pocket Edition, is in ninth place on that same list.)
It is now followed by its sequels, Candy Crush Soda Saga (starring Kimmy, Tiffi's sister), Candy Crush Jelly Saga and Candy Crush Friends Saga. Part of the charm of the first three games is that, as well as the candy theme, they also have a cardboard-cut-out doll aesthetic, with characters' limbs and other moving parts held on by very visible treasury tags, while the fourth uses 3D designs for its backgrounds and characters.
Other similar games by King include Farm Heroes Saga (with "cropsies") and Pepper Panic Saga (with exploding peppers).
The game made headlines again in 2015, when its creator, King.com, was bought out by Activision for 6 billion dollars. Among other things, the event also gave added relevance to '''Candy Number Crunch Saga
, an IPO stock-trading simulation for titular company, available for free and made entirely in Microsoft Excel.
In the summer of 2017, CBS debuted a Game Show version of Candy Crush utilizing two giant arrays of touchscreen monitors to make for an enormous playing environment, hosted by Mario Lopez. It was an elimination-style competition between four teams of two decided through four rounds of various gimmick-filled, game-themed challenges, with the last round being a face-off between the last two teams to see who could be the first to fifty matches to win $100,000.
Unfortunately, the ambitiousness of the game show production went a little too far when it soon became clear that the giant displays were so big nobody could even view enough of the environment at any given time to competently play the game, even self-proclaimed experts, causing most episodes to descend into bumbling and uninteresting matches. This, along with criticisms about how the show's hour-long run time and the lack of effort to fix these major flaws only exacerbated the problem, and quickly led to the swift cancellation of the game show after only one season, being written off as a mostly overblown Ratings Stunt and another cash-in for the franchise name.
A fan-made Digital Pinball Table based on the game was written up in early 2023 to celebrate the game's 10th anniversary. Tropes for it are listed here.
---
This game provides examples of:
---