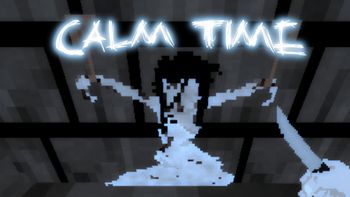 ...I like the sound of the wind...
Calm Time is a short indie freeware horror game created by Goos Entertainment, a development group composed by Ivan Zanotti (The creator of Imscared), RevoLab (the creator of 7Days) and Bellini Virgil. It was released on November 20th, 2013.
You are a person who lives in a small house in the countryside, far away from civilization. There, silence and quietness are the norm, and only the wind and the birds break that silence from time to time. Still, things can get lonely from time to time, so you have invited some people to the house for a party. Everything seems to be going pretty well during the party.
Then shit hits the fan without warning and everybody finds themselves trapped in a house with a killer, far away from any source of help, their lives at the stake.
The game can be downloaded here
.
WARNING: The game contains a huge twist early on, and as such, half the tropes on this page are spoilers. Read at your own risk.
---
This game provides examples of:
---