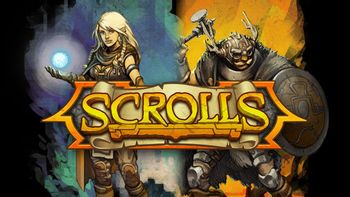 Caller's Bane
(formerly
Scrolls
) is a variation of a
strategy collectable card game
, developed by
Minecraft
creator Mojang and released in late 2014. It contains four factions; different sets of cards which
use resources
unique to them: Growth, Order, Energy, and Decay. It also contains tutorials, trials, AI for offline matches, and systems in place for online matches.
The game plays out like a combination of a board game and a card game, where each player enters a match with "scrolls" that are randomly drawn, then can be used to summon either creatures, structures, or enchantments onto a tiles on a battlefield. The main objective is to knock down three of the enemy's five idols, which are at their side of the board, and at the far end of each of the board's five rows. In order to aquire scrolls, you pick a faction starter pack, and from there on you must purchase all of your scrolls from the shop using either gold or shards, the former being the earned in-game currency, and the latter being the purchased with real money currency.
There was some minor controversy about the initial name after Bethesda objected to Mojang trying to trademark Scrolls claiming it infringed on their own Elder Scrolls trademark - the upshot was that the name could remain but no sequels could use it so Scrolls 2 or Scrolls: The Second Coming are out.
On 20 June 2018,
Mojang announced that the game is going free-to-play and that Scrolls has been renamed Caller's Bane.
---
Caller's Bane provides examples of:
---