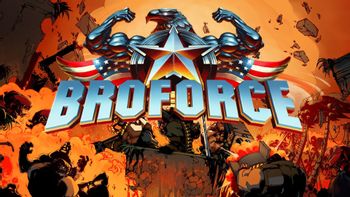 BROFORCE!
KICKING ASS FOR JUSTICE AND FOR LIBERTY!
FOR FREEDOM AND THE FLAG
THEY'RE THE FINAL STAND!
THE LAST BAND OF HEROES
WHO'LL FIGHT TERROR WITH NO REMORSE!
BROFORCE!
—
Broforce Theme Song
,
by Strident
Broforce is an indie platformer game that received its full launch on October 15th 2015. Despite its self-parodying Brogleland Patriotic Fervor, it is in fact created by South African indie game developer Free Lives and published by Devolver Digital.
The destructible levels may be reminiscent of games such as Spelunky, however, unlike a typical Metroidvania which encourages caution and conservation of resources, this is a homage to classic shooters in the vein of Contra or Metal Slug. As such, the obvious solution to any and all problems and obstacles is Bro Dakka and Stuff Broing Up.
The characters are all Lawyer Friendly Camebros of classic action movie and television heroes, mostly from the 80-90s era, (although a couple come from the 70s, and some come from the 2000's) and with their names featuring various puns on "bro". The website can be found here.
On August 5th 2014, a bro (free) version of the game based on The Expendables 3 was released on Steam, titled The Expendabros. It can be found here
.
List of Bros
In addition, the following characters are exclusive to the Expendabros version:
Broney Ross. Main Weapon: Twin Pistols. Secondary: Triple Sticky Grenades.
Lee Brosmas. Main Weapon: Thrown Knives. Secondary: Throws a large amount of knives in an arc.
Bro Caesar. Main Weapon: Minigun. Secondary: Uses his minigun to launch himself into the air, creating a shockwave upon landing.
Bronar Jenson. Main Weapon: Sticky Grenade Launcher. Secondary: Exploding Remote Control Car.
Toll Broad. Main Weapon: Dragon's Breath Shotgun. Secondary: Molotov Cocktail.
Broctor Death. Main Weapon: Knife. Secondary: Rushing grab.
Trent Broser. Main Weapon: Assault Rifle. Secondary: Air Strike.
---
Brovides examples of the following bropes:
---
"TROPES LIBERATED"