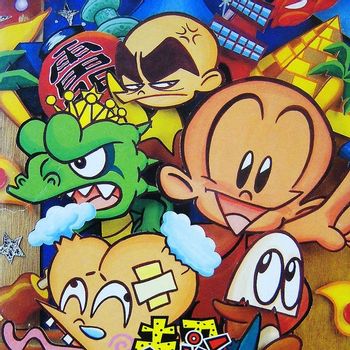 Bonk, known as PC Genjin in Japan and BC Kid in Europe, started life as a comic series in a magazine promoting Hudson Soft's PC Engine (or the TurboGrafx-16, as it was sold in North America). Many people liked the comic so much, Hudson decided to make a game based off it and even made Bonk the mascot for the system. The games follow the story of a big-headed caveman named Bonk as he protects his land from the evil King Drool.
Bonk's Adventure was released in 1990, and is one of the most well known TurboGrafx games. In the U.S. Bonk was marketed as a Mascot with Attitude against Mario, one year before Sega released Sonic the Hedgehog.
It was followed by Bonk's Revenge in 1991. It was a general improvement of every aspect of the previous game.
Bonk 3: Bonk's Big Adventure came out in 1993, and introduced the concept of size-changing candies that would let Bonk take multiple pathways.
The next major title of the series came on the Super NES. Titled Super Bonk (Chō Genjin in Japan, Super BC Kid in Europe), it followed Bonk's attempt to return to the past after King Drool sent him to the future.
Outside of a playable cameo in Saturn Bomberman, a remake of the first game for sixth-generation consoles, and re-releases on the Wii's Virtual Console service, Bonk has yet to re-appear anytime soon. He was slated to have a new game titled Bonk: Brink of Extinction, but it was unfortunately canceled when Konami bought Hudson.
It also had a spin-off Cute 'em Up series called Air Zonk (PC Denjin in Japan).
This has nothing to do with the Scout's catchphrase from Team Fortress 2. Or about the cartoony sound effect of being hit by a plank.
Games In the series
Bonk's Adventure (1989, TurboGrafx-16, NES, Game Boy, Arcade)
Bonk's Revenge (1991, TG-16)
Bonk's Big Adventure (1993, TG-16)
Super Bonk (1994, SNES)
Super Genjin 2 (Super Bonk 2) (1995, SNES)
Bonk's Return (2006, Mobile)
Air Zonk Subseries:

Air Zonk (1992, TG-16)
Super Air Zonk: Rockabilly Paradise (1993, Turbo Duo)
---
The Bonk series contains examples of:
---