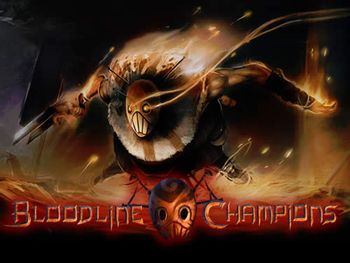 Bloodline Champions
is a free-to-play
player vs. player arena game
. While its use of a single team of one
Player Character
per player against another team and bird's eye perspective leads some to compare to other
Multiplayer Online Battle Arena
games, its focus and intent is much more different.
All offensive abilities need to be aimed at their targets. Even most of the defensive abilities require targeting in that manner. There is no Mana Meter, only cooldowns to abilities. Successfully using abilities increase your energy meter, allowing you to cast more powerful or different "EX" versions of two of your abilities for 40% of the bar each, or your ultimate ability for 100% energy. There are no levels within matches (though there is such a mechanic for accounts), no one else to kill in the game and no base to destroy in the Arena game mode, the only one that is scored within ladders.
The game modes include arena (no-respawns, kill the other team), conquest (capture the points on the map to stop the enemy team from respawning and kill them all. Respawn times increase as the game goes on) and capture the artifact (Essentially Capture the Flag with respawning, and respawn times increasing as the game goes on.). The ladder games are only arena.
Go here
and download to start playing!
A spiritual sequel, Battlerite, now exists. It was developed and published by the original developers Stunlock Studios and co-invested by Coffee Stain Studios, the developers of Sanctum and Goat Simulator. It was released on November 8, 2017.
Character page is here, holding the classes or "bloodlines" of the game, and has most of the tropes considering the importance of them to the game.
---
This game contains examples of:
---