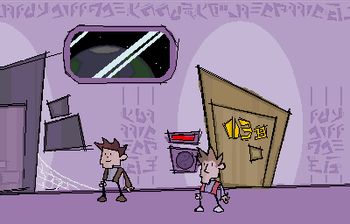 Ben There, Dan That is a point-and-click adventure that follows two intrepid explorers, the titular Ben and Dan, as they travel through various dimensions in a quest to return to their flat to watch Magnum, P.I. A combination of brain-teasing puzzles and some far-out thinking sees the dynamic duo quip, steal and murder their way through alternate reality versions of London. Humorous and surreal, the story begins with Dan dead, a firework and one of his orifices... after which they are kidnapped by aliens, and Hilarity Ensues.
It all makes sense when you play it…
There is a sequel called Time, Gentlemen, Please! note Not to be confused with the sitcom starring Al Murray. It expands upon the gaming hilarity and also becomes much more offensive in its own ways. After ruining the utopia they helped create at the end of the first game, Dan and Ben travel back in time to ensure that coat hangers are never invented.
Seriously. There's other stuff, some Nazis, and loads of references to other games and genres. It also has a pretty sweet boss fight at the end.
Both games are available on Steam
for less than the price of a pint. Ben There, Dan That! is freeware. Time, Gentlemen Please! is not freeware, but is pretty cheap to buy.
After nearly 11 years, a third game was released on Steam in 2020 titled Lair of the Clockwork God. Instead of being a traditional point and click adventure, it mixes elements of the point and click style with Platform Game elements. It was bundled with a visual novel prequel, Devil's Kiss, showing how Dan first met Ben on his first day of attending Snootingham High School.
---
Ben There, Dan That provides examples of:
---
Time Gentlemen, Please! provides examples of:
Lair of the Clockwork God provides examples of:
Downer Ending: Ben and Dan

escape the destruction of the Earth that they caused in a rocketship... The End.

I Regret Nothing: Normally, this is a beautiful, poignant phrase. In this game, however, it's a petulant gripe that directly causes the end of the world.
Nice Job Breaking It, Hero:

It turns out that the world was being destroyed because of them. Ben's refusal to feel guilty about this and just wanting to go back to killing things that got in their way disgusts the Clockwork God, who gives up on humanity and deactivates the barrier that protects mankind, deciding to replace humanity with a new race planning to upload himself into Dan.
Devil's Kiss provides examples of:
Academy of Adventure: On their very first day of attending Snootingham High School, Dan and Ben meet each other and end up having to fight demons and deal with a conspiracy together.
---