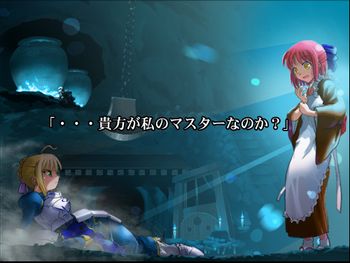 Battle Moon Wars is a Doujin game made by the group Werk. It is, as the name suggests, a Pastiche in the style of Super Robot Wars.
Take the three major facets of the Nasuverse: Tsukihime, Fate/stay night and the Garden of sinners. Then mix them together into a Massive Multiplayer Crossover, and add a duo of original characters on top. Through four acts, what starts as a not-so simple maidnapping explodes into a new Grail War, as one by one, a mysterious enemy is bringing back defeated villains from Nasuverse past, with shiny new power boosts to boot.
Translation Patch so far can be found here.
See also Carnival Phantasm, an official Nasuverse crossover anime focused on comedy.
---
Contains the following tropes:
---