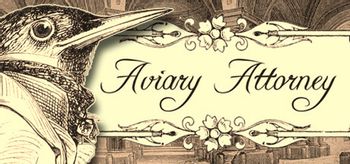 "It's like Phoenix Wright if Phoenix was a kind of bird.

Wait a second..."
— Steam user review.
Aviary Attorney is an Adventure Game about 19th-century Parisian lawyers…who happen to be birds. The game's art is based on the lithographs of 19th-century French artist J.J. Grandville
, who was known for his caricatures of anthropomorphic animals. The soundtrack consists of music by Camille Saint-Saëns and some of his contemporaries (including Georges Bizet and Charles Gounod), prominently featuring several selections from Carnival of the Animals.
Gameplay is similar to that of the Ace Attorney series: you guide defense attorney Jayjay Falcon and his assistant Sparrowson through investigations of crime scenes and conversations with witnesses, gathering evidence that you can use while cross-examining witnesses in a trial phase.
Developed by newly-formed British team Sketchy Logic, Aviary Attorney was funded by a 2014-15 Kickstarter campaign and released on Steam in December 2015.
---
Aviary Attorney contains examples of:
---
Let's make a move!
---