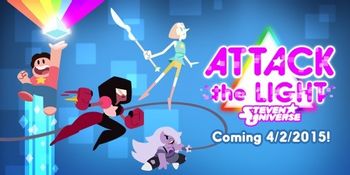 "This is just like an RPG!"
— Steven
Steven Universe: Attack the Light is a standalone mobile game based on the Cartoon Network show of the same name created by Grumpyface Studios, and featuring a self-contained story written by the show's creator Rebecca Sugar. It is considered canon to the series
, set in Season 1B, between
"Fusion Cuisine" and "The Return". It was released on April 2nd, 2015 for iOS and Android, and features turn-based RPG gameplay with Action Commands along the lines of Super Mario RPG, Paper Mario, and the Mario & Luigi series, along with room and hotspot-based exploration that recalls Riviera: The Promised Land. Early in 2016, an expanded port
for the Apple TV was announced.
Starting out as a normal day in Beach City, Steven is enjoying playing an RPG on his tablet, when the Gems return from their mission with a magical prism. Pearl explains that the prism contains an army of light, and Steven naturally asks to observe it. Suddenly, a white creature emerges from it! Garnet easily defeats it, but the creature splits into seven colored monsters that scatter all over the world. Now Steven and the Gems must travel around the planet to find and defeat the Light and save the day!
A sequel titled Save The Light was released on October 31st, 2017 for PlayStation 4; November 3rd, 2017 for Xbox One; and October 30th, 2018 for Nintendo Switch.
---
Attack the Tropes:
---