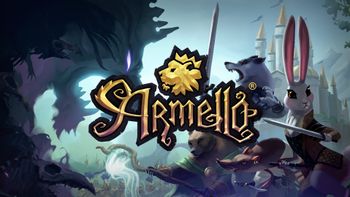 Armello is an Adventure Board Game-style computer game by Australian-based company League of Geeks. Four actual or virtual players, taking the role of the heroes of anthropomorphic animal clans, out on quests to ensure they became the next King of the Realm. The current King has been infected by the Rot, a supernatural disease that is slowly killing him and spreading The Corruption around the world. He'll be dead after about 8 daysnote The King has 9 hit points, and loses one hit point to rot each dawn, while spreading corruption each dusk. If the king is not wounded or healed, he will die at the beginning of turn 19, and if he passes, the most Prestigious of heroes takes the crown. However, a hero can simply usurp the throne by personally assassinating the tyrant king; whether the king dies from your sword, from your own dark powers, or using the sacred Spirit Stones.
Armello was able to use special funds from the Australian Government to produce high quality animated Trailers. Audio books and other fiction within the game's universe are planned. The game was fully released on Steam and PS4 on September 2015. Xbox One and Nintendo Switch ports were released in 2016 and 2018, respectively. It can be bought here
.
The first DLC, Usurpers, featuring four new heroes, was released on 30 August 2016. The Bandit Clan DLC, which was previously limited to Kickstarter backers, finally received public release on 26 April 2017. On 21 December of the same year, the Rivals Hero Pack was released. On September 3rd of 2019, the Dragon Clan DLC was released. As of September 2021, due to pandemic-related delays, the Dragon Clan DLC hasn't been released on the console or mobile versions.
---
Armello and its expanded universe demonstrate examples of:
---