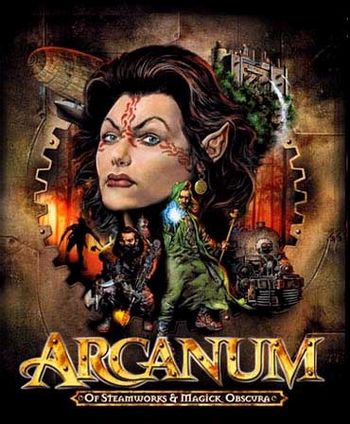 Arcanum: Of Steamworks and Magick Obscura is an expansive and very open-ended Role-Playing Game where Tolkienian High Fantasy meets Vernian Steampunk, courtesy of the designers behind the first two Fallout games.
Much of Arcanum deals with Item Crafting and character building — many of the items in the game can be used to build other items. It contains a very detailed setting and a well-designed scenario, as well as vast amounts of political backstory in the game's libraries, newspapers, and legends. The game retains a cult following similar to its cousin Fallout, and is additionally often very favorably compared to Baldur's Gate II and Planescape: Torment, although Arcanum's detail focuses more on its setting's history and mechanisms than on its playable characters.
The IFS Zephyr has just begun her maiden voyage, a marvelous, high-society venture through the clouds. Aboard, the cream of high society enjoys the flight, playing chess, sipping fine wine, etc. Sadly, nothing good can last forever — and, out of the blue, the airship is attacked by a pair of ogres flying primitive fighter planes. Within moments, the vessel goes down in flames.
There's only one survivor, the player character — and, as they crawl out of the wreckage, a dying gnome begs them to take his ring to "the boy". Immediately after the gnome succumbs to his wounds, the player character emerges from the rubble and is approached by a man named Virgil, who claims to have found the reincarnation of a long lost prophet... and that's where the story properly takes off.
As they journey through Arcanum, the player can join up with a number of companions. Although their personalities are often not as well-defined as those of some non-playable characters in the game, many of them are (very nicely) voiced, and they all contribute to the plot and interact with each other. Many of them are hidden, and many of them require very specific alignment, charisma stats and dialogue from the player before they even suggest joining the party. Similarly, the player often needs to meet very specific aptitude requirements before certain quests are even mentioned, meaning that no two playthroughs are the same and that each new player character will have a unique experience.
Arcanum has a level cap of 50, which encourages players to specialize in very specific types of magic or technology. (However, a no-CD-patch combined with a level cap remover patch can quickly fix that.) Uniquely, knowledge of technology in Arcanum disables magical aptitude, and vice versa, so that the player will always have to choose between the two (or find a very, very careful balance) and (eventually) be shunned by the other branch.
Remarkably, the game is still being tested and patched by a squadron of devoted fans today. The game is now available
on GOG.com, with the notorious bugs fixed and the game adapted to modern systems. In August 2016, it made it onto Steam as well.
A sequel — titled Journey to the Centre of Arcanum and using Half-Life 2's Source engine — was in its initial planning stages, but Sierra and Valve had disagreements, and Troika Games' dissolution sealed the game's fate.
---
This game provides examples of the following:
---