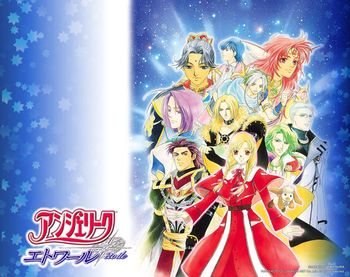 Angelique
is a series of
Dating Sims
developed for girls. It is often credited as the creator of the genre of
Otome Games
. It is largely unknown outside of Japan but has spawned a manga series, 4 OVAs, two television series and a bunch of Drama CDs and assorted merchandise.
It has also spun off into the Neo Angelique series (which has its own page).
The software games in the series are:
Angelique [Angelique Limoges]: Though originally released on the SNES, it has been remade multiple times for various systems. The remakes include:
Angelique Special 2 [Angelique Collet]. Collet is the identified Queen of a second cosmos, Arcadia.
Angelique Trois [Angelique Collet]. Collet is drawn into a different Arcadia to free that reality's queen.
Angelique Etoile [Angelique Ange]. The setting is the original Arcadia as well.
The games take place in a Utopian cosmos ruled by a queen who is supported by nine hot and single young men with power over the nine elements or "Sacrea". The first game starts with the current queen's powers beginning to fade. To determine which of two girls is better suited for the job, an examination is started in which both candidates must cultivate a continent on a new planet. However the player can choose to abandon becoming queen to fall in love with one of the guardians leaving the other girl with the queen gig.
The second game started with a new cosmos forming which also needs a queen and played similarly to the first. Angelique Trois and Angelique: Heaven's Requiem involve Angelique Collet first being drawn into a pocket cosmos which she also needs to develop and fighting off an evil Emperor from a third dimension who is attacking Angelique Limoges initial cosmos. Finally, Angelique Etoile involves a new girl, Ange, who is the legendary Etoile destined to save both realms and who needs to recruit nine new guardians for Angelique Collet's cosmos.
The story expands in later titles, but most entries in the series feature one of a succession of girls named Angelique as the protagonist, with ever larger casts of characters. The roster of potential love interests swells to 19 characters in later titles.
Other series in the franchise
It includes a console RPG game Angelique Tenkū no Requiem (Heaven's Requiem) [Angelique Collet].
There are two board games.

Fushigi no Kuni no Angelique (Angelique in Wonderland) [Angelique Limoges].
Sweet Ange - Another board game style game set in an Alternate Universe, this time involving making desserts for a school cooking contest.

There is also a douijin game based on the series, involving gender switching.
The two manga series are:

Angelique. Written by Kairi Yura
Guruguru Angelique. Written by J.O. Oda

The 4 OVAs (in the order they were released) and the TV series are:

Shiroi Tsubasa no Memoir (White Wing Memoir) - A continuation of the plot of Heaven's Requiem.
Seichi Yori Ai o Komete (From the Sanctuary with Love) - The second part of a side story which also includes 4 drama CDs and a manga, about the search for a set of sacrea gems that Angelique Collet, the heroine of the second game, needs to use in order to control the elements of a new cosmos until that cosmos' guardians are born.
Twin Collection - An 8 episode OVA where each episode features music videos for each guardian (two per episode), and a side story called "Arcadia Holiday".
Angelique - A retelling of the first game's events.

Koi suru Tenshi Angelique ~ Kokoro no Mezameru Toki (Beloved Angel Angelique ~When Hearts Awaken~) - A 13 episode TV series. Essentially, a retelling of Etoile. Its second season is titled ~ Kagayaki no Ashita ~ (Radiant Tomorrow).
---
This game provides examples of
---