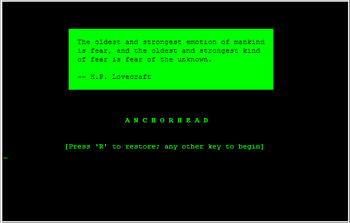 Anchorhead
is an award-winning work of
Interactive Fiction
written and programmed independently by Michael Gentry, and is heavily inspired by the
Cthulhu Mythos
. The game is set within the titular town of Anchorhead, which rests firmly within
Lovecraft Country
. You play the role of a nameless woman who has moved into town with her husband Michael, and quickly becomes enmeshed in the dark, disturbing goings on — to say more would be to spoil a truly excellent plot.
The game is notable, in addition to its great writing and overall polished feel, for breaking the typical structure and conventions of an Interactive Fiction game; the narrative is broken up into "days", during which you must complete required courses of action in order to proceed to the next day.
Incidentally, you can find it here
or here
. The list of awards should really speak for itself.
An updated and illustrated version can also be found for sale on Steam.
Caution: spoilers may be found here.
---
Anchorhead provides examples of the following tropes:
---