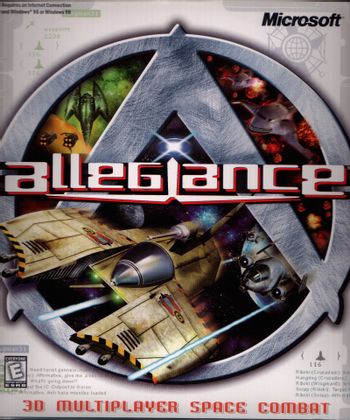 On that day, across the gulf of space, came an end to all our sanity and peace...
Allegiance is an innovative computer game, a unique mix of Real-Time Strategy and multiplayer Space Combat, that was first released by Microsoft in 2000. It failed to sell despite good reviews, and its source code has since been made available under a shared license. This allowed the die-hard fans the game quickly acquired to keep Allegiance alive. Today they still run the game's multi-player servers, operate a technical support forum, and continuously release new and updated content and code to keep the game running smoothly on modern computers. Allegiance can be downloaded for free from their site
, where you will also find a detailed wiki-fied gameplay guide. Which you will need.
In September 2017, the game was released (still free)
on the Steam platform.
In Allegiance, two teams compete to take control of a region of space by building space stations, mining asteroids for resources, and blasting the heck out of each other. Each team has a single commander who plays the game essentially as an RTS, building structures, investing in research, and setting the overall strategy. However, each space-ship under their command is flown by a human being who experiences the game as a first-person flight sim. Commanders can also jump into the action at any time, and players can become commanders if they successfully get the team to mutiny. This seemingly confusing structure works surprisingly well, with the game offering both fast-paced action and a lot of strategic depth.
A lot of the strategy comes from the fact that to win, players have to get organized and work together with their team. There are many non-combat roles that are absolutely essential, and the ability of each commander to get their team to co-operate and accomplish a range of complex goals will be infinitely more important to determining the victor than the ability of the pilots to play "Quake in space" (a phrase used by the game's community to describe what Allegiance is not). Allegiance really is a strategy game merged with first-person action, rather than an action game with elements of strategy added in.
The game is also interesting for its creative use of some space tropes, like Stealth in Space, and aversion of others, like Old-School Dogfight.
(Not to be confused with the Star Wars novel, TV series, or stage play.)
---
Allegiance provides examples of the following tropes:
---