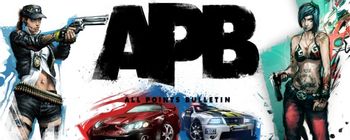 APB: All Points Bulletin (now APB: Reloaded) is a Massively Multiplayer Online Action Game, clearly inspired by the Grand Theft Auto series and developed by Real Time Worlds, creators of Crackdown. The players can play either as Enforcers or as Criminals of San Paro — for each side there are two factions (Prentiss Tigers and Praetorians for Enforcers, and G-Kings and Blood Roses for Criminals), each with its own bonuses and unlockable content.
One of the most important features is customization. During a presentation on Game Developers Conference, the creators showed lookalikes of Peter Molyneux, Richard Garriott, Warren Spector and Shigeru Miyamoto, complete with logos of their respective companies (or, in Miyamoto's case, the Mario sprite and boxers with the 1UP mushroom pattern) on their clothing. In a later gameplay, Mark Rein's character sports the U logo on his back.
Due to a disastrous launch phase and lackluster sales that fell far below predictions, Realtime Worlds was placed into administration in August 2010, and on September 16, 2010, the future of the game was sealed when Realtime Worlds announced that the servers would be shutting down soon after. However, GamersFirst picked up the game, renamed it "APB: Reloaded", and in December 2011, released the beta on its own and on Steam. The game is now Free-to-Play. The game was ported to the Xbox One in 2016 and the Playstation 4 in 2017.
Now currently owned by Little Orbit.
Not to Be Confused with the Atari arcade game of the same name.
---
This game provides examples of:
---