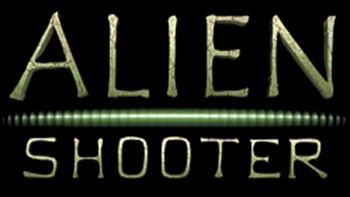 Alien Shooter is a top-down, Isometric Shoot 'Em Up by indie developer Sigma Team, released in 2003 for the PC and later made availible through Steam in 2009. An Updated Re-release, Alien Shooter: Revisited, was also released in 2009, featuring more levels and an extra game mode.
Here's the lowdown: A top-secret Elaborate Underground Base has been infested with hostile alien creatures. All on-site personnel have been killed. You, a crack government operative and literal One-Man Army (Or Woman, your choice) have been sent in to destroy the aliens. It's that simple.
Easy enough, right? Wrong. Trouble is, there's a lot of these aliens. A Lot. Like, hundreds of them on screen at a time. Luckily, you're not only a badass but you have an impressive arsenal of very large guns at your disposal. You'll need it all.
Sigma Team later released a sequel, Alien Shooter: Vengeance, in 2007. It added eight different characters with distinct stats and abilities, RPG Elements, and Voice Overs. This game also received an Updated Re-release in the form of Alien Shooter 2: Reloaded, released in 2009, which removed the voiceovers to dramatically decrease the size of the game, and also streamlined the leveling system. In 2007, Sigma Team released Zombie Shooter, quite similar to the first Alien Shooter but with zombie enemies. This was followed up by Zombie Shooter 2 in 2009. Eventually they went back to the aliens, releasing Alien Shooter 2: Conscription in 2010.
---
Alien Shooter provides examples of: