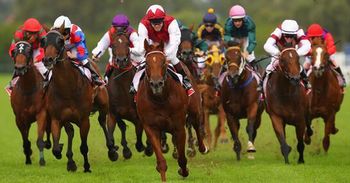 "It's Chock-full O' Drugs, followed closely by Stalker, with Old Levis fading fast!"
—
Commentator Trevor Denman
,
The Simpsons
, "Saddlesore Galactica"
In which men (mostly) wear multi-coloured outfits and see how fast they can ride equines (very fast, it turns out). Historically, the three Grade I stakes races which make up the Triple Crown of American Thoroughbred Racing (the Kentucky Derby, the Preakness Stakes, and the Belmont Stakes) are the totality of public knowledge about the sport in the US. In the UK, the most prestigious races are the ones that make up the Triple Crown of (British, or to be more accurate, English) Thoroughbred Racing (the 2,000 Guineas, the Derby and the St. Leger), in addition to which there's the Royal Ascot meeting and — venturing over into steeplechasing (the one with jumps, also known as National Hunt racing) — the Cheltenham Festival and the Grand National.

A frequent complaint against American Thoroughbred racing is that accomplished horses are generally retired from racing early (usually after their third year) to breed with other horses that raced well, in hopes of creating even better racehorses. The reasons are complex but generally involve a bit of financial calculus, comparing the all-but-guaranteed profits to be had on a horse (especially a stallion) in the breeding shed versus the honor and glory to be gained (at risk) on the racetrack. The most famous US-based horses of recent days to continue racing into their fourth years are California Chrome (who was retired in January 2017 as a 6-year-old) and Arrogate (retired at the end of his four-year-old season). California Chrome's bankroll of over $14 million was the greatest ever earned by a North America-based horse before Arrogate rode 2017 wins in the world's two richest races to a new North American record of $17.4 million. Before this pair, the most notable US-based horses in recent years to race beyond three were two-time Horse of the Year Wise Dan (justified in his case, being a gelding), Zenyatta (filly/mare formerly tied for the longest streak of consecutive Grade I/Group 1 wins worldwide), and Curlin (whose money record "Chrome" broke).

Another critique is that American Thoroughbreds are excessively inbred. Several breeding lines are especially popular, particularly that of Northern Dancer, a Canadian champion who is the grandsire of the great Storm Cat, and Seattle Slew (the first horse to win the U.S. Triple Crown while undefeated), through his son A.P. Indy.

PETA hates this sport, claiming that the horses in question are too young to be racing competitively.

Thoroughbred racing is also popular in Australia, Great Britain (mainly England), Ireland, France, Japan and (increasingly) in Latin America and Dubai. English racing differs from American racing in several ways: the races are more likely to be on turf (grass); they tend to be longer, horses generally have longer racing careers, and fillies/mares are more often matched against males than they are in the U.S. Another big difference is in course layouts. All tracks in the US (and Canada) run counterclockwise (or left-handed), with all turns being to the left. On the other hand, Britain has both left-handed and right-handed tracks.note Some examples: Epsom (the home of the Derby and the Oaks), Doncaster (the St. Leger), Cheltenham (the Cheltenham Festival) and Aintree (the Grand National) are left-handed; Ascot (the Royal Ascot meeting) and Newmarket are right-handed (although in the case of the latter, its most famous races, the 1,000 and 2,000 Guineas, are run on a very long straight). Most but not all tracks in France are right-handed.note The most notable exception is Auteuil, a Paris track that hosts all of the country's top jump races. Steeplechase races are held on a figure-eight course; hurdle races run over lower fences are on a left-handed track. In Australia, the "handedness" of a track depends on the state. Queensland and New South Wales race right-handed, while all other states race left-handed. And then there's Japan, which is a complete mess regarding track handedness (there are 24 tracks across the country, 7 of which* Tokyo, Niigata (which also holds some races on one big straight), Chukyo, Morioka, Funabashi, Urawa and Kawasaki are left-handed; the rest, barring Ohi, are right-handed).note It doesn't help that 1. one Japanese racecourse, namely Ohi racecourse (originally right-handed), has started holding races in both directions starting from 2021 and 2. another one, the Nakayama Racecourse (an otherwise right-handed racecourse too), has a dedicated steeplechase course that has multiple turns in both directions.

Other types of horse racing include the steeplechase (racing on a turf course with regularly-spaced jumps), Quarter Horse racing (very short sprints for horses who maintain their best speed at distances of a quarter of a mile), harness racing (Standardbred or French Trotter horses trotting or pacing while attached to sulkies: light vehicles in which the driver rides, and arguably the modern form of the ancient sport of chariot racing), and ban'ei (Japanese draft horses racing while pulling large weights). In the UK and Ireland, the term "steeplechase" refers exclusively to races run over large fixed obstacles; races that call for jumping over lower obstacles are called "hurdle" races, and both types are collectively called "jump" or "National Hunt" racing (although properly speaking, "National Hunt" also includes some flat races used to help prepare horses to eventually contest jump races).

In the UK, horse racing is sometimes known as the "Sport of Kings" due to the Royal Family's long-term interest in the sport; Charles II was an avid patron, and his niece Queen Anne founded Ascot racecourse near Windsor. This continues to this day — for Elizabeth II, horses were a lifelong passion and she was particularly keen on breeding Thoroughbreds for racing. Racehorses owned by her won over 1,600 races, including every high-profile British flat race bar the Derby note she was the British flat racing Champion Owner — the owner whose horses have won the most prize money during a single season — twice; her father (George VI) and her great-grandfather (Edward VII) both won this once each. Apparently she did not gamble, although she was said to read the Racing Post over breakfast every morning.

A fact about National Hunt racing (at least in the UK and Ireland) little-known to the uninitiated is that it's open to breeds other than Thoroughbreds. While most competitors are Thoroughbreds, it's not unknown to see a Selle Français (a French breed best known for its show jumping prowess) or an AQPS (a French breed of mostly Thoroughbred lineage, with extensive crosses to SF and a couple other sport horse breeds).
General Notes on Horses
An entire (uncastrated) male horse 4 years of age and under is a colt, at least in North America; an entire male horse older than that is a stallion. An entire male horse used for breeding is commonly called a stud.

A castrated male horse of any age is called a gelding. A male horse with one or both testicles undescended is a ridgeling. Ridgelings are often gelded before they enter training but not always: the famous stallion A.P. Indy is a ridgeling, as (allegedly) is 2015 U.S. Triple Crown winner American Pharoah. Ridgelings can also be known as rigs.

In North America, a female horse under 5 years of age is a filly; an older female is a mare.
This system is apparently different from Australian classifications, where entire male horses of 3 years of age and under are colts, and female horses of 3 years of age or under are fillies.
Japan does not have separate terms in their language to distinguish between colts/fillies and stallions/mares. In Japanese, all uncastrated males are 牡 and females are 牝. (Geldings are 騙, pronounced sen, but this particular kanji is often replaced by the kana せん/セン rendition)
Thoroughbred horses in the Northern Hemisphere have a universal birthdatenote of January 1 in the year they were foaled. In South America, the date is July 1; in the rest of the Southern Hemisphere, the date is August 1. Most horses are actually born between mid-January and early June in the Northern Hemisphere, and mid-July/August to December in the Southern Hemisphere.

Thoroughbreds may begin racing in the late summer/early fall of their 2nd year.

The average Thoroughbred is 16 hands high at the withers. A "hand" is a standard unit of measure for a horse and equals four inches; the withers are the highest point of the shoulder, just before the mane. Thoroughbreds tend to be light-boned and heavily muscled, and some say this is the result of a breeding program which has favored speed over durability and consequently created a fragile horse.
Thoroughbred coat colors are bay (any shade of brown with a black mane and tail and black lower legs), dark bay (very dark brown without much distinction of color between the main body and the darker points), brown (ditto, plus there is some tan coloration present; many jurisdictions tend to lump dark bays and browns together due to the similarity), chestnut (a range of shades from brown to red with no black at the points; may have a blond mane and tail, in this case it's called a flaxen chestnut; darker chestnuts are called liver chestnutsnote ), and grey (a base body color that resembles black but shades increasingly to whitenote as the horse ages). Black Thoroughbreds are uniformly black, though they tend to bleach faintly 'rusty' when exposed to sunlight. White Thoroughbreds exist but they are rare (but not unheard of, a perfect example being 2021 Oka-sho winner Sodashi). More fancy colors (Palomino for example) exist but are not only rare but less popular, since the unfortunate assumption is that breeders are breeding for color and not speed.

Though in many jurisdictions, grey Thoroughbreds are listed as "grey/roan", it is genetically impossible for a Thoroughbred to be roan. (Unless a mutation happens, like with this special case in Australia.)

The governing body for Thoroughbred registration in the United States is The Jockey Club; similar bodies operate in other countries. In order to be registered as a Thoroughbred, a horse's sire and dam must be registered Thoroughbreds.

All Thoroughbreds can trace their line to at least one of three foundation stallions: The Darley Arabian, the Godolphin Barb, and the Byerley Turk.

Thoroughbred bloodlines can be found in many of today's sport horse breeds, including the American Quarter Horse (the main breed used for Western riding) and Europe's warmbloods (used in show jumping, dressage, and eventing). Crossing Thoroughbreds with other breeds is also popular, to the point that Thoroughbred crosses may have their own name - for instance, a Thoroughbred/Quarter Horse cross is an Appendix Quarter Horse, and an Irish Draft/Thoroughbred cross is an Irish Sport Horse. Thoroughbred crosses are largely used in the English riding world, although Appendix horses have competed well in Western classes. In addition, many breed stud books allow registry of a horse if one parent is of the breed and one is a Thoroughbred, a testament to the impact Thoroughbreds have had on horse breeding.
And yes, to answer an obvious question that comes to the mind of most racing newbies, there are rules about what you can and cannot name a racehorse. Incidentally in the UK some of the joke names given in various Alan Partridge sports reports on The Day Today have become almost as well known as real horses (although as of 2023, none of the eligible ones have become an Ascended Meme).

Some countries may have additional naming rules. For example, a Germany-registered horse must have the same first letter in his name as his dam, while the name of a Japan-registered horse must have no less than 2 or more than 9 Japanese syllabic characters, in addition to the 18 Roman characters restriction.

Among horse breeders, "brother", "sister", and "sibling" have somewhat different definitions than in the human frame of reference. These terms are only used when two horses have the same "dam", i.e. mother. Full siblings have the same sire (father) and dam; half-siblings are out of the same mare but from different sires. Horses with the same sire but from different mares are simply said to be "from the same sire", with no sibling relationship implied.note

Two horses with different sires may be called "three-quarter" siblings if they are out of the same mare and their sires are father and son to each other. (A notable recent example of three-quarter siblings would be multiple G1 winners Daiwa Major and Daiwa Scarlet)
General Notes on Types of Races
Racing surfaces may be groomed dirt, grass (turf), or an artificial mixture of sand, wax, fibers, and other materal called "synthetic" or "all-weather".

Synthetic surfaces run under various brand names (Pro-Ride, Tapeta, Polytrack, and others) and were originally designed to provide safer footing for horses. It is not yet known how effective they are.

Racing surfaces are exposed to the effects of the weather. A dry but resilient dirt surface is called "fast" — a damp track is "muddy" — a very wet track with standing water over the surface is "sloppy". If a course is packed tight or excessively dry, it is "hard".

Likewise on a turf course, the condition may be "firm", "soft", or "yielding".
Some horses run better over a softer course than a firmer one; muddy track conditions also expose horses to having mud or water splashed into their faces from horses in front, which can startle them and put them off their game. Horses which prefer a wet dirt track to a dry one are called "mudders" or (especially in Australia) "mudlarks".

Races are often grouped by age and sex. Races restricted to 2-year-olds are called "juvenile". Races restricted to females are "distaff". A race for three-year-olds of either sex is a "derby"; a race for three-year-old females is an "oaks".

Very few races are restricted to males compared to those restricted to females.
For that matter, several countries (most notably Britain, France, Ireland, and Japan) restrict many of their highest-profile races for 2- and 3-year-olds to intact animals (in other words, geldings are banned). All three of the Triple Crown races in Britain and Japan are closed to geldings, as are two of the three traditional Triple Crown races in France and Ireland. On the other hand, if otherwise qualified to enter, geldings can run in any race open to intact males in the US, Canada, or Australia.

Races are also grouped by distance: A race shorter than a mile is a sprint. One and a quarter miles (the distance of the Kentucky Derby, among others) is a "classic distance", at least on dirt. On turf (grass), the classic distance extends to a mile and a half (the distance of several of the most famous turf races). Races longer than that are sometimes called marathons and are relatively rare in American Thoroughbred racing.

Races may be "flat" or over jumps.

Races are organized by the track secretary and are grouped into general categories:

Maiden — Entry is restricted to horses which have never won a race; to "break his/her maiden" is racing-speak for a horse "winning his/her first race".
Allowance — Entry is restricted to horses which meet certain categories (i.e. never won two races, California-bred, etc.)
Stakes — Entry is relatively unrestricted but owners must put up a "stake" - a significant starting fee - for the horse to enter
Graded stakes - The highest level of competition. Stakes may be Grade I, II, or III (Group 1, 2, or 3 in English flat racing, Grade 1–3 in National Hunt racing) with a corresponding increase in the amount 'staked' (and a corresponding increase in the prestige of winning or placing, as well as in the size of the purse).

Special subtypes of races also exist:

Claiming - A horse entered in this race is ostensibly for sale, for an amount set in the race conditions. This equalizes the field, since an owner with an exceptionally good horse will not enter it against cheaper competition unless he or she genuinely wants the horse to change hands.
Restricted - This race has entry restrictions other than age, sex, or competitive status. Most often, the restriction is that all entrants must have been bred in a specific geographic area. In North America, this is usually a specific U.S. state, especially one other than Kentucky; a Canadian province; or Canada as a whole (as in the Canadian Triple Crown races). Rarely, such a race will be open only to horses from a certain stable or group of stables, or to those who were sold through a particular marketplace (for example, Keeneland in Lexington, Kentucky). Differ from allowance races in that restricted races may also be stakes. Note that in the U.S. and Canada, restricted races are ineligible for grading, regardless of their prestige.
Invitational - This race is open only to horses which have been invited to participate. Generally these are high-level stakes races. May or may not involve a public vote on who gets to participate (see Arima Kinen). Not classified as "restricted" in the North American system.
Handicap - Each horse carries a varying amount of weight depending on age, gender, and past performance. Horses with a higher chance of success carry more weight.

Quality handicap – A type of handicap race in which superior horses receive less severe weight penalties than under pure handicap rules. The Melbourne Cup is the most prominent race run under such conditions.

Weight-for-age - Horses of various ages may enter this race. Older horses will carry higher weights than younger. In most countries, the weights are based on a table that accounts for not only the horse's age, but also the race distance, time of year, and whether the horse was foaled in the Northern or Southern Hemisphere. The Breeders' Cup races that are open to horses older than 2 use a simplified system that accounts for the aforementioned criteria. Almost all weight-for-age races are group/graded races, with a significant number at the highest level. In addition to the Breeders' Cup, other examples include the Cox Plate and The Everest in Australia, the Japan Cup, and the King George VI and Queen Elizabeth Stakes in Britain.
Match - a two-horse race, usually between celebrity horses to decide superiority (such as that between Seabiscuit and War Admiral). There have been no match races run between top-quality horses since 1975, when Ruffian suffered a fatal breakdown in a match race with Foolish Pleasure, which caused public sentiment to turn against match races.

As a general rule, female horses entered into races against males will carry less weight. (About 10 pounds for most US and Canadian races; in the US Triple Crown races, the allowance is 5 pounds. In Great Britain, the allowance is 5 lb for most flat races, 7 lb for most jump races, and 3 lb for higher-quality races of either type. In Australia, the allowance for all set weight and weight-for-age races is 2 kg. In Japan, it depends on the race, but the standard is 2 kg.)
The amount of weight carried by a Thoroughbred in a race usually ranges from 105-145 poundsmetric . This includes the jockey, the saddle, and the jockey's equipment other than his/her helmet (which is typically well-padded and quite substantial). If the total is less than the horse's assigned weight, the horse will carry a special weighted blanket or have small weights attached to the tail to make up the difference.
Important Races and Race Meetings
USA
Pegasus World Cup (1 1/8 miles) – The first major US race of the calendar year, it was for a short time the world's richest race. It's held in January at Gulfstream Park in the Miami suburbs, and launched in 2017 with a purse of US$12 million, which was raised to $16 million for 2018. However, the purse was greatly reduced after 2019, and is now only $3 million. It remains a prestigious race, with many competitors aiming for the Middle East's two mega-money races, the Saudi Cup and Dubai World Cup. The January timing allows retiring horses to have a last race (in the States) before heading to the breeding shed (the Northern Hemisphere breeding season starts in mid-February).
The American Triple Crown consists of the following three races:

The Kentucky Derby (1 1/4 miles) - "The Run for the Roses" or "The Fastest Two Minutes In Sports" - Churchill Downs, Louisville, Kentucky - the first Saturday in May (the one everyone has heard of). According to Louisville native Hunter S. Thompson, it is decadent and depraved. It and its sister race, the Kentucky Oaks, are also notable as the oldest continuously held sporting events in the US, both races having taken place every year since 1875.note
The Preakness Stakes (1 3/16 miles) - "The Run for the Black-Eyed Susans" - Pimlico Race Course, Baltimore, Maryland – two weeks after the Derby. It actually predates the Kentucky Derby by a year, but was not run from 1891–93.
The Belmont Stakes (1½ miles) - "The Run for the Carnations" or "The Test of Champions" - Belmont Park, Elmont, New York (Long Island, just outside New York City) – three weeks after the Preakness. The oldest of the US Triple Crown races, first held in 1867, though not held in 1911 or 1912 due to anti-gambling laws in New York State.
Only 13 horses have won all three — before American Pharoah swept the series in 2015 (just when people were starting to wonder if winning the Triple Crown was just something that didn't happen anymore), the last to do so was Affirmed in 1978. note

The Kentucky Oaks (1 1/8 miles), run on Churchill Downs on the day before the Derby. Restricted to 3-year-old fillies. Also known as "The Lilies for the Fillies".
Travers Stakes (1 1/4 miles) – The oldest race in the US specifically for three-year-olds, having been first held in 1864 (continuously since 1913). Run in late August at the historic Saratoga track in upstate New York, it's sometimes called the "Mid-Summer Derby". Some international sources rate this race higher than the Preakness, though lower than the Derby or Belmont. While the list of winners is filled with big names, it's equally famous for who didn't win; Saratoga is nicknamed "The Graveyard of Favorites" thanks to its penchant for producing surprise winners of big races.
Jockey Club Gold Cup (currently 1 1/4 miles) – Currently held on Labor Day weekend in September at Saratoga, it has a rather interesting history and a veritable who's who of winners. For more than a century (1919–2020), it was the highlight of the fall meet at Belmont Park. Originally run at 1½ miles, it was stretched out two years later to a full 2 miles, making it a unique test of champions. It remained at that distance through 1975, after which it returned to its original distance of 1½ miles. After the 1989 edition, it was shortened again to its current distance. Unfortunately, it lost a good deal of its prestige in the following decades, mainly due to its proximity in time to the Breeders' Cup Classic. In 2021, it was moved to Saratoga and also rescheduled for Labor Day weekend with hopes of making it more attractive to owners and trainers aiming for the Breeders' Cup.
The Breeders' Cup World Championships - late October/early November - location rotates. A two-day event that serves as a de facto championship event for North American racing, and also drawing many top horses from other parts of the world (mainly those trained in Europe). All races with "Juvenile" in their titles are restricted to 2-year-olds; all others are for 3-year-olds and up. Unless restricted to females, all races are open to horses of both sexes, including geldings. All races are on dirt except the Breeders' Cup Mile and races with "Turf" in their titles. The 2018 edition saw a format change that will presumably continue in the future. The first day, billed as "Future Stars Friday", features all of the races for 2-year-olds, while the second is now billed as "Championship Saturday".

Future Stars Friday:

Breeders' Cup Juvenile (1 1/16 miles)
Breeders' Cup Juvenile Turf (1 mile)
Breeders' Cup Juvenile Turf Sprint (5 to 6 furlongs, depending on track facilities) – new for 2018
Breeders' Cup Juvenile Fillies (1 1/16 miles) – females
Breeders' Cup Juvenile Fillies Turf (1 mile) – females

Championship Saturday:

Breeders' Cup Classic (1 1/4 miles)
Breeders' Cup Distaff (1 1/8 miles) – females. From 2008 to 2012, this race was known as the Breeders' Cup Ladies' Classic. Despite losing its girly rename, it remained the highlight of "Filly Friday" until that day became dedicated to 2-year-olds, and is still the one most geared toward women, breast cancer awareness, and Pink Product Ploy.
Breeders' Cup Sprint (6 furlongs)
Breeders' Cup Turf Sprint (5 furlongs or 6½ furlongs, depending on track facilities)
Breeders' Cup Filly & Mare Sprint (7 furlongs) – females
Breeders' Cup Mile (1 mile, turf)
Breeders' Cup Dirt Mile (1 mile)
Breeders' Cup Filly & Mare Turf (1 1/4 miles or 1 3/8 miles, depending on track facilities) – females
Breeders' Cup Turf (1½ miles)

Defunct Breeders' Cup races:

Breeders' Cup Marathon (1½ miles, dirt, 2008–2013)
Breeders' Cup Juvenile Sprint (6 furlongs, dirt, 2011–2012)
Britain and Ireland
The flat racing season runs from late spring to autumn (these days, the jockeys' championship is decided by counting wins between the Guineas Meeting and British Champions Day, although there are a few meetings held before and after these ones). Many flat races specifically for 2- and 3-year-olds, including all such races in this list, are for entire horses only, as the value of winners for stud purposes matters a great deal. Restrictions on geldings largely disappear after age 3, when most but not all top-class runners have been retired to stud. All races listed here that are open to intact males older than 3 are open to geldings of the same age.

The Triple Crown of Thoroughbred Racing, also known as the British (or English) Triple Crown, consists of the following three races, all of which are for three year-old colts and fillies, although the entrants these days are mostly colts. The last horse to win all three was Nijinsky note in 1970.

The first is the 2,000 Guineas (1 mile), run in late April or early May at Newmarket in Suffolk — a place considered to be the birthplace and global centre of horse racing.
The Derby (1 mile, 4 furlongs and 6 yards, or just over 1½ miles) is Britain's richest horse race, in addition to which it's the best-known and most prestigious British flat race. It takes place in early June at Epsom in Surrey (often on the same day as the Belmont Stakes in the States). It dates back to 1780. The 1931 race was the first outdoor sporting event ever to be televised, transmitted in rudimentary fashion (by today's standards) by John Logie Baird's experimental system; in 1952, it was the subject of the movie Derby Day. Very much part of the Season. Officially known as The Derby Stakes, it's usually referred to as the Epsom Derby in the USA to avoid confusion with the Kentucky Derby, but in Britain it is simply the Derby. The name derives from the fact that the race's original sponsor was the 12th Earl of Derby, a major patron of horse racing in the late eighteenth century; any other horse race with the word "Derby" in the title is named after this one.
The oldest and longest of Britain's classic flat races is the St. Leger (1 mile, 6 furlongs and 115 yards) which is the last one of the year — usually in September, and as such it is said to mark the end of the English summer. It's held at Doncaster. These days, most 2,000 Guineas and Derby winners aren't entered for the St. Leger because the British stud market has become less favourable to long(er) distance runners, favouring speed over stamina; the only horse in recent decades to even attempt a Triple Crown was Camelot in 2012, who finished second in the St. Leger after winning the 2,000 Guineas and The Derby.

The above races are three of the five flat races collectively known as the Classics; the other two, both of which are open to three year-old fillies only note , are:

The 1,000 Guineas is run at Newmarket the day after the 2,000 Guineas, and over the same distance.
The Oaks, sometimes known as the Epsom Oaks, takes place on the first day of the Derby Festival (ie. the day before the Derby) and is run over the same length. It's named for the country estate of the afore-mentioned Earl of Derby, and was first run in 1779, the year before the first Derby.

The Coronation Cup is, like the Oaks, run on the first day of Epsom's Derby Festival and over the same length. Open to four year-olds and over, it often features horses that previously ran in either of those two races.
The Irish Derby (1½ miles) is Ireland's most famous race, held at the Curragh in County Kildare three weeks after the Derby and often featuring many horses that ran there.
The most prestigious race meeting in the flat season (in terms of both social occasion and prize money) is Royal Ascot, held in June at said Berkshire racecourse (prior to 1939, it was actually the only meeting held there). As you'd expect from the name, it's attended by the Monarch and several other members of the Royal Family, who arrive in horse-drawn carriages driven along the finishing straight on all five days of the event. This one is very much a high point of the Season.

The third day of Royal Ascot is Ladies' Day, a day on which dressing smartly is de rigueur, with ladies being pretty much required to wear a fancy hat. The centrepiece is the Gold Cup (often erroneously referred to as the Ascot Gold Cup, presumably to differentiate it from the Cheltenham one), which is considered the most prestigious event for 'stayers' (horses which specialise over long distance); it's run over a distance of 2 miles 3 furlongs and 210 yards (ie. just under 2½ miles) and is open to horses aged four and over.

Britain's most prestigious open-age flat race, as well as the most prestigious open to geldings, is the King George VI and Queen Elizabeth Stakes (informally known as the "King George"), held every July at Ascot over a distance of 1 mile 3 furlongs and 211 yards (ie. just under 1½ miles). It's nowadays the second-richest race in the country, with the prize money exceeded only by that of the Derby.
Another prestigious flat meeting is Glorious Goodwood, held in late July and early August at Goodwood in West Sussex. Races include the Sussex Stakes (1 mile) and the Goodwood Cup (2 miles), both of which are open to horses aged three and over.
The flat season comes to a close with British Champions Day at Ascot in October. It's the richest single day in British horse racing, with around £4million available in prize money across six races. All six are open to 3-year-olds and up, with only the Fillies' and Mares' Stakes being sex-restricted.

The National Hunt season takes place during the winter months when the softer ground makes jumping less dangerous (although in the event of the ground becoming frozen, race meetings can and do get called off). The horses are much cheaper, as the majority of them are geldings and have no breeding value. They are therefore not retired at as young an age as many of their flat racing counterparts (the more successful of whom are destined for the stud farms), and as a result National Hunt racing tends to be more popular as the horses become familiar to the racing public over a number of seasons.

The Coral Gold Cup is held at Newbury in Berkshire in late November or early December over a distance of about 3 miles, 1 furlong and 214 yards (and 21 fences). Known as the Hennessy Gold Cup until said cognac distiller stopped sponsoring it in 2016, it — like its Irish counterpart (see below) — is an important trial for the Cheltenham Gold Cup; nine horses that have won this race have gone on to win the latter.
The King George VI Chase is run on Boxing Day at Kempton Park in Surrey, over a distance of 3 miles (and 18 fences) and is open to horses aged four and over. In terms of prestige, it's considered second only to the Cheltenham Gold Cup as far as National Hunt races are concerned.
Also held on Boxing Day is the Welsh Grand National at Chepstow in Monmouthshire, over a distance of 3 miles and 6½ furlongs (and 23 fences). Over the years this race has become more prestigious, to the point where performance here is a good indicator for future performances at the Cheltenham Gold Cup and the Grand National. For example, Silver Birch won the Welsh Grand National in 2004 and went on to win the Grand National in 2007, while Synchronised (the 2010 winner) and Native River (2016) both went on to win the Cheltenham Gold Cup (in 2012 and 2018 respectively).
The Irish Gold Cup is held at Leopardstown, just south of Dublin, in February. Formerly known as the "Irish Hennessy" after its long-standing (until 2015) sponsor, it's run over 3 miles, 1 furlong and 214 yards (and 21 fences), and has long served as a high-profile trial for the Cheltenham Gold Cup (see below).
The most prestigious race meeting in the National Hunt calendar is the Cheltenham Festival, which takes place over four days in March at Cheltenham in Gloucestershire. As it usually coincides with St. Patrick's Day, it's very popular with Irish visitors.

The main feature is the Cheltenham Gold Cup, run over a distance of 3 miles, 2 furlongs and 70 yards (and 22 fences) and regarded by many trainers and owners as being more prestigious than the Grand National (see below). Famous winners include Golden Miller (who won it five times in the 1930s and is one of just two horses to have won both this race and the Grand National note ), Arkle (a three-times winner in the 1960s note ), Desert Orchid (a popular winner in 1989) and Kauto Star (whose 2009 victory made him the first horse to retain the Cheltenham Gold Cup, he having won it in 2007 and then lost out to his stablemate Denman in 2008).
The three other major races at this meeting are the Champion Hurdle (the most prestigious hurdling event in the National Hunt calendar), the Queen Mother Champion Chase and the Stayers' Hurdle.
In 2020, the Cheltenham Festival was blamed for accelerating the spread of COVID-19 in the UK, it being the last major sporting event to take place before a national lockdown was imposed by the government.

By far the best-known British jump race (and arguably the best-known British horse race full stop, these days) is the Grand National, run over a gruelling 4 miles and 2½ furlongs note at Aintree in Liverpool in early April. For horses aged six and over, this race — the longest National Hunt race in Britain — covers no less than 30 jumps, including notorious ones like Becher's Brook note , Canal Turn note and the Chair note , resulting in the unseating of riders left, right and centre and killing a total of 58 horses over the 162 races so far. Winners of this race, often referred to simply as "the National", have deservedly gone down in racing legend, among them Red Rum note , Foinavon note , Aldaniti note , Mr. Frisk note and Tiger Roll note . Even horses that didn't win it, like Devon Loch note and Esha Ness note , are better-remembered than horses that were much more successful. Similarly, the voiding of the 1993 race (after 30 of the 39 riders not only began but carried on racing following a false start, with seven of them actually completing the "race that never was") and the postponement of the 1997 race (following the evacuation of the course due to an IRA bomb threat) were both huge news stories in the UK. This race tends to be the only one for which people who don't usually follow horse racing will place a bet, or at the very least take part in a sweepstake.
The Irish Grand National is the Grand National's Irish counterpart, run over 3 miles and 5 furlongs (and 24 fences) at Fairyhouse in County Meath on Easter Monday. Several winners of the Irish Grand National have also won its English counterpart, but none in the same year; the most recent were Bobbyjo and Numbersixvalverde, both of which won the English race (1999 and 2006 respectively) the year after they won the Irish one.
Perhaps unsurprisingly, the Grand National's Scottish counterpart is the Scottish Grand National, run over just under four miles (3 miles, 7 furlongs and 176 yards, to be precise), during which there are 27 fences to be jumped. It takes place at Ayr in, err, Ayrshire (having moved from Bogside, also in Ayrshire, when that course closed in 1965) in April. Several winners of this race have also won the English race, although only one, the legendary Red Rum, won them both in the same year (1974).
The end of the National Hunt season is marked by the Bet365 Gold Cup which is run at Sandown Park in Surrey over 3 miles, 4 furlongs and 166 yards (and 24 fences) in late April. Formerly known as the Whitbread Gold Cup (it having been sponsored by the Whitbread brewery from its inception in 1957 until 2001), it takes place during a meeting that features both jump and flat races.
Elsewhere
Prix de l'Arc de Triomphe (2,400 m, about 1½ miles) – France's most famous race and the richest turf race in Europe, held in early October in Paris.
Dubai World Cup (2,000 m, about 1 1/4 miles) – The world's richest horse race until the Pegasus World Cup came along, it still ranks high on the list with a $12 million purse. This has become the centerpiece of Dubai World Cup Night, which features multiple Group races, the most prominent of which are:

Dubai Turf (1,800 m, about 1 1/8 miles) – $6 million purse.
Dubai Sheema Classic (2,400 m) – $6 million turf race for older horses (4 and up).

Saudi Cup (1,800 m) – Currently the world's richest race, with a total purse of US$20 million, with $10 million to the winner. Held on dirt in the country's capital of Riyadh.
Melbourne Cup (3,200 m note - "The Race That Stops a Nation". Traditionally a pure handicap, but in recent decades has changed to "quality handicap" conditions. Notably won by Makybe Diva three times running.
W.S. Cox Plate (2,040 m, just over 1 1/4 miles) – While the Melbourne Cup has an outsized place in Australian culture, this race, run at a different Melbourne track, might have a higher reputation within the racing community. Unlike the Melbourne Cup, it's weight-for-age. Only seven horses have won the Cup–Plate double, among them Phar Lap and Makybe Diva. Winx, who won this race an unprecedented four times in a row, never entered the Melbourne Cup.
The Everest (1,200 m, about 3/4 mile) – Held in Sydney and the world's richest turf race, with a purse of A$15 million.
The Canadian Triple Crown consists of the Queen's Plate, The Prince of Wales Stakes and the Breeders' Stakes.

Each of the three races is contested at the same distance as its US counterpart (in the same order)—but unlike the US Triple Crown races, all held on dirt, the Canadian races are held on three separate surfaces (Queen's Plate, artificial; Prince of Wales Stakes, dirt; Breeders' Stakes, turf). Also unlike their US counterparts, these are "restricted" races open only to Canadian-breds. The first and last legs are held at the same venue, namely Woodbine in Toronto.

The Japanese Triple Crown consists of the following races, all held on turf. Each is roughly equivalent to one of the English Triple Crown races.

Satsuki Shō (2,000 m, Nakayama) – Also known as the Japanese 2,000 Guineas; held in April. Longer than its English counterpart.
Tokyo Yūshun (2,400 m, Tokyo) – Also known as the Japanese Derby; held in late May or early June.
Kikka-shō (aka Kikuka-shō 3,000 m (about 1 7/8 miles), Kyotonote ) – Also known as the Japanese St. Leger; held in October.

Japan also has a distaff versionnote of the Triple Crown, frequently nicknamed the Triple Tiara:

Ōka Shō (1,600 m, Hanshin) - aka Japanese 1000 Guineas; held in early April (right in the middle of sakura season, which gives the race its Japanese name, literally "Cherry Blossom Award")
Yūshun Himba (2,000 m, Tokyo) - aka Japanese Oaks; typically held in late May.
Shūka Shō (2,400 m, Kyotonote ) - held in late October.
Before 1996, the final leg of the Japanese Triple Tiara was the Queen Elizabeth II Cup (2,200 m, Kyotonote , mid-November). It's being held to this day, just opened to older fillies and mares as well. Not to be confused with the Hong Kong Group One race of the same name (which is open to all 3-year-olds and up).

Japan Cup (2,400 m) – Probably the best-known Japanese race outside the country, it is one of the world's richest races. Held in November on turf in Tokyo.
Arima Kinen (2,500 m, Nakayama) - If you don't consider the Japan Cup the best-known Japanese race outside the country, you most probably give this honor to Arima Kinen instead. It's notable in that the horses have to be voted for in a dedicated poll in order to participate. Also of note is that more money is bet on this race than any other in the world by a wide margin. It also marks the end of the racing season, being held at the end of December.
Tokyo Daishoten (2,000 m on dirt, Ohi) - Dirt racing has historically enjoyed lesser prestige in Japantrivia , making this race a less-attended dirt equivalent of Arima Kinen (minus the popularity poll).
Horse Racing Honors and Awards
The Eclipse Awards, given in February, honor American horses which have excelled in particular categories. A horse which wins an Eclipse is a "champion".

The highest honor is the "Horse of the Year" award. It is generally awarded to males, but some notable females (All Along, Busher, Azeri, Lady's Secret, Rachel Alexandra, Zenyatta, and Havre de Grace) are on that rollnote . The incumbent (2022) Horse of the Year is Flightline.
Awards are also bestowed to breeders, owners, trainers, and journalists who have made exceptional contributions to the sport.

The European equivalents to the Eclipse Awards are the Cartier Awards. The 2022 European Horse of the Year is the British-bred and -trained Baaeed.
The Canadian equivalents are the Sovereign Awards.
The US has a Hall of Fame for accomplished trainers, owners, and jockeys. Most other racing countries have similar institutions.
Horse Racing Statistics
Highest earnings on the track: Possible claimants include the Japanese horse Orfevre (earnings translate to roughly $19.0 million) and the Australian horse Winx (over A$26 million; might equate to more than Orfevre, depending on the method used).
Longest winning streak since modern bookkeeping: 33 (Winx)
Longest unbeaten career (by wins) since modern bookkeeping: 25 (Australian horse Black Caviar)
Number of horses to win the U.S. Triple Crown: 13 (Sir Barton, 1919; Gallant Fox, 1930; Omaha, 1935; War Admiral, 1937; Whirlaway, 1941; Count Fleet, 1943; Assault, 1946; Citation, 1948; Secretariatnote , 1973; Seattle Slew, 1977; Affirmed, 1978; American Pharoah, 2015; and Justify, 2018)

The concept of the U.S. "Triple Crown" was popularized in 1930, the year of Gallant Fox's sweep, but is known to have been used several years earlier.

Number of horses to win the English Triple Crown: 15 (West Australian, 1853; Gladiateur, 1865; Lord Lyon, 1866; Ormonde, 1886; Common, 1891; Isinglass, 1893; Galtee More, 1897; Flying Fox, 1899; Diamond Jubilee, 1900; Rock Sand, 1903; Pommern, 1915; Gay Crusader, 1917; Gainsborough, 1918; Bahram, 1935; and Nijinsky, 1970)

Some authorities do not count the three World War I-era horses due to the disruption of normal racing routine in Britain.

Number of horses to win the Canadian Triple Crown: 12 (Queensway, 1932; Archworth, 1939; Uttermost, 1945; Ace Marine, 1955; Canadian Champ, 1956; New Providence, 1959; Canebora, 1963; With Approval, 1989; Izvestia, 1990; Dance Smartly, 1991; Peteski, 1993; and Wando, 2003)

The Canadian Triple Crown was formally established in 1959, though all three legs had been run for decades prior to that. Unlike the situation in the U.S., the horses that swept the Canadian races before 1959 were not officially recognized as Triple Crown winners until 2014.

Number of horses to win the Japanese Triple Crown: 8 (St Lite, 1941; Shinzan, 1964; Mr. C.B., 1983; Symboli Rudolf, 1984; Narita Brian, 1994; Deep Impact, 2005; Orfevre, 2011; and Contrail, 2020)
Most Grade 1/Group 1 wins: 25 (Winx)
Famous Horses (sorted by country of birth)
United Kingdom and Ireland
Eclipse: An undefeated 18th century British racing legend, Eclipse dominated every race he ever ran and is estimated to be an ancestor of nearly every living Thoroughbred. The Eclipse Awards are named in his honour, as is, of all things, the car known as the Mitsubishi Eclipse.
Pot-8-Os: Mostly known for his amusing name (sometimes spelled "Potoooooooo" for extra laughs), he was actually a son of Eclipse and a great champion in his day (though never the leader). Most Thoroughbreds descended from Eclipse in the male line do so via Pot-8-Os and his son, Waxy.
Arkle: Probably Ireland's most beloved racehorse. He won three consecutive Cheltenham Gold Cups in the mid-1960s, becoming the shortest priced favourite winner ever, won the Irish Derby with a handicap of 2 1/2 stones (15kg) more than his rivals, and is still overall the highest rated UK and Ireland steeplechase horse. Became known by the nickname "Himself", which says it all really.
Red Rum: The only horse ever to win the Grand National three times (in addition to which, he came second in the two years between his second and third wins) and who never fell in a career spanning over a hundred races. Following his third win in 1977, he became a celebrity in Britain to the extent that he was invited to switch on the Blackpool illuminations and his retirement was the lead story on the BBC news. For many years subsequently, he led the pre-race parade at the Grand National, and after he died, he was buried next to the winning post at Aintree. A British polling firm found in 2007 — more than 11 years after his death — that he was still the UK's best-known horse (Black Beauty came second).
Shergar: Won the 1981 Derby by ten lengths (the record margin of victory). Was famously horse-napped in 1983, possibly by the IRA and generally believed to have been killed. They Never Found the Body and "jokes" about him being ridden by Lord Lucan and/or ending up as dog-meat kept comedy writers going for over a decade afterwards. The Shergar Cup, competed for at Ascot every August, is named after him.
Aldaniti: Recovered from a career-threatening injury to win the 1981 Grand National; his jockey, Bob Champion, was a cancer survivor. A movie about them, Champions, was released in 1984. Bob Champion was played by John Hurt, while Aldaniti played himself.
Desert Orchid: A grey steeplechaser in The '80s, much loved for his front-running style, iron will and extreme versatility. Four-time winner of the King George VI Chase, and also won the Cheltenham Gold Cup and the Irish Grand National once each.
Makybe Diva: Foaled in England, but her dam Tugela was purchased by Australian tuna magnate Tony Šantić while in foal, and per his standard practice, Tugela was kept in England to give birth. Her foal, named after "Maureen, Kylie, Belinda, Diane, and Vanessa", five women employed by Šantić, was offered for sale in 1999 but didn't meet his required price, leading to him shipping both horses to Australia. Her early career was unusual in that she was unable to race against horses of her own age because she was foaled to the Northern Hemisphere breeding calendar—her first race was as a 3-year-old in late July 2002, and she aged up by the time of her second race two weeks later. Makybe Diva ended up a 3-time Melbourne Cup winner and one of Australia's biggest local celebrities as a result. She retired as the biggest money-winner in history who wasn't based in Japan (A$14.5 million, or US$15.5 million using conversion rates during her career), though that distinction has most recently passed to Winx (see the Australia/NZ folder).
Galileo: An Irish-bred bay by Sadler's Wells out of Arc de Triomphe winner Urban Sea, Galileo had an excellent racing career, winning the Epsom and Irish Derbies plus the King George VI and Queen Elizabeth Stakes in 2001. He became his father's successor as Coolmore's star stallion, producing over 50 individual Group 1/Grade I winners, and has been the leading sire in Great Britain and Ireland every year but one since 2008. His most notable product is the undefeated Frankel (see below). At the time of his death in 2021, he had the world's highest stud fee.note
Frankel, a British stallion who went unbeaten in his 14-race career from 2010 to 2012, including nine Group 1 wins in consecutive starts. Only the aforementioned Winx has more, with 10. Equally notable for receiving the highest rating ever awarded (in flat racing) by two separate rating organizations—the British publication Timeform (operating since 1948) and the World Thoroughbred Racehorse Rankings Committee (which began rating horses in 1977). He is a son of Galileo, and a grandson of both Sadler's Wells and Danehill.
Enable is one of Britain's greatest race mares of the current century. A daughter of King George VI and Queen Elizabeth Stakes winner Nathaniel, the bay won her only 2-year-old race in 2016. After a win and a third-place in her first races in 2017, she stepped up in class, with Frankie Dettori taking the ride. She wouldn't lose again for more than two years, winning (among other races) the Epsom Oaks, Irish Oaks, the King George twice, the Arc twice, and the Breeders' Cup Turf. Her streak ended with a second-place finish in the 2019 Arc, but she wasn't done, winning the King George again as a 6-year-old in 2020. After being badly beaten in her final race, the 2020 Arc, she was retired to the breeding shed.
Australia and New Zealand
Phar Lap: Australian (or New Zealand) racehorse with an exceptional record; was said to have been poisoned when he went to compete in the USA.
Winx: 4-time Cox Plate winner, Winx holds the records for most Grade/Group 1 victories (25) and most wins in consecutive G1 starts (10), had one of the longest winning streaks (33 straight races) in modern bookkeeping, and was rated the best racehorse in the world in the Longines World's Best Racehorse Rankings in 2018. In April 2015 Winx, then 3 years old, finished second in the Australian Oaks. From then until her retirement in April 2019, she never lost another race, beating several top-class horses and winning at distances between 1300 and 2200 meters. She also became Australasia's all-time money-winner, and by some measures the world's biggest.* In 2017, she was inducted into Australia's racing hall of fame while still in training, only the third horse so honoured. In that same year, the Warwick Stakes, a race she had already won twice, was renamed the Winx Stakes, and she won the first edition under its new name in 2018. She also made enough of a splash globally that in 2018 she won the Secretariat Vox Populi Award, given to the horse selected as the year's best by racing fans, becoming the first horse based outside North America to receive the award. Notably among racehorses of her caliber, Winx does not have a particularly long stride (she averages at 6.76 meters, compared to Black Caviar's 8.42). Instead, she has a very high stride rate—on average, she can take 170 strides per minute, 30 more than the average racehorse—and she can accelerate in the last furlongs of a race when most horses are slowing down.
Black Caviar, the sensational Australian mare who is the modern record-holder for an unbroken win streak, retiring with a record of 25: 25-0-0-0, probably the greatest modern race mare (with the possible exception of Winx). Made more impressive by some of her wins coming after shipping literally halfway around the world to the U.K. twice. She was the second horse to be inducted into Australia's racing hall of fame while in training,note and also won a race named after her, specifically the Black Caviar Lightningnote in 2013.
Chautauqua is probably Australia's best-known sprinter in the post-Black Caviar era. "The Grey Flash", a gelding, is best known for three things: (1) A very good race record, including 6 Group 1 wins. Among those were three straight in the TJ Smith Stakes (2015–2017), one of Australia's most famous sprint races, and one in the Chairman's Sprint Prize in Hong Kong. (2) His racing style, which saw him generally trail the field until storming back near the very end. All three of his wins in the Smith, as well as the Chairman's win, saw him come from last place, and his 2017 Smith win is considered one of the most remarkable stretch runs in racing history, given that he was in last place with about 250 m left, had to change his racing line during said run, and was still out of the money at the 100 m mark. (3) His ill-tempered nature, with occasional refusals to break from the starting gate early in his career and regular refusals by the very end, which led to the end of his racing career. He's since been retrained as a show horse.
United States
Man O' War: Considered by many (American) racing enthusiasts to be the greatest racehorse of all time, he ran twenty-one times over a two year period and only lost once... despite regularly carrying handicap weights that would cause PETA to go into epileptic seizures. For the record, although the horse that defeated him was named Upset, this is not where we get the term from; sports papers of the time made comments on how ironic the name was. He did not win the Kentucky Derby (and thus the Triple Crown, since he easily dominated the Preakness and the Belmont Stakes) simply because his owner felt that the first Saturday in May was too early in the year to run a 3-year-old horse at considerable distance. In the one race he was allowed to go all out, his jockey looked back to see his opponent more than a quarter of a mile behind and reined him into a canter to cross the wire. He sired Triple Crown winner War Admiral and is the grandsire of Seabiscuit, and remains one of the most influential stallions in the history of the sport's pedigree (genetic lines).
Seabiscuit: Depression-era horse known for winning against long odds and the subject of a recent movie; a short and stocky, funny-looking horse with crooked legs that consistently outran "better-looking" horses carrying 30 lbs less. Famous for defeating Triple Crown winner War Admiral (his uncle, incidentally) in the biggest match race in history.
Secretariat: If you're American and don't think Man O' War is the greatest racehorse of all time, chances are it's because you think the title belongs to Secretariat. By stallion Bold Ruler, out of Somethingroyal, and winner of the 1973 Triple Crown, he crushed the records of all three races, but is best known for his thirty-one length victory in the 1973 Belmont Stakes. Most of his all-time world records still stand; in the Belmont, for instance, no other horse has come within one and a half seconds of equalling him. Coasting out from under the wire after winning the Belmont, he set a track record for the mile and five-eighths. As he was coasting out from under the wire. As in, he wasn't even trying. Won Eclipse Horse of the Year honors in both 1972 and 1973. Is the subject of a 2010 movie, starring Diane Lane as his owner Penny Chenery and John Malkovich as trainer Lucien Laurin.
Ruffian: Known as "Queen of the Fillies" and "Filly of the Century," Ruffian was leading at every point of call in every race she ever ran, going undefeated. She was voted Eclipse Two-year-old and (posthumously) Three-year-old Filly of the Year and also swept the Filly Triple Crownnote . Her match race in 1975 with that year's Derby winner Foolish Pleasure was heralded as the "Battle of the Sexes" and more than 50,000 people turned out to watch them face off at Belmont Park. Partway through the race, both sesamoid bones in her right foreleg snapped, and though her jockey desperately tried to pull her up, she kept on running, compounding the damage. Although surgery was attempted, she was subsequently euthanized. Despite her early passing, her impact on the racing world was tremendous; Bloodhorse ranked her the 35th greatest racehorse of all timenote , and Lucien Laurin once said of her, "As God is my witness, she may even be better than Secretariat." She was buried near a flagpole of Belmont Park, the site of her first and last races, with her nose pointing towards the finish line.
Charismatic: Was a relative unknown when he entered the 1999 Kentucky Derby, with his owner having dropped him to claiming races as a three-year-old. Went into the race at a longshot 31-1 odds and won, then went on to take the Preakness. Was considered a good contestant for the Belmont Stakes and the Triple Crown, now coming in at 2-1 odds as a favorite, but during the race faded, and came in third - but only due to the fact that his leg had snapped in two places. And still took third. A awesome moment goes to his jockey for jumping off and holding his leg up to avoid him damaging it further, which probably saved his life.

Special mention on this one for Menifee, who rallied in the final furlong of the 1999 Kentucky Derby and almost caught Charismatic. He would also finish second in that year's Preakness, resulting in a comparison of the two horses to Affirmed and Alydar, the 1978 Triple Crown rivalry where Affirmed won the Crown, and Alydar finished second in all three races.

Zenyatta: A ''huge'' filly/marenote who didn't start racing until late in her three-year old year, but more than made up for it by going unbeaten in her first nineteen starts, including victories in the Lady's Secret Stakes (which she won three times, and which has subsequently been renamed after her), the Breeders' Cup Ladies' Classic (since reverted to its original name of Breeders' Cup Distaff) in 2008 and the Breeders' Cup Classic in 2009 (the first female to win the latter, also making her the first horse to win two different Breeders' Cup races). She had a habit of running at the back of the field until the home stretch, at which point she turns on the gas, going wide down the straightaway and flying past the rest of the field with ears pricked and tail streaming like a banner. She won 2009 Older Female Horse of the Year and returned for the track for the 2010 season. Her last race before retirement was the 2010 Breeders' Cup Classic. She suffered her first and only defeat in a photo finish, losing by a head to Blame after rallying from last place. In a beautiful bit of irony, she won 2010 Horse of the Year honors over Blame - the only horse to defeat her on the track. Cool fact: Named after The Police's album Zenyattà Mondatta; she is owned by Jerry and Ann Moss, Jerry being co-founder of the band's label of A&M Records.
Barbaro: Won the 2006 Kentucky Derby by six lengths, and was the first serious Triple Crown contender since Funny Cide. Became a national sensation when he broke down out of the gate during the Preakness. Was eventually euthanized due to complications from laminitis, and mourned by much of the horse world. Buried at Churchill Downs with a statue marking his gravesite, but outside the gates—his owners didn't want his admirers to have to pay to see his grave. Given the number of visitors it gets, that's no small thing.
California Chrome: One of the more recent Triple Crown prospects, and briefly the biggest money-winner among US-based horses. Not incredibly exceptional as a racer (winning the 2014 Derby and Preakness by 1-3/4 and 1-1/2 lengths, respectively), he nevertheless attracted attention because of his peculiar story, which is so "little-guy-makes-it" Hollywood couldn't have written a better piece of Americana. His owners are, in their own description, "a couple of working stiffs" who put up $10,000 to buy a modestly pedigreed mare and pay a stud fee in the hopes of getting a decent horse; by pedigree alone, he shouldn't even have been in the Kentucky Derby. But there he was, winning the Kentucky Derby and then the Preakness, and then with a serious shot at being the first California-bred horse to with the Triple Crown... until the Belmont, when he couldn't find his top gear and finished fourth. It also helped that he has a kind of charm about him (he loves a particular kind of horse cookie and seems to like cameras). After the Preakness, went on a dry spell for much of the rest of the year, but came back to win the Grade I Hollywood Derby, giving him enough of a résumé to seal Horse of the Year honors. "Chrome" continued racing as a 4-year-old, but missed most of that year due to injury. He came back as a 5-year-old in 2016 and won the world's then-richest race, the Dubai World Cup, giving him the all-time money lead among American horses. Chrome then went unbeaten that season before being beaten by Arrogate in the Breeders' Cup Classic. It was originally planned to be his finale, but when the inaugural Pegasus World Cup was announced, Chrome's interests entered him for one last race. He finished injured and badly beaten, but (thankfully) the injury didn't threaten his breeding future.
Arrogate: Speaking of which, the horse that ran down Chrome in the Breeders' Cup Classic came out of nowhere into prominence in 2016. Unraced as a two-year-old, the gray colt first ran in a maiden race in April 2016, finishing third. He then won a longer maiden race in June, and soon won two allowance races. He was then entered in the Travers Stakes, a famous Grade I race, where he broke a track record that had stood since 1979. Arrogate's next race was the aforementioned Breeders' Cup Classic. While he finished behind Chrome for Horse of the Year honors, he claimed the consolation prize of the Eclipse Award for three-year-old males. In his next two outings, he scored wins in the world's two richest races, the Pegasus World Cup and Dubai World Cup, putting him atop the all-time money list for North American horses. However, he wasn't Horse of the Year in 2017 either—after the Dubai win, he was well beaten in his final three races, all at the San Diego-area Del Mar track, while Gun Runner ended the season with four straight Grade I wins, including the Breeders' Cup Classic against Arrogate. After the Classic, Arrogate was retired with a North American record of $17.4 million in prize money. Tragically, he had to be euthanized in 2020 at the age of seven after a sudden illness that he was not recovering from, cutting his stud career short.
Rachel Alexandra: The other super-filly of the 21st century, Rachel Alexandra, undefeated since Calvin Borel began jockeying her, pulverized the competition at the Kentucky Oaks in 2009. Two weeks later she beat Derby winner Mine That Bird in the Preakness, and incidentally became the first filly in eighty-five years to win it. She's known for winning by margins so big her dust has settled by the time the rest of the field crosses the wire and for coming within milliseconds of equalling or beating many of today's standing track and race records, including those set by Secretariat. She's not called "super-filly" for nothing. Borel, her regular jockey and two-time Derby winner (Street Sense '07 and Mine That Bird '09), has repeatedly called her "the greatest horse I have ever ridden in my life." She won 2009 Eclipse Horse of the Year as well as Champion 3-Year-Old Filly. On her return to the track in 2010 she had limited success but was unable to duplicate her 2009 form and was retired.
Eight Belles: A dark grey filly, she was nominated for Eclipse Champion Three-Year-Old Filly until her fatal breakdown on the track. She was euthanized at Churchill Downs after fracturing both her fetlock joints in the 134th Kentucky Derby; she went down seconds after her second-place finish to that year's winner Big Brown. Her breakdown - and in particular its proximity to Barbaro's fatal breakdown in the Preakness just two years earlier - has raised new questions about the fragility of the top racing Thoroughbred lines. She's now buried at Churchill Downs, with her nose pointed towards the finish line.
Native Dancer: Nicknamed "The Grey Ghost", he won 21 of 22 races over three years in The '50s and is generally considered to be horse racing's first major television star. Not a Triple Crown winner because his only career loss came in the 1953 Kentucky Derby, where he only lost by a nose despite being bumped twice and generally having a terrible ride (it was said afterward that his jockey took him "everywhere on the track except the ladies' room"). He won Horse of the Year honors twice, and became the first horse to win that award as a two-year-old.

Today, many observers see Native Dancer as the main source of the aforementioned fragility in modern Thoroughbred racers. By one estimate, 75% of all US Thoroughbreds carry his bloodline. By itself that may raise eyebrows; to make it more troubling, two of the most prominent sires from his bloodline—Raise a Native (son) and Mr. Prospector (grandson)—were noted both for blazing speed and unsoundness.

Sadler's Wells: A son of Northern Dancer (see Canada), the Kentucky-bred bay had a solid but not spectacular racing career in Ireland. He made his mark as a stallion, producing over 300 stakes winners and 80 Group 1/Grade 1 winners, and earning champion sire honors in Great Britain and Ireland 14 times, France three times, and North America once. Coolmore Stud, an Irish-based breeding operation that has since expanded into the U.S. and Australia, became an international powerhouse mainly on his success at stud.
Danehill: A grandson of Northern Dancer by Danzig (himself a leading sire), the Kentucky-bred bay had a racing career much like Sadler's Wells, though based in England and slightly more sprint-focused. He went on to sire more stakes winners (nearly 350) and Group 1/Grade I winners (nearly 90) than any other stallion in history. His most significant legacy is on the breeding business itself—Danehill was the first major "shuttle stallion", annually being shipped between Ireland and Australia to service mares on both sides of the equator. He led the sire charts in Australia nine times, Great Britain and Ireland three times, and France once.
Kelso: The most successful horse that the general public has probably never heard of, given that he never competed in any of the Triple Crown races. This dark bay gelding competed in 63 races over eight years, winning 39 of them, and was racing's all-time leading money winner at the time of his retirement in 1966. He is one of only four horses to win all three races of the New York Handicap Triple (the Metropolitan Handicap, Brooklyn Handicap, and Suburban Handicap), and still holds the world record for the fastest two-mile race on dirt. He won the Horse of the Year award a record five times from 1960-1964, and was recently rated as the fourth-greatest American racehorse of the 20th Century by Blood-Horse magazine.
Dr. Fager: A bay stallion whose 4-year-old season in 1968 was arguably the greatest ever in North American history (including Triple Crown seasons). Named for the neurosurgeon who saved the life of his trainer John Nerud, he had a solid start to his career, winning four out of his five 2-year-old races. Due to various health issues, he missed all three Triple Crown races, but won six of his eight racesnote on his way to an Eclipse Award as champion sprinter. Then came 1968. In that year, he never carried less than 130 pounds, but still won seven of his eight races (his only loss being to Damascus, who had been Horse of the Year in 1967), and set a world record for a mile on any surface that lasted until 1997 and is still an American record for the distance on dirt. He became the only horse ever to win four Eclipse Awards in a single year—champion sprinter, turf male, older male, and Horse of the Year. Dr. Fager was then retired to stud, where he enjoyed considerable success until his premature death shortly after the 1976 breeding season. As a hint of what the breeding industry lost, he led the North American sire charts in 1977 and was second in 1978.
Forego: A big bay gelding who was an afterthought in the 1973 US Triple Crown races—yes, the same year Secretariat was blowing the field away—he came into his own after "Big Red" was retired to stud, winning Horse of the Year honors the next three years (1974–1976). Won 34 of his 57 races, including 14 Grade I races, winning at distances from 7 furlongs to 2 miles, and frequently carrying over 130 pounds.
John Henry: An undersized, sometimes ill-tempered gelding of modest breeding and questionable conformation, he (like Kelso before him) didn't run in any of the Triple Crown races in his 3-year-old year (1978, the year that Affirmed won the last US Triple Crown for nearly 40 years). When he was shipped off to California and trainer Ron McAnally, he developed into one of the best "closers" (stretch runners) of recent decades. In 1981, he became the first (and so far only) horse ever to be unanimously selected as US Horse of the Year.note Then, as a 9-year-old in 1984, he won Horse of the Year honors again. He ended his career with 39 wins out of 83 races, a North American record of 16 Grade I wins, and over $6.5 million in earnings. Also, soon after he was retired, he became the first resident of what would become the Hall of Champions at the Kentucky Horse Park in Lexington, living there until his death in 2007.
Cigar: Another late bloomer who, in the mid-90s, became arguably the first horse to capture the imagination of the general American sporting public since (at least) John Henry. He didn't win a stakes race until the final race of his 4-year-old season in 1994—which started a streak of 16 straight wins against top-level competition, tying the American record of Citation (below)note . Cigar's record also included a win in the inaugural Dubai World Cup, which eventually became the world's richest horse race for many years. Horse of the Year in 1995 and 1996, he ended his career just shy of $10 million in earnings, an American record that eventually fell to Curlin. He proved to be infertile as a stallion, and lived at the aforementioned Hall of Champions until his death in 2014.
Wise Dan: Still another late bloomer who didn't run in a graded stakes until late in his 3-year-old season, the chestnut gelding emerged as one of America's top turf horses as a 4-year-old in 2011. He took it up a notch in 2012, setting several track records, winning multiple Grade I races (most notably the Breeders' Cup Mile), and finishing as Champion Male Turf Horse, Champion Older Male, and Horse of the year. He did more of the same in 2013, including a repeat in the Breeders' Cup Mile, and also became the first horse ever to win the same three Eclipse Awards in consecutive years.
Citation: Some turf writers have made the argument that if you gauge by their entire racing career, the greatest Triple Crown winner was not Secretariat but this bay stallion, who won the Triple Crown at three, spent most of his four-year-old year recovering from an injury, and came back at five to win carrying weights up to 130 pounds and losing by a nose only when carrying 132 (giving more than ten pounds to the second-place horse).
Despite game efforts by fillies like the above-mentioned Eight Belles, the Kentucky Derby has been won by only three fillies: Regret, in 1915; Genuine Risk in 1980 (considered a potential threat for the Triple Crown and some still argue fouled out of a victory in the Preakness, and with her second-place finish in that race and the Belmont the best-finishing filly in all three legs of the Crown); and Winning Colors in 1988, who took home the Roses in a wire-to-wire win.
American Pharoah won the American Triple Crown in 2015. The then 3-year-old ridglingnote , also notable for having only half of his tail (most likely bitten off by another horse when he was a yearling), became the first horse in 37 years to win that elusive prize, unclaimed since Affirmed in 1978. He lost his first start (finishing 5th in a Maiden Special Weight race), broke his maiden a month later in the Grade I Del Mar Futurity, and didn't lose until the Travers Stakes at the end of August. He then took a break until the Breeders' Cup Classic on Halloween, easily winning his final race (and making him the first Grand Slam winner in history). His time in the Belmont Stakes, 2:26.65, was the second-fastest Triple Crown Belmont in history, following only Secretariat's 2:24; his final quarter in 24.32 was actually faster than Secretariat's. His 5 1⁄2 victory margin is exceeded by only two Triple Crown winners (Count Fleet in 1943, who won by 25 lengths; and Secretariat again, who won by 31).
Justify is the most recent American Triple Crown winner, having done so in 2018. The chestnut colt, trained by American Pharoah's trainer Bob Baffert, had an unusual path to greatness, most notably not being raced as a two-year-old (he suffered an injury and was rested for that year). While he entered the Kentucky Derby unbeaten, he faced one of that race's deepest fields in living memory, and also faced the so-called "Curse of Apollo"—no horse unraced as a 2-year-old had won the Kentucky Derby since the aforementioned Apollo in 1882. On top of that, the field faced a horribly muddy track, with nearly 3 inches (7.5 cm) of rain falling on race day, a record for Louisville on Derby Day. It proved no problem for Justify... and neither did another muddy track in the Preakness. He then won the Belmont wire-to-wire, becoming only the second horse to win the US Triple Crown while unbeaten, the first being Seattle Slew in 1977. His connections were planning to run him two or three more times, with his finale to be in the Breeders' Cup Classic, but an ill-timed injury scuttled those plans, and he was retired to future breeding duty without racing again. This made him the first US Triple Crown winner who didn't race after winning the Belmont since Count Fleet in 1943 (who was also retired due to injury). Incidentally, he has no fewer than seventeen Triple Crown winners in his pedigree—Seattle Slew, Secretariat, Count Fleet, War Admiral, Gallant Fox, Omaha, (all US), New Providence (Canada), Perth (France), Lord Lyon, Gay Crusader, West Australian, Gainsborough, Isinglass, Rock Sand, Flying Fox, Ormond, and Nijinsky (all UK).
Sunday Silence was one of the greatest American-bred horses that was close to clinching the Triple Crown during the aforementioned 37-year drought, however was humiliated at the Belmont Stakes courtesy of his racetrack rival, Easy Goer (though Sunday Silence would get his revenge in the Breeders' Cup Classic). There's more to that story though: he, quite literally, made it big in Japan, becoming the leading sire there for a whopping 13 years in a row, from 1995 to 2007 (with the streak ending five years after his death), with his sons taking the title of leading sire sincenote .
Knicks Gonote initially seemed to be an early bloomer after he won Breeders' Futurity in 2018, only to make an outstanding performance throughout his 4- and 5-year-old season, with the cherry on top being a victory at the 2021 Breeders' Cup Classic that secured that year's Horse of the Year honors. Plus he's gray, and as seen from people's reactions, everyone loves grays.
Rich Strike, winner of the 2022 Kentucky Derby. He gained entry when Ethereal Road scratched the day before the race and astonished the crowd by weaving through most of the field in the stretch run, under an inspired ride by Sonny Leon. He went to the post at over 80-1 odds, meaning a $2 win bet on him returned over $160.
Flightline is the most recent American horse to draw comparisons with the legendary Secretariat. Unlike most prominent horses, he didn't race as a 2-year-old due to a series of freak injuries. He started his career in 2021 by blowing away the field in a maiden race, only to suffer a foot bruise that kept him out of the Triple Crown races. He won his remaining two races that year, the last a Grade I race, by equally large margins.note As a 4-year-old in 2022, he suffered yet another injury that kept him out of training until mid-year, but came back with a vengeance by dominating the field in three Grade I races. His performance in the Pacific Classic at Del Mar was especially stunning, winning by 19 1/4 lengths in near-track-record time and earning him the highest rating ever assigned by the World's Best Racehorse Rankings to a runner on dirt, only one point behind WBRR's record rating of 140 to Frankel. He would end his racing career with a runaway win in the Breeders' Cup Classic, with a record victory margin for that race (8 1/4 lengths), which made his selection as 2022 US Horse of the Year a foregone conclusion.
Cody's Wish had a very good racing career, winning 11 times in 16 races, including five Grade I races, two of which were back-to-back wins in the 2022 and 2023 Breeders' Cup Dirt Mile. However, he's much better known as the horse at the center of one of the most heartwarming stories in racing history. The bay stallion was named after one Cody Dorman, a Kentucky boy suffering from a rare genetic disorder that left him unable to walk or speak. The boy met and bonded with the horse at a Make-a-Wish event while the future champion was a 5-month-old foal who had yet to be named. He and his family would be present for many of the horse's wins, including both Breeders' Cup wins, as guests of the horse's connections. Cody Wish's final race, the 2023 Dirt Mile, turned out to be his namesake's last as well—Cody Dorman died the next day while returning home to Kentucky, a month shy of his 18th birthday. For more details, see these stories.
Canada
Northern Dancer: A smallish Canada-bred bay out of a Native Dancer mare, he won 14 out of his 18 career races, including the Kentucky Derby, Preakness, and Queen's Plate in 1964. After an injury later that year, he was retired to stud, and became the most influential sire of the 20th century, producing nearly 150 stakes winners, with his first major success being his son Nijinsky (see immediately below). At one point in the 1980s, his stud fee was $1 million, a record to this day, with no guarantee of a love goal. His bloodlines continue to influence the breed today—of the horses specifically named in this listing (besides Nijinsky), he appears in the pedigrees of Makybe Diva, California Chrome, American Pharoah, Rachel Alexandra, Sadler's Wells, Danehill, Galileo, Charismatic, Zenyatta, Wise Dan, Black Caviar, Winx, Chautauqua, Frankel, Arrogate, Justify, and Lys Gracieux. Several of the more recent horses in this list (among them Justify) descend from him via multiple paths.
Nijinsky: A large Canada-bred bay from Northern Dancer's second crop of foals, he was trained in Ireland and won all five of his starts as a 2-year-old in 1969. The next year, he etched himself into racing history by becoming the first horse in 35 years, and the last to date, to win the British Triple Crown. During his Triple Crown run, he also won the Irish Derby and the King George VI and Queen Elizabeth Stakes. He then lost his last two races and was retired to stud in the U.S. at the end of that season. Nijinsky was largely responsible for establishing the international reputation of his father at stud, and became a champion sire in his own right. (Note that in the U.S., he is generally called "Nijinsky II"; he was registered in that country with the "II" because an American Thoroughbred was already registered as "Nijinsky".)
Japan
You can learn a lot about Japanese horse racing while watching Uma Musume or playing Uma Musume. However, not all horses have made the cut there for a variety of reasons (mostly owners being opposed to the idea). While many on this list are not in the series (yet?), they're still worth your attention.
Oguri Cap: The ultimate underdog of Japanese racehorses, he started his career at a small regional racecourse at Kasamatsunote before people took notice of his victories and had him transferred to the central side of horseracing, where he became a national hero as he became the Horse of the Year in 1990 and became a Hall of Famer in 1991.
Stay Gold: Ironically enough, he spent most of his career ending up 2nd or 3rd until finally clinching his only G1 win, the Hong Kong Vase in 2001. He did far better in stud though, blessing Japan's horse racing with the following bundles of joy:

Dream Journey: This tiny, tiny (his average weight being around the 420kg mark) bay wasn't that outstanding of a horse as a 3-year-old (in spite of having shown his huge potential winning Japanese Futurity Stakes the year before) or a 4-year-old, however at the age of 5 he finally showed how much he could by winning both Takarazuka Kinen and Arima Kinen. Even though his achievements pale in comparison to his full little brother, named...
Orfevrenote : Aside of winning Japanese Triple Crown in 2011 (plus Arima Kinen that same year and in 2013), this chestnut stallion is also well known of his... unkempt behaviour (most infamously, he threw his jockey off upon clinching the Triple Crown). He also had a few tries at Prix de l'Arc de Triomphe, but that's another story.
Gold Ship: He is gray rather than gold (everyone loves grays, remember?), but that detail didn't stop him from winning 2012 Satsuki Sho and Kikka Sho. He's also a very meme friendly horse (to Australians: think Chautauqua, just intact) - just look at his Uma Musume counterpart... Ah, have we mentioned that he once turned $110 million in betting tickets into waste paper?trivia
Oju Chosan: Easily recognized by his fluffy turquoise mask, he currently holds the honor of being the world's highest earning steeplechaser. This bay stallionnote won one the world's richest steeplechases, the Nakayama Grand Jump, five times in a row and is, as of 2022, still going quite strong at 11 years old - quite impressive for a horse whose name basically is "ore" in babyspeak + the surname of his owner.
Nakayama Festa, while being allegedly the most misbehaving out of Stay Gold's progeny, has the honour of being the Japanese horse who was the closest to winning the Prix de l'Arc de Triomphe. Following his 2010 Takarazuka Kinen win, he was sent to a campaign in France, where he missed the win just by a head.

Vodka: While a filly, her team decided she'd go for the Derby rather than Oaks... It worked wonderfully, as Vodka won in a spectacular fashion. By the time she retired, she also was the highest-earning racemare.trivia
Deep Impactnote : back in 2005, hardly anyone hoped there'd be any undefeated Triple Crown winner anymore... but then came he. In spite of retiring after his 4-year-old season, he indeed left a deep impact on both Japan and the world's racing scene as a top-tier sire. Like his sire Sunday Silence, he had a long run as Japan's leading sire, topping the sire rankings every year from 2012 to 2021 (two years after his death).

Among his progeny one horse stands out: Contrail, who clinched that same Triple Crown in an undefeated fashion in 2020 - the first time ever a father and son did so.
Also of note is Loves Only You, the first Japanese horse to win a Breeders' Cup race, claiming the 2021 Breeders' Cup Filly & Mare Turf. The bay mare showed promise as a 2-year-old, winning both of her races, and won the Yushun Himba (Japanese Oaks) the next year. She struggled in 2020 amid COVID disruptions, but came back strong in 2021, winning the Queen Elizabeth II Cup in Hong Kong, shipping across the Pacific to pick up her Breeders' Cup win, and returning to Hong Kong to win the Hong Kong Cup. Most notably, she won the Eclipse Award as the US champion female turf horse, becoming the first Japanese horse ever to win an Eclipse Award.

King Kamehameha (his owner has a really soft spot for Hawaii, hence the name) happened to be one of the few very successful Japanese racehorses without Sunday Silence in his pedigree, mostly sweeping titles on mile distances. He, just like Stay Gold mentioned above, was no slouch when it comes to stud, delivering the likes of...

Apapane note , who swept the Triple Tiara in 2010;
Lord Kanaloanote - aka THE WORLDWIDE Lord Kanaloa, arguably the greatest sprinter of his time who also went for a very successful campaign in Hong Kong, becoming the first Japanese winner of the Hongkong Sprint (two years in a row, no less!)trivia
Hokko Tarumaenote went on to become one of the greatest dirt-focused Japanese horses, winning 10 GI races.However!

Lys Gracieux, sired by Sunday Silence product Heart's Cry (aka "the only Japanese horse to defeat Deep Impact"), showed top-class potential as a two-year-old, winning two of her four starts, but failed to win any races in her three-year-old year. She began a comeback in 2019, winning the Queen Elizabeth II Cup on her way to being named Japan's top older female of the year. The dark bayimportant sidenote mare finally lived up to her early promise in her final season in 2020, winning the Takarazuka Kinen, shipping to Australia to win the Cox Plate, and returning to Japan to finish her racing career with victory in Arima Kinen.
Almond Eye, sired by the aforementioned Lord Kanaloa, aside from clinching the Triple Tiara in 2018, managed to step up her sire's world campaign game, winning the 2019 Dubai Turf and handing 2020 Triple Crown winner Contrail his first loss in that year's Japan Cup. Ai-chan went on to beating Vodka's record to become Japan's highest earning racemare.
Kitasan Blacknote made one of the most intriguing underdog stories in Japanese horse racing history: bought out by a famous singer who essentially took pity on him (due to his then-diminutive size), he went on to winning 7 G1s, including Kikka Sho, Japan Cup and Arima Kinen. Here, he's eating carrots.
Marche Lorraine, a bay mare by Orfevre, is most notable as the second Japanese horse to win a Breeders' Cup race, winning the 2021 Breeders' Cup Distaff about two hours after Loves Only You won the Filly & Mare Turf to become the first.
Smart Falcon, who was nicknamed the "Silence Suzuka of the dirt" as he broke the record time of the Tokyo Daishoten in 2010 and proceeded to dominate the major dirt races of Japan in 2011.
Just A Way, named after the toy/bomb from Gintamanote became the first horse from Japan to clinch the top spot for the World's Best Racehorse Rankings after winning and setting the record time for the 2014 Dubai Duty Free race. He was also said to be besties with the aforementioned Gold Ship, who was his fellow stablemate.
France
Coronation (aka Coronation V), foaled in France, established her position as one of the greatest fillies of the 20th century by sweeping the legendary Prix de l'Arc de Triomphe as a three-year-old. Her broodmare career, however, wound up a complete disaster...note
Sea-Bird (aka Sea Bird II, both with and without the hyphen) cemented himself as one of the greatest racers of the 20th century with a spectacular three-year-old season in 1965, most notably easing to a win in the Epsom Derby and destroying one of the strongest fields in the Arc's history* . Winning seven of his eight starts, he earned Timeform's highest rating among flat racers, which to this day has been surpassed only by Frankel. He went on to a solid stud career in the US, and returned to France after the 1972 breeding season, but died in April 1973 after servicing only a few mares in Europe.
All Along is most notable as the first horse foaled outside the U.S. to be American Horse of the Year, receiving this award in 1983. The bay mare was also the first female to receive this honor since the current voting system was implemented in the 1970s. Her career began in her homeland with one race as a two-year-old, which she won, followed by a 3-year-old campaign that saw her race in France, England, and Japan, winning three French group races. She entered racing history as a 4-year-old during a remarkable stretch of 41 days, starting with winning the Arc, followed by a trip across The Pond that saw her win three Grade I turf races, one in Canada and two in the States. That stretch, aided by all three 1983 Triple Crown races having different winners, was enough for her to earn Horse of the Year honors. She continued to race as a 5-year-old, but won no races, narrowly losing in the first Breeders' Cup Turf, and retired to serve as a broodmare, but her offspring didn't come close to her success.
Other Countries
Kincsem: The Hungarian filly was arguably the greatest racehorse of the nineteenth century and and still holds the record for the longest win streak — she was undefeated in fifty-four starts, against males and females, in the days when races were often run in heats and could require running more than five miles in one day. As a broodmare, she produced five foals, three of whom went on to be influential producers, meaning that Kincsem has had a lasting influence; perhaps her best-known descendant is Camelot, who in 2012 won the 2,000 Guineas, The Derby and the Irish Derby note .
Invasor is one of the few South American horses to make a major splash outside the region. Foaled in Argentina, he started his racing career across the Río de la Plata in Uruguay, winning that country's Triple Crown in 2005 while still unbeaten. He was then bought by a Dubai-backed operation and shipped to the UAE, finishing a disappointing fourth in the UAE Derby. Then, as planned, he was sent to the US, and never lost again. Invasor won four Grade I races, including the Breeders' Cup Classic, on his way to 2006 US Horse of the Year honors. He finished his career with two more Grade I/Group 1 wins, the last in the 2007 Dubai World Cup, before being retired due to a training injury. He enjoyed only modest success at stud in the US and has since returned to Uruguay to stand there.
Famous Jockeys (sorted by primary country of activity)
United Kingdom and Ireland
Fred Archer (1857–1886): Probably the greatest jockey of the Victorian era, who won over 2,700 races, including 21 British classic races and five French classics, and led British flat racing in wins every year from 1874 to his final season in 1886. Unusually tall for a jockey at 5'10" (1.78 m), the constant dieting he had to endure is believed to have contributed to the mental issues that led to his suicide at age 29 (that and the fact that his wife had died two years before, almost to the day).
Gordon Richards (1904–1986): Considered by many the greatest ever jockey on the flat, he still holds the British record for most race wins (4,870), and was the British flat racing champion jockey a record 26 times. Richards won 14 British classics and numerous other top races, but for the longest time was "jinxed" in the Epsom Derby, finally breaking through in 1953. He retired from racing the next year after an injury, and went on to be a trainer and owner. Richards was the only jockey to have been knighted until Tony McCoy (below), and remains the only flat jockey to receive this honour.
Dick Francis (1920–2010): A prominent National Hunt jockey in the post-WWII era, becoming Britain's National Hunt champion jockey in the 1953–54 season, although the race for which he is best remembered is the 1956 Grand National, at which he rode Devon Loch — who infamously and inexplicably jumped into the air and landed on his stomach while leading on the final straight. He retired from racing after a 1957 injury on the recommendation of his employer, Queen Elizabeth The Queen Mother. Francis then started a second and even more successful career as the author of crime novels with a horse racing backdrop. His contributions to racing also included being one of the public faces of a 1983 fundraising campaign that secured the future of the Grand National after it had been threatened with extinction.note
Lester Piggott (1935–2022): Winner of nearly 4,500 races, including 33 British classics (including a record nine victories in the Derby), 11-time British flat racing champion jockey (spanning 1960–1982), and also notable as the rider of Nijinsky, the last British Triple Crown winner to date (1970). Like Archer before him, Piggott was unusually tall for his profession at 5'8" (1.73 m), and had almost as many problems with weight as Archer. Received an OBE, but was stripped of it after being convicted of tax evasion (serving a year in prison). Initially retired as a jockey in 1985, but came back in 1990, winning one Breeders' Cup race and the last of his British classics before retiring for good in 1995. The Lester Awards, a series of high-profile awards which are presented annually for achievements in British racing, are named after him.
Steve Cauthen (1960–): An American who ended up having far more success across The Pond, but no one would have imagined it in 1978, when he rode Affirmed to the last US Triple Crown for more than three decades, and became the only jockey ever named Sportsperson of the Year by the US magazine Sports Illustrated. However, by the end of that decade he would have increasing problems making weight. Fortunately for him, British and other European racing allowed for slightly higher jockey weights, and he thrived in his new setting, winning 10 British classics and many other top races throughout Europe. He remains the only jockey to have won both the Epsom and Kentucky Derbies.
Lanfranco "Frankie" Dettori (1970–): An Italian-born jockey based in Britain for almost his entire career, Dettori has won well over 3,000 races in his longtime home base, not to mention countless other races around the world. He has ridden winners of all British Group One flat races save one note ; nearly 20 British classics; eight French classics and six Arcs; 11 races at Dubai World Cup Night, including four in the Cup itselfnote ; and 14 Breeders' Cup races, just to name a few. Also notable for winning all seven British Champions Day races in 1996, and for his habit of performing a flying dismount in the winner's circle (even in his fifties). Was a team captain on A Question of Sport, although he quit in 2003 after another contestant asked him when he'd retired; not only had he not retired, he went on to be the Champion Jockey the following year. Has an MBE; he first announced he actually would retire (from riding) after the 2023 season, but changed his mind, instead announcing he would move to California and race in the States and in select international races.
A.P. "Tony" McCoy (1974–): Northern Irish jockey who won a record 4,358 races (including just about every major British and Irish jump race there is) and was National Hunt Champion Jockey for twenty consecutive seasons,note , in addition to which he's the only jockey ever to have won the BBC Sports Personality of the Year (in 2010, the year of his only Grand National win note ); he also won the RTÉ equivalent three years later. Has three entries in Guinness World Records — for the most jump race wins in a season (289 in 2001-02), the most consecutive Champion Jockey titles (see above) and the most career wins in jump racing (see above). Awarded the MBE in 2003, the OBE in 2010 and knighted in 2016.
Rachel Blackmore (1989-): Irish jockey who in 2021 became the first woman to be the leading jockey at the Cheltenham Festival (with six wins, including the Champion Hurdle); a month later, she became the first female jockey to win the Grand National — and ended the year by being named as RTÉ's Sports Person of the Year. The following year, she became the first female jockey to win the Cheltenham Gold Cup.
Australia and New Zealand
Hugh Bowman (1980–): While the Australian has had countless wins in his homeland, plus several in Hong Kong and one Japan Cup, he's most famous as the regular rider for Winx. He rode Winx to 31 of her career-ending streak of 33 wins, including her last 30.
United States and Canada
John "Red" Pollard (1909–1981): Canadian-born but American-based jockey most famous for being the primary rider of Seabiscuit. Tobey Maguire played him in the 2003 film.
George Woolf (1910–1946): Another Canadian jockey who made his mark in the States, he rode Seabiscuit to several of his most famous wins while Pollard was injured. Woolf became one of the country's leading jockeys despite being a type 1 diabetic, a condition that would have been a death sentence only a few years earlier. Because diabetes management was much more crude in the '30s and '40s than now, he had to avoid severe dieting. Fortunately, he was talented enough to enjoy huge success despite riding a small fraction of the horses that other top jockeys would ride. Sadly, his career and life ended when he fell off a horse during a 1946 race, an incident believed to have been a diabetic complication. Woolf is the namesake of an annual award for outstanding US jockey, presented by jockeys themselves. Woolf was portrayed in Seabiscuit by Gary Stevens, himself a (US) Hall of Fame jockey.
Eddie Arcaro (1916–1997): Survived a premature birth in Cincinnati to become the only jockey to date to win the US Triple Crown twice; also holds the record for most US Triple Crown race wins (16 in all).
Bill Shoemaker (1931–2003): Like Arcaro the survivor of a premature birth (in his case, in Texas), Shoemaker set a world record for race wins (8,833) that lasted for nearly 30 years. Won 11 US Triple Crown races, becoming the oldest Kentucky Derby winner at age 54 in 1986, as well as a Breeders' Cup Classic, but also notable for misjudging the finish line in the 1957 Kentucky Derby, costing him a likely win. Retired from riding in 1990 and became a trainer, but was paralyzed from the neck down in 1991 after rolling over his SUV while driving drunk.
Ron Turcotte (1941–): US-based Canadian most famous as Secretariat's jockey. His career ended prematurely when he was left a paraplegic by a 1976 racing accident; he's since become a major advocate for disabled individuals in both Canada and the US.
Laffit Pincay Jr. (1948–): Panamanian-born but American-based jockey who broke Shoemaker's record for race wins, finishing with 9,530.note While mainly riding in California, where he became an icon of the sport, he won countless races all over the country, including four Triple Crown races and seven Breeders' Cup races. Went on to become a TV commentator.
Jerry Bailey (1957–): Won nearly 5,900 races in a career of over 30 years, including a record five Breeders' Cup Classics, 10 other Breeders' Cup races, two wins in each of the US Triple Crown races, and a single-year North American record of 26 Grade I wins in 2003. Also won the Eclipse Award for top US jockey a record seven times, including a then-unprecedented four in a row. Even with all that, he's most remembered as the regular rider for the legendary Cigar. Now a TV commentator.
Mike Smith (1965–): Rode Justify to the most recent US Triple Crown in 2018, becoming the oldest jockey to accomplish this—but it's far from his only claim to fame. He's also won more Breeders' Cup races than any other jockey with 26, more US Grade I races than any other jockey with 217, and also rode Zenyatta to most of her wins, including her two Breeders' Cup race wins.
John R. Velazquez (1971–): A Puerto Rican who moved to the US mainland as a teenager, he's won over 6,000 races, including four Kentucky Derbies, two Belmonts, and 15 Breeders' Cup races. Has also been in the US top 10 money list every year of the 21st century, topping it twice.
Javier Castellano (1977–): Venezuelan who's won over 5,000 races, including two Preaknesses and 10 Breeders' Cup races. Equaled Jerry Bailey's record of four straight Eclipse Awards from 2013–2016, seasons in which he also led the US money list.
Joel Rosario (1985–): Dominican-born jockey who's been in the US top 10 money list in every year since 2009, capped off by #1 in 2021. Has won three Triple Crown races and 13 Breeders' Cup races, and most notable recently as the regular rider of Knicks Go for the last year and change of the horse's career.
Irad Ortiz Jr. (1992–): Like Velazquez a Puerto Rican who moved to the US mainland as a teenager, he's established himself as one of America's top jockeys, winning 15 Breeders' Cup races and two Belmonts, leading the US in race wins every year from 2017–2021, and winning three Eclipse Awards so far.
Flavien Prat (1992–): Started his career in his homeland of France, where he was the country's champion apprentice jockey in 2009 before going on to decent success there. His career took off after he moved to the US full-time in 2015, with well over 60 graded stakes wins so far, including a Kentucky Derby, a Preakness, and four Breeders' Cup races. Most notable as the rider of Flightline for all six races of the horse's unbeaten career.
Japan
Yoichi Fukunaga (1948-): Described as a genius, he was a leading jockey of Japan in the 1970s, winning 131 victories in 1978 alone. Sadly, his career was cut short as he became paralyzed and in need of massive rehab in a particularly nasty horseracing accident in March of 1978.
Yuichi Fukunaga (1976-): Son of above, has gone on to win over a total of 2,500 races in his 25+ years of career.
Kunihiko Take (1938-2016): Rode from 1957 to 1984, and won over 1,100 races in his career as a jockey before transitioning to a successful horse trainer.
Yutaka Take (1969-): The third born son of Kunihiko, he was first seen merely as "Kunihiko's son" when he debuted as a jockey in 1987. Before long he reversed that to "Yutaka's father" as he won a total of 69 races that year alone, making him the jockey with the most wins that season in Japan and held on to that record until Kousei Miura broke it in 2008. Yutaka then went on to be the face of the horse racing boom in Japan of the 1990s (as he rode the likes of Oguri Cap, Mejiro McQueen, and Special Week, among others) and was also the main rider of the aforementioned Deep Impact throughout his racing career. Currently he has more than 4,300 victories at JRA races to his belt and counting.
Fumio Matoba (1956-): while not having many achievements in graded races when compared to the jockeys mentioned above, he deserves a big mention due to his sheer longevity. With over 40,000 rides and 7,000 wins so far, he will be celebrating the 50th anniversary of his debut in 2023 if everything goes right.
Kenichi Ikezoe (1979-): often referred to as "the Grand Prix man" due to having won Japan's Grand Prix races (Takarazuka Kinen and Arima Kinen) 7 times in total (out of his 27 G1 wins). Also has an unfortunate tendency to be assigned, well, very quirky horses. Yes, it's him who was ejected by Orfevre after the two clinched the Triple Crown together in 2011.
Other countries
Jorge Ricardo (1981–): Currently active Brazilian jockey, riding mainly in South America, who holds the world record for most wins (well over 13,000 and counting).
---