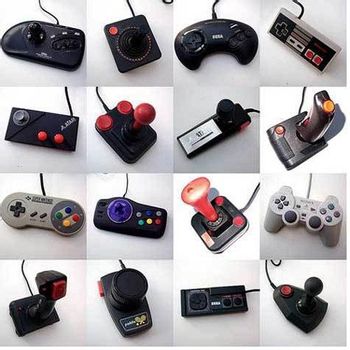 The typical array of controllers used with video game systems over the years. There are two main classes, universal and specialized, and notable one-off gimmicks worth mention also appear here.
Compare Stock Control Settings.
---
Universal (used as the out-of-the-box controller for at least two major gaming systems):
Specialized (seldom an out-of-the-box controller, but has been used for at least two systems):
Floor Pad A pad on the floor, so you use your feet instead of your hands. Notable examples are the Famicom/NES Power Pad, the DanceDanceRevolution/Pump It Up pad, and the Wii Balance Board.
Zapper Named for the NES's Zapper. A toy gun used to shoot at stuff on the screen.

Light Guns The first variants, that used the refresh rate to create a point of light to tell where the gun was aiming on the screen. Not used anymore since only direct-view CRTs have a refresh they can detect. (Rear-projection CRTs will not work.) Used in arcades, the NES, Sega Master System, Atari XE Game System, the Mega Drive/Genesis (called the Menacer), and Namco's GunCon 1 & 2.
Sensor Guns Uses other methods to detect where the gun is pointing, notably a sensor near the TV. Seen in the SNES (the Super Scope), GunCon 3, the IR sensor of the Wii Remote (which can become a zapper with an attachment, and technically is the reverse — it uses a sensor in the remote to see two IR lights in the misleadingly named "sensor bar."), and even the PlayStation Move with the addition of a gun-shaped housing. More modern arcade games, typically ones from the early 2000s onward, use these as they are compatible with non-CRT screens, including modern progressive-scan plasma and LED TVs. Also of note are some guns that are actually giant analog non-centering joysticks with no light sensors of any kind that instead use the physical position of the fixed gun to determine where it's being aimed (like for Crossbow and Silent Scope).

Microphone Rarely used for gaming before the sixth generation, due to voice recognition and broadband not being that well developed before. Even without gaming, it can be used to talk to others online, such as with Xbox Live. For gaming, they have been available for the N64, PS2/3, XB360, GCN, Wii, and built into the DS and Famicom.
Camera A camera that can be used for gaming. While the Gameboy, PlayStation 2, PlayStation 3, Xbox 360, and even DSi have them, the PS2's EyeToy was probably the first to be used as a controller in the mainstream (although Intel played around with it years before). Microsoft aims to make this input method mainstream with Project Natal/Kinect.
Paddle/Spinner: Not the D-Pad in the form of a flat nub, this is a dial you simply spin from side to side. Used as early as the Etch-a-Sketch, this became popular in gaming with Pong, shipped alongside the joystick in many Atari 2600 bundles, and available as an attachment for the Nintendo DS for playing modern versions of Space Invaders and Arkanoid. Comes in two major versions: potentiometer-based like the Atari 2600 paddle controllers, which provide an absolute position but have a limited turning range of 330 degrees or so, and quadrature-encoded like the ones used for Arkanoid or Tempest, which give relative direction changes but can spin indefinitely in either direction.
Steering Wheel: An overgrown paddle, used for racing, of course. Seen as soon as Driving Games hit arcades and for many game systems since, and it almost always comes with pedals (sometimes even with gear shift, usually sequential via paddles or stick, sometimes an H-gate stick shift). More advanced models have proper force-feedback to help convey the feeling of traction, as well as greater degrees of rotation (cheaper wheels are generally 180, 240, or 270 degrees, while the higher-end wheels have 900 or even 1080 degrees). The Wiimote counts to some degree, as it can be placed on a steering wheel, as highlighted with Mario Kart Wii.
Musical Instruments: Just that, musical instruments, ranging from simple toys to professional MIDI gear. Most famously used in Guitar Hero and Rock Band, though featured earlier in various BEMANI games. Used for almost any game system for the 7th gen, and earlier for the PlayStation 1, PS2 and GameCube.
Flight Stick: Similar to a Joystick in function, but shaped for a firm grip with the whole hand. Early examples had only one button (and sometimes a thumb button too, not even a trigger!), but nowadays they can come with four or five plus trigger. Other additions include a hat switch in four directions, a throttle lever on the base, more buttons on the base, and mechanisms that allow the player to twist the joystick itself clockwise and counterclockwise on the base, adding a third axis to "front-and-back" and "left-and-right". It's used mainly to simulate flying an aircraft, although it can be used for other games (e.g. Space Harrier). Very advanced examples may support force-feedback for more realism in older aircraft and for helicopter trim, or use a force-sensing transducer with a very rigid stick that doesn't budge much to better simulate the one used in the F-16 and later jet fighters.

Yoke: Looks sort of like a steering wheel, except that it can also be slid up and down its shaft, just like the yokes in really big aircraft.
Flight Control System / Hands-On Throttle And Stick (HOTAS): Consists of a joystick/yoke/cyclic, rudder pedals (like car pedals, only with toe brake axes and the main pedals sliding forward and back inverse to each other for the actual rudder control) and an independent throttle/collective with one or more big sliders/rotaries, a miniature analog stick or TrackPoint for mouse or targeting system control, and even more buttons. Can get very expensive, especially if it's a licensed replica of military aircraft components (see:Thrustmaster).

Virtual World pods provide those and a whole bunch of MFDs to play BattleTech or a racing game called Red Planet.
Console gamers got a taste with the Xbox game Steel Battalion, which required a ludicrous, dedicated two-flight stick controller (the left one moving only left and right to steer, the right one not centering and used to aim and fire weapons) with a sliding manual gear shifter to simulate the cockpit of a Real Robot, complete with an eject button with a flip-open cover. (The original plan required the player to break glass to activate it.)

Biological sensors: Ranging from simple heartbeat monitors to brain EEGs, these are generally rather hard to control, and as such are usually gimmicks. Bio-feedback sensors have also appeared in the medical industry; primarily used as a diagnostic tool, the patient is connected to the sensors and then uses his brain to perform various tasks (such as popping on-screen balloons) in order to measure brain function and alpha/beta wave balance.
Head Tracker: Usually in the form of a head-worn marker clip and a camera, as popularized by the NaturalPoint TrackIR and Johnny Chung Lee's famous Wiimote hack, such a setup allows the user to simply look around in-game without having to reach for the mouse or a joystick hat switch, improving immersion and situational awareness. They're also essential for using a Helmet-Mounted Sight in combat flight simulators. Later takes on the idea, such as the EDtracker, ditch the camera in favor of a head-worn IMU not much unlike what you'd find in a modern motion controller.

Head-Mounted Display Combine the above with a monitor inches from your face, and you have the keystone of Virtual Reality: a headset that, when worn, lets you look into a virtual world with complete tracking of your head movements. The basic technology is decades old, but only now starting to become a popular gaming item with the Oculus Rift, HTC Vive and PlayStation VR on the market despite past attempts such as the Forte Technologies VFX1, Virtual i-O i-glasses! and Victor CyberMaxx having failed to catch on in The '90s.
Unique (Only used once, as a one-off gimmick or merely yet to catch on):
See also here
.
---