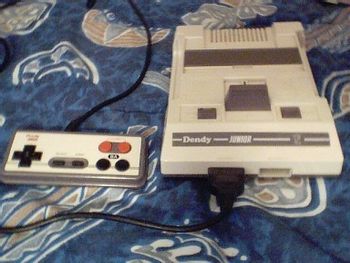 One of the best and one of the weirdest things piracy could ever create, Dendy brought joy to thousands of Russian kids during The '90s and was the console that spawned the first generation of console gamers in Russia. At first, Dendy looks pretty much like your regular bootleg Nintendo Entertainment System clone, but to Russian gamers, it was so much more. It indeed had almost the same fate as NES, just on a less epic scale. Despite being completely unlicensed by Nintendo (although the short-lived publisher of the console, Steepler Ltd., imported Nintendo's consoles legally as well), it boasted many achievements: Millions of sold Famiclones and peripherals, a really huge network with its own brand shops, its own magazine (a la Nintendo Power), a TV show (think Starcade or X-Play) and millions of obsessed fans.
The Russian counterpart to Nintendo Power began its life as Video-Ace: Dendy and, design-wise, was pretty bland. However, its publisher Video-Ace had some experience publishing a few movie magazines and a PC games magazine, and the design was soon upgraded. Some of the articles were translated from Joystiq, again thanks to the publishers' connections. Unlike most of its contemporaries, Video-Ace Dendy concentrated more on movies, treating video games more like "interactive entertainment", and didn't have annoying ads. Later, however, when the Sega Genesis first debuted, the Fun Club section rose in popularity and became a name known to Russian gamers as The Great Dragon.
As a bootleg console, the Dendy's library is made up of a large number of bootleg games of dubious or even non-existent quality. The system is also capable of playing legitimate Famicom carts due its nature as a clone console. Actual games did make it over via piracy, though they were frequently altered; this occasionally tripped Copy Protection and sometimes made games Unwinnable. While this lack of quality control would have stifled any bootleg in a traditional market, most kids who owned a Dendy didn't have any frame of reference to realize what they actually had, plus there wasn't much competition anyway.
Steepler's bankruptcy caused the Dendy magazine to split into two publications. One became The Great Dragon, while the second carried on the name of the TV show Dendy: The New Reality. The latter lasted only four issues, while its older brother underwent a 10-year evolution from inheriting the format of Video-Ace Dendy with some really reasonable add-ons to a magazine with loads of info on JRPGs, next-gen consoles and anime, while still retaining the stuff that was loved before (8-bit and 16-bit sections, mainly). And that all was until 2003, when the magazine folded due to lack of funds. A revival was announced but seems to have encountered Development Hell.
Kinaman created a feature-length documentary
about the ramifications of Dendy's bootleg nature on Russian gaming culture at the time.
Several bits of the TV show dedicated to this famiclone, Dendy: The New Reality, may be watched here
, subbed in English, or, if you're really interested (or maybe just happened to be born in the post-Soviet era), you may watch it from beginning to end in its original language here
.
Not to be confused with the adorable little intellect from OK K.O.! Let's Be Heroes.
The clone itself, as well as related hardware and cartridges, contain examples:
Video-Ace Dendy and its Spiritual Successor, The Great Dragon include examples of:
The Dendy: The New Reality show and its follow-ups contain examples of:
---