There are lots of theatrical productions, many standards noted in The Musical, and once you've caught the film and/or the amateur theatre production, you may see them during a National Tour. You might even travel to The City to see it live in the West End or on Broadway.
There are notable similarities between the two: both are in the West of their city, are near a river, have a big open square with neon billboards and a statue and steps that tourists sit on, could reasonably have ended up with the name of the other, have most of their actors living near Soho; and they have about 40 official theatres each. Why forty? Who knows! They also put on a few of the same shows, but apart from that they are rather different, this pulling from the culture of the country they're in.
As Tom Stoppard said, "Theater in New York is nearer to the street. In London, you have to go deep into the building, usually, to reach the place where theater happens. On Broadway, only the fire doors separate you from the sidewalk, and you're lucky if the sound of a police car doesn't rip the envelope twice a night."
open/close all folders
Theatre Productions
Musical Long Runners
---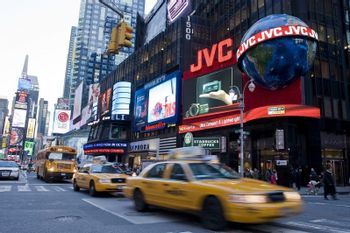 The only reason anyone goes to Broadway is because they can't get work in the movies.
Broadway is the name of a very long road that runs diagonally across the island of Manhattan in New York City.
It is seated on the West Side and is one of this part of the island's two biggest roads - the other being called "West End". The area which most people think about when they hear the name is actually the district of the island designated "the Theater District", just East of Hell's Kitchen, and starring Times Square. The section of Broadway included in this (though it can extend to all of Broadway) is nicknamed "The Great White Way": though today songs have been written about its lights, when it first opened it was one of few streets in all of North America to have electric lighting, basking it in white 24/7. They seem to have liked the lights a lot. There are about all of three Broadway theaters actually on this Broadway the road (and one of them is in a hotel - the Marquis, 1535 Broadway a.k.a. The Marriott Marquis). Any theater on the West Side can be on Broadway if it has a 500+ capacity. Theaters that can seat from 100 to 499 persons are off-Broadway, and anything below that is "off-off-Broadway". Anything performed on Broadway can be awarded a Tony Award. Tickets to see one of these shows will set you back anywhere between about $100 and $300, with free Playbills but programs not that cheap.
Broadway Theaters
Al Hirschfeld (formerly the Martin Beck)
American Airlines Theatre (formerly the Selwyn)
Ambassador
August Wilson
Belasco
Bernard B. Jacobs
Booth Theatre
Broadhurst
The Broadway Theatre (formerly the Colony and Carroll)
Circle in the Square
Ethel Barrymore Theatre
Eugene O'Neill
Gerald Schoenfeld
Gershwin
Helen Hayes
Hudson
Imperial
James Earl Jones (formerly the Cort)
John Golden
Lena Horne (Formerly the Brooks Atkinson)
Longacre
Lunt-Fontanne, formerly The Globe (New York)
Lyceum (New York)
Lyric (New York)
Majestic
Marquis
Minskoff
Music Box
Nederlander Theatre
Neil Simon Theatre
New Amsterdam Theatre
Palace (New York)
Richard Rodgers
St. James Theatre (New York)
Samuel J. Friedman
Shubert
Stephen Sondheim
Studio 54
Vivian Beaumont
Walter Kerr
Winter Garden
To be eligible for nomination for an Antoinette Perry Award for Excellence in Theatre (or Tony), the performance must have been on Broadway - in a theater that can seat 500 or more. The awards are named for Antoinette Perry, who co-founded the American Theatre Wing. This society co-presents the awards with The Broadway League. There is also the Isabelle Stevenson Award presented with the Tonys, since 2009, which is just the "Special" award by another name.
Besides being on Broadway (except the Regional award), a rule maintained every year, the official Rules and Regulations expire at the end of every theatre season. Since 1997 the ceremonies have usually been held at Radio City Music Hall, but were held at the Beacon Theatre in 2011 and 2012. The whole thing is also broadcast live by CBS, and a much fancier affair than its foreign counterparts. The Tony Awards are notorious for having loads and loads of awards, and for these awards to have ridiculous sounding and ridiculously long names. There is an index of Tony Award Winners.
---
Luckily, West End audiences seem to rather like very old people.
The West End is to the West of London very much what the East End is to the East of it: Shaped Like Itself.
There are many famous streets here, one being called "Broadway". Though everything within the West of the Greater London Metropolitan Area could arguably be called the West End, this typically refers to the signpost designation "Theatreland"note There is a ward of the City of Westminster that's called "West End" which is another zone that could arguably hold the definition but instead only covers Mayfair, Soho, and parts of Fitzrovia. All streets within the actual West End will have at least one sign with a red banner and the Two Faces of Tragedy and Comedy at the top. It's just East (and South) of Soho and has Covent Garden - Times Square's super empty sister (comparatively) - and Piccadilly Circus, which is gradually becoming Times Square with a load more red buses and fewer tall buildings. Any theatre on these streets is a West End theatre, but ever since the "off-" prefix from America made itself known, many new and smaller-seating theatres are being classified as "off-West End"note Notably, The Other Palace, formerly the St. James, calls itself "off West End" - when McQueen moved from here to Haymarket this was marketed as its West End debut - despite being in the West End, on the site of the Westminster Theatre, which was considered West End before being gutted by fire and demolished. They may adopt this as official, but are still eligible for Olivier Awards. Therefore, show prices are fairly similar for all productions and can cost from £10 to a maximum of £100 usually, with programmes costing £4. Multiply by about 1.5 to get USD, and it's still a lot cheaper to feed your theatre habits in London.
West End Theatres
Adelphi
Aldwych
Ambassadors
Apollo
Apollo Victoria
Arts Theatre
Cambridge
Criterion
Dominion
Duchess
Duke of York's
Fortune
Garrick
Gielgud
Harold Pinter
Her Majesty's
London Palladium
Lyceum (London)
Lyric (London)
New London
Noël Coward (formerly Albery)
Novello
Palace (London)
Phoenix
Piccadilly
Playhouse
Prince Edward
Prince of Wales
Queen's
Savoy
Shaftesbury
St Martin's
Theatre Royal, Haymarket
Theatre Royal, Drury Lane
Trafalgar Studios
Vaudeville
Victoria Palace
Wyndham's
Technically, anything performed on a stage in a theatre in London is eligible for nomination for a Laurence Olivier Award (formerly, Society of West End/London Theatre Award). It would seem that also anybody who is in London is eligible to present an Olivier Award, because the hosts and presenters have been varied, typically ranging from heroes of Western Theatre to whoever's been on TV or in Twilight and is available.
The different awards are split into five categories, which means that everything from any given year will probably win something, as well as there being fifteen retired awards. The ceremonies have been hosted in many theatres, a Hilton hotel once, and at the Royal Opera House in Covent Garden since 2012. The Grosvenor House Hotel has hosted the ceremonies four times, but is most commonly associated with being where the after-show parties are held. The red carpet and award highlights are broadcast by ITV. Notably the Olivier Awards, in contrast to the Tonys, include categories for opera and ballet.
---