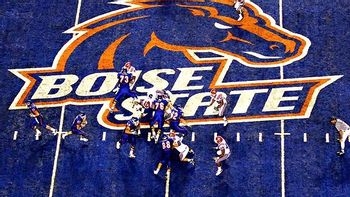 Boise State University (Popularly called BSU) is the largest university in the State of Idaho. Located in the city of Boise, Idaho, it is best known for its football team and its blue football field, the first of its kind.
BSU was founded in 1932 as Boise Evangelical College (making it one of the few public schools in the US to be founded as a religious school) by Bishop Middleton Barnwell at St. Margaret's Hall before being moved to its current location on the Boise River where the Boise airport used to be. The school grew in size and population until 1974 when the school was given its current name: Boise State University. The main campus currently fills the area between Capitol Avenue and Broadway.
The most famous attraction is Lyle Smith Field at Albertsons Stadium, popularly known as the Smurf Turf, the first non-green playing surface in the NCAA. First formed by Rule of Cool (the head coach at the time believed it would increase awareness for the school) the Broncos have an impressive 122–10 record at home since 2000 (the best in the top level of college football, Division I FBS), and the field is believed to be bad luck for opposing teams.
The Broncos football team has seen massive success in the late 2000s and 2010s, winning the Fiesta Bowl in 2007, 2010, and 2014. The team has rivalries with the University of Idaho Vandals (now dormant with the Vandals having dropped to the second-tier FCS), the BYU Cougars, and Fresno State Bulldogs.
---
Boise State has examples of the following tropes: