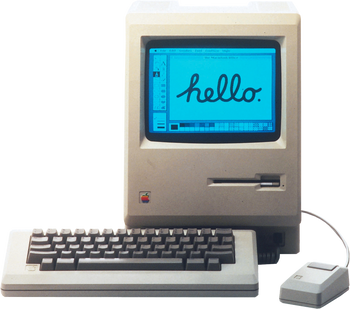 *BONG!*note "Welcome to Macintosh."
Traditionally, the Apple "Mac" Macintosh computer has been known for desktop publishing, Photoshop, audio and video editing, networking, and high prices, not gaming.note (In fact, Apple management for some time actively discouraged any attempts to turn the Mac into a gaming machine, because they envisioned it as a business tool and feared that gaming would add to the already somewhat whimsical image of the computer.) But despite this it has a gaming history, including a small number of original titles, most famously Myst and Marathon. Another irony is that, due to being based on the popular Motorola 68000 CPU, widely used at the time in various video game platforms including the Sega Genesis and the Neo Geo, the Mac had a long history as an authoring platform for console games in the eight-bit and 16-bit eras.
The Mac was a revolutionary computer, with its Xerox Alto-inspired graphical user interface note though Mac OS X made it so modern Macs have a terminal feature to provide text-based functions other UNIX-based operating systems have, and Apple marketing executives were worried that it would be seen as a toy. So the only games developed for it prior to its release in January 1984 were a 600-byte
15 Puzzle and a real-time board game by an Apple programmer that went intentionally underpromoted
. After the launch, games were ported over from other systems, but there were only a few unique titles.
Several companies stepped forward to fill the gap. Silicon Beach's Enchanted Scepters and Dark Castle demonstrated the Mac's mouse-based input and multimedia capabilities, respectively. ICOM Simulations created the first fully mouse-driven Adventure Game in Déjà Vu (1985), followed by Shadowgate and two other "MacVentures". In the 1990s, Bungie gave Mac users a reason to be proud with Marathon and Myth. Halo: Combat Evolved would've been their next Mac title, but Microsoft bought them out and turned it into a launch title for the Xbox. Other major developers included Ambrosia (Escape Velocity) and Casady & Greene (Crystal Quest, Glider). Still another Mac debut, Cyan's HyperCard-based Myst, went on to reign as the all-time best-selling PC game for nearly a decade.
The Mac hardware went from the 68k Central Processing Unit family to the PowerPC, and macOS went from Classic to X note (pronounced "ten"; it's a Roman numeral, not an Xtreme Kool Letter), but it remained a system of third-party ports from those who were willing. And as the "wintel" platform caught up with the Mac's technical sophistication, porting became more difficult and fewer were willing.
Things took a startling change in the mid-2000s. In 2006, the Mac transitioned to Intel processors, using the same 80x86 CPU as the IBM Personal Computer, even allowing it to run Windows without the need for an x86 emulator, and thus the vast majority of computer games (i.e. other than what was already available for MacOS). This made porting easier, but still not a piece of cake; the MacOS still uses different APIs, such as OpenGL,note As with many other Unix-based or Unix-like operating systems, such as Linux, which primarily uses the Mesa implementation, Metalnote A proprietary, Apple-developed API intended to replace OpenGL on their platforms, Quartz Extreme and Core Audio, in place of Microsoft's DirectX. It also used a different, more sophisticated BIOS called EFI in place of the outdated IBM PC BIOS that PCs were stuck with until Microsoft updated Windows Vista and 7. An upside of the transition was the sudden prominence of the Hackintosh, a standard PC running Mac OS X (versions 10.4 and up); though technically not allowed under Apple's EULA, Hackintoshing opens up a lot of flexibility that Apple doesn't offer on the low end, and there's even a book out there on how to do it.
Much like earlier 80x86 competitors to Windows such as Linux, native game ports have mostly died away as a result, replaced with the common CPU architecture's ability to use various types of emulation to run Windows games at a decent speed or simply reboot into Windows using the Boot Camp bootloader software. In particular, a commercial enhancement of Wine called Cider is bundled into most current Mac game "ports", so native Mac games have been reduced from those ported by third parties to those originally written by Multi-Platform Mac developers, like Blizzard and id Software. And in 2010 Valve brought Steam to the Mac, opting to port the code to run natively on Mac OS X instead of using Cider. Likewise, EA has joined Valve with porting Origin to the Mac, and promised that while most games were ported using Cider, some games will be ported to run natively on the Mac (most recently being SimCity (2013), which was ported to native Mac OS X code).
In 2020, Apple announced the Mac line would transition away from Intel processors to its own custom-designed ARM-based systems on a chip, dubbed Apple silicon, to have the Mac run the same instruction set as its iPhone and iPad lines.
---
Specifications:
open/close all folders
"Old-World" Macs
Macs are generally classified into four eras: Old-World, New-World, Intel, and ARM (or Apple Silicon). Old-World Macs use the Toolbox BIOS, a proprietary BIOS only capable of loading Mac OS, and they had most of their graphical instructions stored in-BIOS. Later "Old-World" Macs are actually hybrids, they have both Open Firmware (albeit an early implementation) and Toolbox BIOS stored on ROM. The thing that sets these hybrids apart from New-World Macs is that while hybrids store both BIOSes on ROM, New-World Macs only store Open Firmware on ROM, but they are capable of loading the Toolbox off the hard disk into RAM and chainloading Toolbox from there.
Black & White Macs, 1984- 90
The Macs of
Dark Castle
and the ICOM MacVentures.
Processors
Central Processing Unit: Motorola 68000, 8 Mhz.
GPU: None. Somewhat ironic, but for all the graphical sophistication of its interface the Mac's entire graphical subsystem consisted of a simple DMA video controller, based on just two discrete logic chips, with all graphics drawn in software.
The machine's entire chipset fit into just 10 chips (6 programmable logic devices, two custom chips for the clock and floppy drive, an 8530 dual serial port and a 6522 VIA to handle interrupts), a tiny number in 1983 considering most desktop PCs were still being built out of discrete TTL chips (which required dozens of individual chips to do the same thing). Burrell Smith wanted to put the entire machine's guts into one big chip called the "Integrated Burrell Machine", but they couldn't get the chip debugged in time and had to fall back on Smith's original PLD-based design. Apple eventually got it working for the Macintosh SE and Classic, though.
Memory
128 KB for the original "thin" Mac, which almost killed the machine — the design team was really challenged to do anything with such a tiny amount, because graphical software required more memory than the old-fashioned character-based one, and applications' constant loading and unloading of the unused software pieces slowed the machine to a crawl, as it didn't have a HDD, just a 400K floppy!

That happened regardless of the amount of memory installed. For example, Mac Word and the System would not both fit on the same floppy. When firing up Mac Word, it would require the user to swap the System disk in to load the resource to display a dialog box of useless information that you just ignored and clicked OK on, and then swap the Mac Word disk back in to continue loading the program. It did this about twenty times before the loading was completed. And it still did it even if you had upgraded the memory to 2MB, ie. sufficient capacity to hold the entire contents of both disks and still have buckets left over.

The first major update of the system, the "fat" Mac, upped the memory amount to 512 KB. Later models increased it further, to 4 MB.
Display
Sound
Eight-bit mono PCM (software).
128K: 1.0-3.3
512K: 1.1-4.1
512Ke: 1.1-6.0.8
Plus: 1.1-7.5.5
Classic: 6.0.7-7.5.5
Color 68k Macs, 1987- 94
The Macs of
Myst
and
Marathon
. This class also includes the oddball SE/30 and Macintosh Classic II, which were both Mac II-class machines (based on the Mac IIx and the LC II, respectively) that just happened to be in the classic "toaster" Mac's form factor. Also, the earliest PowerBook models (Mac laptops) are in this class. Some of these Macs had an internal CD-ROM drive (on the SCSI bus), essential for loading games too big for floppies.
Central Processing Unit: Motorola 68020, 68030, or 68040, 16-40 Mhz.
GPU: Still 100% software; early Mac IIs used discrete video cards based on Apple's "Toby" frame buffer ASIC, which provided up to 640×480 in 256 colors. The IIci introduced "RAM-based video", an upgraded color version of the shared-memory video the monochrome toaster Macs used, which was intended as a budget option for people that didn't want to buy a discrete card. Around 1990, QuickDraw accelerators like the Apple 8•24 GC and cards from RasterOps and Radius became available, but these were expensive note and meant for creative pros. Quadra-class machines and the LC family used local-bus video integrated on the motherboard, based on various versions of the "DAFB" ASIC/IP cell. The SE/30 used a unique PLA-based integrated video card (which differed from the original Mac version by using dedicated video memory) that appeared as a NuBus card to MacOS.
Memory
Display
Up to 1152×870 resolution.
Up to 24-bit color.
The SE/30 and Classic II used the same 512x342 monochrome screen as the original Macs. However, there were add-ons for the SE/30 that made it just as capable as a full-size Mac II, and even made it possible to display grayscale video on the internal monitor.
Sound
Mac II: 2.0-7.5.5
Quadra: 7.1-8.1
Beige Power Macs, 1994- 98
The machines that introduced the PowerPC CPU to the world. Also the era when the Mac adopted technologies originating in IBM-compatible PCs, such as the PCI bus and the IDE hard disk.
note
Along with the Power Macintosh line, the later Performa and PowerBook models also have PowerPC processors. This is the only era to have official Mac clones, the non-Apple computers that have a license from Apple to run
macOS
.
CPU: PowerPC 601, 603, 603e, 604, 604e, 604ev "Mach 5", or 750 (called "G3"), 60-366 MHz. The 603/604 series Power Macs are unofficially upgradable to G3 chips of up to 400MHz using third party upgrade kits, while the G3 Power Macs are unofficially upgradable to G4 chips of up to 1.2GHz using third party upgrade kits.

PowerPC processors had fewer MHz than contemporary Intel processors; but a clock speed comparison ignores the different architectures. Mac fans claimed that a PowerPC was just as good as an Intel with higher clock speed, because of the PowerPC RISC design.

GPU: Either software-driven onboard video, Apple video cards, or PCI cards. Beige G3 Power Macs had onboard 3D acceleration and support for up to 1280x1024 thanks to an integrated ATI Rage II+, Rage Pro Or Rage Pro Turbo chipset, depending on motherboard revision.
The earliest PowerPC Macs, as well as some of the second-generation beige models note , are non-PCI models. These recycled old 68k designs, including the Mac II's NuBus slots, and did not have Open Firmware. The rest of the beige PowerPC Macs are PCI models with Open Firmware booting the Mac Toolbox. A few owners have hacked Open Firmware to boot Linux or NetBSD, bypassing the Toolbox, but because Apple never intended OF to do much more than enumerate the PCI devices and boot the Toolbox ROM, the various implementations range from "buggy" to "very buggy", making things more difficult.
Memory
8-384 MB, unofficially up to 1.5 GB for PowerSurge machines and 768MB for Beige G3s.

The "PowerSurge" machines (the 7500-9500 and their follow-ons) and some of the "InstaTower" logic boards note used an oddball transitional memory standard, the "fast-page DIMM". These were available in sizes up to 128 MB; the 7500 and 8500 had 8 DIMM slots, and the 9500 has 12, making their maximum RAM 1 GB and 1.5 GB, respectively — both huge numbers for consumer machines in 1995.
The Beige G3s switched from fast-page RAM to the then-new (but far easier to get) PC66 SDRAM. RAM modules must be double-sided or the computer will exhibit memory-related issues like not reporting all the RAM installed or randomly crashing on boot. PC100 and PC133 RAM sticks are accepted, but the RAM will only be operated at PC66 speed (66MHz). All-in-one and Desktop models require low-profile RAM. Also, the firmware is programmed to only detect 768MB of RAM and then give up, so adding more than 768MB of RAM is pointless, and even then it's Apple being a bit generous, since Apple advertised the maximum amount of RAM as 384MB.

The PowerSurge machines could handle up to 4 MB of Video RAM, using an on-board, Apple-designed frame buffer chip. The Beige G3 upgraded to an ATI Rage GPU, which came with 2MB onboard; another 4MB can be added via a SGRAM module.
Machines with PCI slots accept PCI video cards, though getting one working in a PowerSurge or a Beige G3 is tricky because of the old BIOS.
Display
640x480 with 16-bit color on internal video.
Up to 1152x870 with Apple video cards. 16-bit color with PDS card, 24-bit with AV card note .
Up to 1280x1024 and up to 24-bit color with PCI cards.
Beige G3s can achieve 1280x1024 at 24-bit color using the onboard video if a 4MB video SGRAM upgrade module is present.
Sound
601 models: 7.1.2 - 9.1
603/604: 7.5.3 - 9.1 (9.2.2 can be force-installed using third-party software); 604 models can run OS X up to 10.4.11 using third-party installation software.
G3: Classic 8.1 - 9.2.2, or OS X up to 10.2.8. Can run OS X up to 10.4.11 using third-party installation software, and up to 10.5.8 using third party software if an unofficial G4 upgrade card, enough RAM, and either a PCI graphics card with 3D acceleration or the 4MB SGRAM video memory expansion module is installed.
"New-World" Macs
Starting with the iMac, Macs have fully embraced the industry-standard Open Firmware BIOS instead of its homegrown Toolbox BIOS. However, on early New-World Macs, it was possible to have Open Firmware load the Toolbox BIOS from the hard disk into RAM and chainload it, a technology known as ROM-in-RAM; this was necessary for running Mac OS 9 as a stopgap solution while Mac OS X was still being developed. This feature was removed from later G4 Macs and is absent from G5 Macs.
Translucent iMac, 1998- 2001
The iconic Mac of the
Unreal
and
Quake
era, also known as the iMac G3 when distinguishing it from later models in the line. Starting with its direct ancestor, the Power Mac G3 family, Apple dumped the homegrown chipsets of the Beige PCI era and went with a solution based around a Motorola "north bridge" and ATI
GPUs
; this saved money and actually increased performance.
The iMac introduced Mac users to USB, and got rid of the floppy drive. The iMac was also missing the old ADB, modem, printer and SCSI ports. Some people bought USB adapters or USB floppy drives. Later iMacs added FireWire, because USB 1.1 was too slow for some devices.
CPU: PowerPC 7xx (called "G3" as the third-generation PowerPC,) 233-700 Mhz.
GPU: ATI Rage II/Pro/128.
Memory
32 MB to 1 GB.
2-16 MB video memory.
Display
Up to 1024×768 with built-in monitor, up to 1600×1200 on an external monitor.
Up to 24-bit color.
Sound
Classic OS 8 or 9.
OS X up to 10.3.9–10.4.11
"New World" Power Macs, 1999- 2005
The Mac takes a big leap forward with OS X, and dumps all the remaining legacy Mac standards (and whatever legacy PC standard it also had), but remains in its own world with the PowerPC processor. G3 and early G4 models came in shells with aesthetics similar to iMacs in that they have a rounded, semitransparent shell, later G4s dropped the transparency altogether, and the G5 ditched the plastic casing for an aluminum body, which was brought forward to the Mac Pro era.
Processors
CPU: PowerPC 7xx ("G3"), 74xx ("G4"), or 970 ("G5"), 300 MHz-2.7 GHz.
GPU: PCI or AGP graphics cards: ATI Xclaim, Rage, or Radeon, or NVIDIA GeForce.
Memory
64 MB to 8 GB.
4-512 MB video memory.
Display
G3, early G4: Up to 1600×1200.
Later G4, G5: Single or dual link DVI, 1920×1200 or 2560×1600.
24-bit color.
Sound
Classic Mac OS 8.5-9.2.2
OS X up to 10.5.8
Intel Macs
Starting mid-2005, Apple ditched the PowerPC architecture for Intel's x86/x86-64, after neither Motorola nor IBM could deliver a PowerPC G5 variant that would run cool enough for use in Apple's PowerBooks. note Even on the desktop, keeping the G5 cool was a huge issue; low-end, single-socket machines had gigantic heat sinks installed, and high-end models resorted to using water-cooling stock. Intel had similar issues with the Pentium 4, which led to its demise as well. With this move, Apple also ditched Open Firmware in favor of Intel's then-revolutionary EFI BIOS (which only became common in the rest of the PC world in the 2010s). The first few generations of these Macs are only 32-bit capable, while newer generations are fully x86-64 compatible (the latter being a necessary requirement to run Mac OS X Lion, thus the 32-bit machines are only capable of upgrading to Snow Leopard).
2018 Mac Mini
The modern bottom-end Mac which was marketed as a
Bring your own display, keyboard, and mouse
(BYODKM) PC for those who have a Windows-based computer and want to transition to a Mac.
Processors
CPU: Up to 6 cores Coffee Lake Intel Core i7 3.2GHz, with onboard Intel UHD Graphics 630.
Memory
8 to 64GB 2666MHz DDR4 RAM. Giving in to the customer base, the 2018 Mac Mini returns to using industry standard slotted RAM modules and has two RAM slots, however upgrading the RAM is now an interesting exercise as one has to practically disassemble the entire machine just to upgrade the RAM.
Storage is NVMe SSD, ranging from 128GB to 2TB. However the storage is soldered and cannot be upgraded. No traditional hard drive option offered.
Display
Single via either HDMI or DisplayPort, or dual link HDMI+DisplayPort. Can drive two monitors at 1920x1080 independently or a single 5K monitor via Thunderbolt 3. Supports up to four discrete GP Us via external Thunderbolt 3 GPU enclosures. If using external Thunderbolt 3 GPU enclosures, AMD GP Us are natively supported while NVidia cards requires third party drivers.
24-bit color.
Sound
24-bit 5.1 channel surround via HDMI. Optical or stereo out via the sound out port.
2019 iMac
The go-to Mac for most of its desktop users and arguably still the definer of a very capable all-in-one computer. The design of the modern iMac had not changed much since 2017, with the latest iteration looking much like it did in 2017, although the insides did evolve to cope with newer technology. Nonetheless, the machine is very thin at 5mm on the edges, but actually bulges out in the middle. At certain angles,
it looks very thin
.
Processors
CPU: Intel Coffee Lake Core-i CPUs-

21.5 inch iMac: Dual core i5 at 2.3GHz
21.5 inch iMacwith Retina Display iMac: Quad-core i3 at 3.6GHz to Hex-core i7 at 3.2GHz
27 inch iMac: Hex-core i5 at 3.0GHz to Octa-core i9 at 3.6GHz

GPU:
Memory
Lower end models support up to 16GB of Laptop DDR4 RAM. Higher end models support up to 64GB of Laptop DDR4 RAM. Upgrading RAM however is difficult as one has to remove the LCD panel (with the risk of accidentally breaking it) to gain access to the RAM.
Configurable with a 1TB-3TB Fusion drive or up to 2TB SSD configurable via build-to-order.
Display
Built-in 21.5" or 27" display. Resolutions are 1920x1080 and 2560x1440 respectively, except the 5K model which is 5120x2880.
Sound
Built-in stereo speakers with a headphone/digital audio jack.
2019 Mac Pro
The latest top-of-the-line Macintosh workstation, guaranteed to burn a hole in your pocket and your savings account, too. After 6 years of the oddball black cylindrical design, Apple has switched to a case more reminiscent of past Mac Pros, with a chrome finish. This time however the larger grille opening on the front has earned the machine much mockery from haters, with comparisons to cheese graters usually cropping up.
Processors
A choice of one of the following Cascade Lake Intel Xeon W CPUs

8-Core Xeon W-3223 at 3.5GHz, with 24.5 MB cache
12-core Xeon W-3235 at 3.3 GHz with 31.2 MB cache
16-core Xeon W-3245 at 3.2 GHz with 38 MB cache
24-core Xeon W-3265M at 2.7 GHz with 57 MB cache
28-core Xeon W-3275M at 2.5 GHz with 66.5 MB cache

"Afterburner" video DSP- transcodes videos on the fly.
T2 security chip- performs secure boot and disk encryption duties.
Memory
DDR4 RAM, hex channel (memory must be installed in sets of six for best performance), up to 1.5TB of RAM. The Xeon W-3223 CPU will only run the memory at 2666 MHz while the other CPUs run the memory at 2933 MHz. Official Apple-offered configurations are 32GB (4x 8GB, two channels unused), 48GB (6x 8GB), 96GB(6x 16GB), 192GB(6x 32GB), 384GB (6x 64GB) and 768GB(12x 64GB, will switch to 6x 128GB as higher capacity memory chips become available)
Up to 4TB SSD Storage over two proprietary slots that use the nVME signalling scheme. Official Apple-offered configurations are 256GB (1x 256GB stick), 1TB (2x 512GB sticks), 2TB (2x 1TB sticks) and 4TB (2x 2TB sticks).
Display
GPU: Choice of the following AMD GPUs

Radeon Pro 580X - half height module, supports up to 4 cards

Six 4K displays, Two 5K displays or Two XDR displays per card.

Radeon Vega II - full height module, supports up to two cards

Six 4K displays, Three 5K displays or Two XDR displays per card.

Radeon Vega II Duo - basically two Vega II cards on one module. Full height module, supports up to two cards for a whopping four Vega II GPUs.

Eight 4K displays, Four 5K displays or Four XDR displays per card.

GPUs come in a "MPX Module" form factor but is in fact PCIe GPU compatible, but every second PCIe slot has a proprietary slot called the "MPX Slot" located right behind it ala PCI-X. This slot is used by the GPUs to pass video signal back to the motherboard for use with the Type-C connectors as well as to draw extra power - while the Mac Pro's PSU does allow for 8-pin PCI-e power connectors, Apple would prefer it that extra power be supplied using the MPX slot instead of the PCI-e power cables. GPU cards supplied by Apple do not have a PCI-e power connector on the card.
Sound
In a call-back to the days of the Beige G3, the Mac does not appear to have onboard audio (or Apple is not advertising the Mac as having onboard audio of any kind), instead audio is generated by the codec on the GPU cards, PCI-e sound cards, or via USB audio devices.
Connectivity
Two USB Type-A connectors, support USB 3.0 signalling
Two Thunderbolt-3 ports: USB Type-C style connectors, supports USB 3.2 and DisplayPort signalling (video signal backfed from GPU cards via the proprietary slots).
Two 10GBPs Ethernet ports.
Apple Silicon Macs
In June 2020, Apple announced at its annual Worldwide Developers Conference (WWDC) that it would transition the Mac from Intel processors to Apple-designed ARM chipsnote (Based on processing cores licensed from TSMC), dubbed Apple silicon, similar to those it uses in the iPhone and iPad. The reasons for the switch were numerous
: Apple was reportedly unimpressed with Intel's general pace of innovation and the quality control for its Skylake chips, and found their own ARM chips for the iPhone and iPad were nearly as fast as Intel's while using considerably less power. The move also gave Apple total control of the technologies they wanted to build into their chips.note Apple's late Intel Macs included ARM-based T-series co-processors to supplement functionality that Intel's chips lacked, like video encoding/decoding accelerators and storage encryption. It also made it easier for software developers to design apps as they would only need to work with one processor architecture across all of Apple's products. Apple's chips also include in-house designed GPUs, moving away from GPUs designed by AMD, Nvidia, and Intel.
The first Apple silicon-based Macs, two notebooks and the desktop Mac mini, were announced in November 2020, just in time for Black Friday. It debuted two professional chips for its higher-end laptops in October 2021, and discontinued all Intel-based laptops after that.
2020 Mac Mini
The first non-portable Mac to bear an Apple Silicon processor. Taking a step backwards, practically nothing in the Mac is upgradeable due to a combination of package-on-package RAM (the RAM chips are soldered directly to the top of the APU) and the flash chips being soldered to the motherboard.
Processors
CPU: 8 core ARM-based Apple M1 custom APU, rumored to be based on the new ARM A78C architecture. Said to be three times faster than the fastest Intel CPU used on the 2018 Mac Mini.
GPU: 8 GPU cores on the ARM-based Apple M1 custom APU, claimed to be six times faster than Intel Iris graphics found on the 2018 Mac Mini.
Additional 16 core "Neural Engine" processor for machine learning applications.
Integrated T2 security enclave core for Secure Boot and real time disk encryption/decryption process. However Apple has claimed that they will make it possible to enroll custom keys so the Mac Mini can boot Linux and the ARM edition of Windows 10.
Memory
8 or 16GB HBM. Memory is Package-on-package with the APU and cannot be upgraded.
Storage is NVMe SSD and comes in 4 sizes: 256GB, 512GB, 1TB or 2TB. The storage is soldered and cannot be upgraded. No traditional hard drive option offered. The 1TB and 2TB capacity models may not be available in all markets.
Display
Up to 2 monitors- 1x 4k via HDMI and one 6k via USB-C display. Possible to add more displays by adding Thunderbolt GPUs.
Sound
24-bit 5.1 channel surround via HDMI. Optical or stereo out via the sound out port.
2021 iMac
The first iMac to use Apple Silicon processors, this model also marks the first major redesign of the computer's external casing in over a decade. Taking a page from the original iMac G3, it drops grey aluminum for a choice of different colors. Much like the Mac Mini, none of the internal components are upgradable.
Processors
CPU: 8 core ARM-based Apple M1 custom APU, rumored to be based on the new ARM A78C architecture. Said to be three times faster than the fastest Intel CPU used on the 2018 Mac Mini.
GPU: 8 GPU cores on the ARM-based Apple M1 custom APU, claimed to be six times faster than Intel Iris graphics found on the 2018 Mac Mini.
Additional 16 core "Neural Engine" processor for machine learning applications.
Integrated T2 security enclave core for Secure Boot and real time disk encryption/decryption process. However Apple has claimed that they will make it possible to enroll custom keys so the Mac Mini can boot Linux and the ARM edition of Windows 10.
Memory
8 or 16GB HBM. Memory is Package-on-package with the APU and cannot be upgraded.
Storage is NVMe SSD and comes in 4 sizes: 256GB, 512GB, 1TB or 2TB. The storage is soldered and cannot be upgraded. No traditional hard drive option offered. The 1TB and 2TB capacity models may not be available in all markets.
Display
Built-in 4480-by-2520 resolution at 218 pixels per inch with support for 1 billion colors
Sound
Built-in wide stereo speakers
Supports Dolby Atmos
Connectivity
All models come with 2 Thunderbolt/USB 4 ports, with the higher-end models featuring an additional 2 USB-C 3 ports.
---
Magazines:
<!—index—>
Applications:
Games:
Original Titles
Ports: Classic Mac OS
Titles / franchises with installments also OS X-compatible marked with an asterisk
Ports: Mac OS X
Intel-only titles marked with an asterisk
<!—/index—>
---
This computer (and its colorful history) exhibits the following tropes:
---