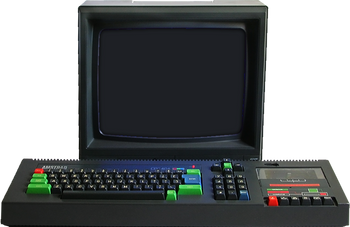 "Pan Am takes good care of you; Marks and Spencer loves you; IBM says the customer is king; at Amstrad we want your money."
— Alan Sugar
Amstradnote A shortened form of the name "Alan Michael Sugar Trading", named for founder Alan Sugar was a British manufacturer of consumer electronics, and in the early 1980s decided to get into the home computer market, which at that time was dominated by the Commodore 64 and ZX Spectrum. Amstrad decided to develop a Z80-based system that was similar to the ZX Spectrum, but technically better. The Amstrad CPC's video hardware offered resolutions similar to the IBM Personal Computer's Color Graphics Adapter, but with a low-resolution 16-color graphics mode replacing the text modes and an expanded color palette that allowed for more vivid colors than on the C64 or Spectrum (though this often didn't show when Speccy games were cheaply ported to the CPC). Also built into the hardware was a three-channel sound generator, rather than a beeper as on the Spectrum and IBM PC of the time.
Amstrad also developed its own operating system for it, called AMSDOS, and a custom version of BASIC called Locomotive BASIC. The new computer could also run CP/M, the 1970s standard OS for business software.
The new computer was released in 1984 as the Amstrad Colour Personal Computer 464. It had 64K of RAM, a built-in cassette drive (another thing lacking in the Spectrum), and came with either a green phosphor or color monitor. With a proprietary monitor, it could avoid the problem of different TV standards in different countries (a huge problem for other computers of that time, as most of them had TV output). It was marketed all over Europe, and was a huge success, selling over 2,000,000 units. Amstrad also succeeded in establishing the CPC as a game computer by releasing many games under the Amsoft label, even though the early Amsoft releases suffered from a notorious lack of quality control. The Spanish company Indescomp developed several Amsoft games as a part of a deal that included the distribution rights for the Spanish version of the CPC464, which was briefly rebranded as the unique CPC472, a plain 464 with "8" more Ks of RAM to avoid a local tax for machines with 64KBs or less. note The extra memory wasn't even electronically connected to the mainboard, just phisically attached. The farce stopped when the tax was nullified by the country entering the European Economic Community in 1986.
Customers loved it, but wanted more memory and a floppy drive. Amstrad chose to build a 3" drive into their computers, which was controversial, as most other computer manufacturers were moving to Sony's 3.5" drive instead. The 3" drive was introduced in 1985 with the CPC664. This model lasted only a few months before being replaced by the CPC6128, with 128K of RAM. The CPC represented a higher-end alternative to the Spectrum, especially after 1986, when Amstrad bought the rights to produce it from Sinclair Research.
The lineup (464 and 6128) remained unchanged until 1990, when Amstrad decided to improve them to a standard closer to the Amiga and Atari ST. The new models were the 464plus, the 6128plus, and the GX4000 game console. ("CPC" was not officially part of these model names.) They had a new GPU with a 4,096-color palette and hardware sprites; a less processor-intensive sound system; and support for analog joysticks and cartridges up to four megabits. They were also completely backwards compatible. But they were still based on an 8-bit CPU, so they were obsolete in an industry of 16- and 32-bit computers, and failed in the marketplace. Amstrad apparently wanted games using the extra Plus features to be released on cartridges only, with only a few Plus games being released on disks starting in 1992; cartridges were more expensive but were the only format supported by the failed GX4000. The CPC was also more complex than the Spectrum, so it didn't have the second life in eastern Europe that the Spectrum had.
As for Amstrad itself, it eventually began to focus more on communications devices than consumer electronics — with the notable exception of receiving boxes and dishes for the British satellite TV service Sky, having been the first to manufacture them in 1989 when the service launched, and the two companies grew increasingly close over the years, culminating in Sky's purchase of Amstrad in 2007; the name and all non-Sky products have since been retired, though Sky's approval was needed for Spectrum and CPC replicas released in recent years.
---
Specifications:
Processors
CPU: Zilog Z80, 4 Mhz.
GPU: Combination of a Motorola 6845 and a custom gate array.
Sound: General Instrument AY-3-8912.
Memory
464, 664, 464plus, GX4000: 64K RAM. (The 472 theoretically had 72K, but the extra 8K RAM chip was not even hooked up.)
6128, 6128plus: 128K RAM.
Display
160*200, 320*200, or 640*200 resolution. Different resolutions could be used for the top and bottom parts of the screen; this was done in such games as After the War, Sorcery and Viaje Al Centro De La Tierra.
Original models: 27 colors. (The palette was built on a ternary GRB system, from 000

3

to 222

3

: 0 was black, 1 was dark blue, 2 was light blue, 3 (010

3

) was dark red, etc. More info.)
Plus models, GX4000: 4,096 colors.
Sprites (Plus models, GX4000 only): 16*16 resolution; 16 per scanline; 16 colors.
Sound
General Instrument AY-3-8912 PSG, providing three channels of square waves and/or white noise.
Games:
Exclusive titles and Multi-Platform games that started here:
<!—index—>
750cc Grand Prix
Airwolf
Aliens: The Computer Game
Alien Highway
Amaurote
Arachnophobia
The Armageddon Man aka Global Commander
Arnhem
Asterix and the Magic Cauldron
Attack of the Killer Tomatoes
Battle of the Planets
Beyond the Ice Palace
Bobby Bearing
The Boggit
Bored of the Rings
Bridge-It
Bumpy
Cauldron
Crafton & Xunk aka Get Dexter
The Curse of Sherwood
Cybernoid: The Fighting Machine

Cybernoid II: The Revenge

The Dizzy series
Dun Darach
Empire
Equinox
Everyone's a Wally
Exolon
Fairlight
Finders Keepers
Firelord
Flunky
Football Manager
Frankenstein
Fruity Frank
Future Knight
Game Over
Gazza's Superstar Soccer
Ghouls
Glider Rider
Grand Prix Circuit
Grand Prix Simulator
Grange Hill
Harrier Attack
Heartland
Heavy on the Magick
The Heroes of Karn
Highway Encounter
Hollywood or Bust
Hoppin' Mad
Hydrofool
I, Ball
International Karate +
Inside Outing
Jack the Nipper

Jack the Nipper II: In Coconut Capers

Jack the Ripper
Joe Blade 3
Kentilla
Knight Force
Knight Tyme
Knightmare
Kokotoni Wilf
Kwik Snax
La Abadía del Crimen
The Last Mission
Les Pyramides d'Atlantys
Liverpool
Marsport
Mission Omega
Monopoly
M.O.V.I.E.
Nodes of Yesod
Nonterraqueous
Obsidian
Oh Mummy
La Plaga Galáctica
Phantom Club
The Plot
Postman Pat
Predator
Prehistorik
Professional Ski Simulator
Pyjamarama
Rex
Rick Dangerous
Rigel's Revenge
Saboteur
Savage
Scooby-Doo
Seabase Delta
Sir Lancelot
Skweek
Soul of a Robot
Spellbound
Spindizzy
Stormlord

Deliverance: Stormlord II

Subsunk
Survivor
Sweevo's World
Target: Renegade
Technician Ted
Three Weeks in Paradise
Tornado Low Level
Trantor the Last Stormtrooper
The Trap Door
Turbo the Tortoise
Tir Na Nog
Werewolves of London
Wizball
Wolfman
World Cup Carnival
Zub
Zynaps
Ports
<!—/index—>
---