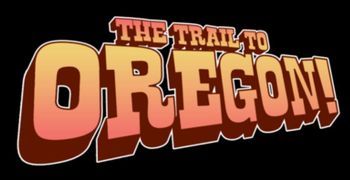 "We are gone to Oregon, it's the greatest family vacation!"
— Opening Number
The Trail to Oregon! is a comedic musical parody of cult classic video game The Oregon Trail, performed by Team Starkid as its ninth stage production.
It tells the story of a dysfunctional family of settlers and the hardships they encounter as they attempt to travel down the Oregon trail.
Audience participation is a major component of this show, allowing the audience to name all the main characters, and even choose the family member to die at the end of the show.
The cast includes the mother (Rachael Soglin), the father (Jeff Blim), the daughter (Jaime Lyn Beatty), the son (Lauren Lopez), and the grandpa (Corey Dorris). Joey Richter plays the majority of the ensemble cast.
The show was released on YouTube on February 13, 2015. Watch here.
The Trail To Oregon contains the following tropes:
---