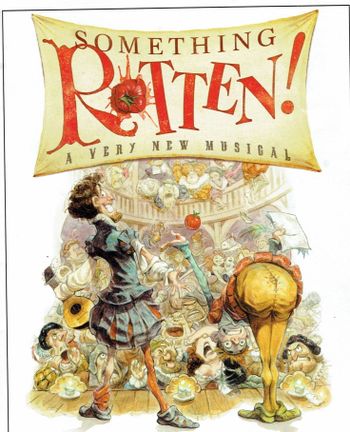 "It's...
A...
Musical
A musical
And nothing's as amazing as a musical
With song and dance, and sweet romance
And happy endings happening by happenstance
Bright lights, stage fights
And a dazzling chorus
You wanna be great? Then you gotta create
A musical"
— Nostradamus, "A Musical"
It's The '90s! The 1590s, that is. Shakespeare is in his prime and is beloved by everyone in London. Everyone, that is, except Nick Bottom, a playwright who just doesn't understand Shakespeare's appeal and wishes he had his fame. Desperate to write a good play, he goes to see a soothsayer named Nostradamus (no, not that Nostradamus, his nephew Thomas) to find out what the future of theatre holds. Nostradamus tells him that in the future, theatre will involve singing and dancing. So, Nick and his brother/writing partner Nigel set out to write the world's first musical.
The show premiered on Broadway in 2015, featuring Brian D'arcy James as Nick, John Cariani as Nigel, Christian Borle as Shakespeare, and Brad Oscar as Nostradamus. Heidi Blickenstaff plays Nick's wife, Bea, and Kate Reinders plays Nigel's love interest, Portia.
---
This musical contains examples of: