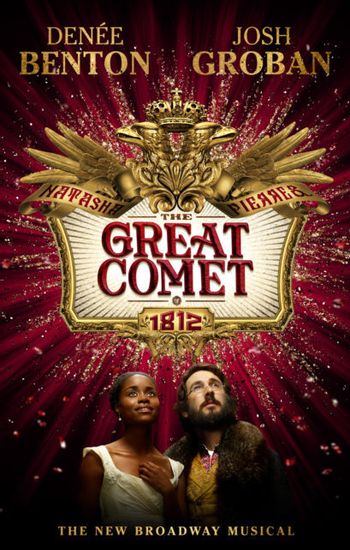 "There's a war goin' on out there somewhere
And Andrey isn't here..."
— Prologue
Natasha, Pierre and the Great Comet of 1812 is a 2012 "electro-pop opera" by Dave Malloy, based on Volume 2, Book 5note Or Book 8 depending on your translation. of Tolstoy's War and Peace. It is something of a Coming of Age Story for the titular Natasha, who finds herself in an unexpected affair with the dashing Anatole Kuragin while waiting for her fiancé Andrey Bolkonsky to return from war. Anatole's sister Hélène finds the whole situation very amusing and helps facilitate Natasha's loss of innocence, while her own husband Pierre realizes he is Desperately Looking for a Purpose in Life. Despite adapting only a very narrow slice of the Doorstopper it's based on, it manages to stand on its own as a story.
Notably, the show isn't performed in a traditional theater, but rather a custom-built nightclub, with the action moving around, through, and occasionally with the audience. It also is a true sung-through opera, with a musical style that's pretty much Hair meets Cabaret meets Repo! The Genetic Opera with a dash of modern folk to taste.
The show made its Off-Broadway debut in 2012. It made its way to Broadway in 2016 before closing in 2017.
Now with a character sheet.
---
This musical contains examples of:
---