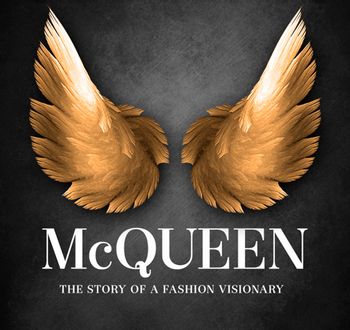 "I've got a 600-year-old elm tree in my garden. I made up a story: a girl lives in it and comes out of the darkness to meet a prince and becomes a queen."
—Lee Alexander McQueen, The Girl Who Lived in the Tree (2008)
McQueen: or Lee and Beauty (sometimes stylised as "McQUEEN") is a play (with musical elements) originally produced on The West End in 2015. It is a Surrealist Dark Fantasy based on a story that also influenced one of the titular Alexander McQueen's fashion shows, and features the late fashion designer on a whirlwind ambiguous journey from the West to East End of London, accompanied by a mysterious girl.
It was written to accompany the McQueen Savage Beauty exhibition at the V&A Museum in London through early 2015 (itself an anniversary celebration of the designer) by playwright James Phillips for the St. James Theatre (London). Due to its success the run was extended through June before continuing (with edits) at the Theatre Royal Haymarket.
Plot spoilers follow.
This girl is the primary fictional character of the play, and the leading lady: Dahlia. She's been living in a tree - or has she? - watching over Lee's new home-come-studio in the West End ever since... Well, this is murky. She initially claims to have seen his designs fall when the movers were unpacking in the street, and had to meet the genius who could create such beautiful creatures; and she does often insinuate the life of clothes. However, she later reveals that she has been working in the back of his shop in Bond Street for a few months and came to steal a dress. After she is discovered by Lee, he calls Phillip Treacy (his friend, the milliner) before confronting her and asking if she's a ghost. Instead of calling the police, though, Lee discards his phone in the room and takes Dahlia on a journey around London - she's convinced him to give her a dress, so they start at the men's fitters he used to work at. (He's also intrigued that she has Woodpecker, a drink from his youth that he loves.) They break in and he gets around to imagining her look - he needs to see her and comes up with a suitably black outfit.
This is when Mr Hitchcock (Lee's old boss) finds them. He then sets about helping construct what becomes an awesome dress, especially to say that they are constructing it on stage every night - cutting the bra that the actress wears, included. Dahlia then excuses herself stage left to look in a mirror whilst Lee and Mr. H have something of a heart-to-heart probably to adjust the dress and returning with a different pair of shoes and painted scars for the most observant of the audience to notice early.
After this they take the underground (filled with the other characters of the play and all the living mannequins) to various locations: Arabella interviewing, where Dahlia becomes increasing comfortable with him and helps him answer, giving that he's also conducting an interview of Kate Moss, asking her the questions via internet. This is one of the funniest scenes of the play, which does feature some remarkably comic elements given the entire story, subject matter, context, and everything else about it. The pair visit a church, where Dahlia overdoses on pseudoephedrine and vodka in the bathroom, and Lee imagines a conversation with his old friend Isabella Blow - a long scene not for the sensitive about her means and motivations for suicide, and Lee's own struggle with mental health. They are in the church not so Dahlia can take a spiritual dump, but so Lee can take some stylised photographs of her in the dress. With each take, the frames crack and the scars on Dahlia's arms become visible. Lee then helps Dahlia recover, gives her some water, and asks her to at least see the night end with him.
He takes her to his mother's house out on the East End, where he shows her his vision: a beautiful golden feather coat that he's been working on but doesn't know what show to put it in yet (he never does) and leaves it at her house so she can look at its beauty. He gives it to Dahlia and then they venture to some Central London rooftops to watch the sunrise, utilising the moving floor to elevate them. Here he says that she can jump, and he'll go with her; looking down Dahlia assesses that from the height they would both be sure to die. A peregrine falcon interrupts them, a projection, and they revel in this beauty and this experience. Lee used to be a birder and had never seen such a rare bird before, always loving them and wishing to watch one. They get close before the bird is called away.
The pair return to McQueen's house, where Dahlia says she's keeping the jacket and Lee tells her to "fuck off, then". Both help the other survive the night.
Tropes apparent in the play:
---