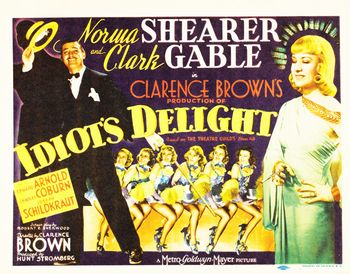 Idiot's Delight is a 1936 play written by Robert Sherwood.
The setting is a small resort hotel in the Italian Alps, right on the border with Switzerland. Various guests arrive at the hotel, including: Mr. and Mrs. Cherry, British newlyweds; Harry Van, an American vaudeville performer who is leading a troupe of dancing girls; Dr. Waldersee, a German scientists who is on the verge of a cure for cancer; Quillery, a French Communist and anti-war activist; Achille Weber, a German arms dealer; and his companion Irene, a Russian woman with a Mysterious Past.
The travelers' plans are complicated when Capt. Lociciero, the officer in charge of the border post, tells them that the border has been closed and the train has been halted due to the imminent threat of war. The possibility of war is even more threatening because the resort hotel is in close proximity to an Italian air base. Tensions rise as the guests hope to escape before war is declared.
Something of an Unintentional Period Piece today—the real World War II did not start with Italy attacking France. In 1939 Idiot's Delight was made into a feature film starring Clark Gable and Norma Shearer. It was directed by Clarence Brown, and Robert Sherwood adapted his own play for the screen. Gable sings and dances for the only time in his long film career.
A 1983 musical adaptation, Dance a Little Closer, was written by Alan Jay Lerner, with music by Charles Strouse. Introducing a Cold War Setting Update and a gay marriage subplot, Dance a Little Closer was Lerner's last and least successful Broadway musical.
---
Tropes:
---
Tropes found in the 1939 film: