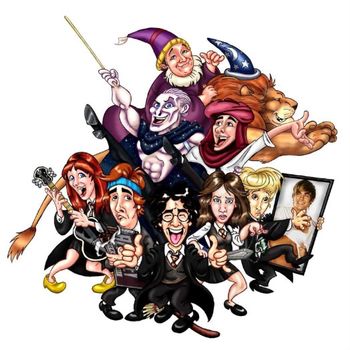 "I'm Harry freakin' Potter and I'm the man!"
— Harry Potter
A trilogy of musical parodies of the Harry Potter books that were written and performed by Team StarKid. The plots mash together elements from all the books in the series, telling the overall same story, but in a different order. Despite this, the musicals are very much their own work, with unique subplots and very unique takes on the characters—so unique that a character page can be found here. They run on Rule of Funny and Rule of Cool almost exclusively, and definitely aren't afraid to take Refuge in Audacity.
A Very Potter Musical (performed and later released in July 2009) begins with Harry's second year at Hogwarts. Professor Quirrell, the new Defence Against the Dark Arts teacher, reinstates the House Cup Tournament, and a champion from each House is chosen to compete. But when Voldemort uses the tournament to fulfill a plot to return to his body, things take a turn for the grim for Harry and his friends, who must find and destroy Voldemort's Horcruxes before it's too late. The story takes most of its elements from books 1, 4, 6, and 7.
A Very Potter Sequel (performed and released in July 2010 after the video of the show was first premiered at Infinitus, a Harry Potter convention) begins immediately after the events of the first story, when Lucius Malfoy decides to use a time turner to go back to Harry's first year at Hogwarts and kill him before he can defeat Voldemort. As Harry, Ron, Hermione, Malfoy and the rest of the characters meet for the first time, Sirius Black escapes from Azkaban and the Ministry of Magic responds by sending Dolores Umbridge to the school to watch out for Harry, and Remus Lupin also comes to Hogwarts to take up the job of Defense Against the Dark Arts teacher. Its story is mostly from books 1, 3, and 5.
Team StarKid announced plans for a third Very Potter Musical
, or A Very Potter Senior Year. However, the availability of Darren Criss (who plays Harry and writes the majority of Team StarKid's music) was in question since he was cast as a regular on Glee, and the project was indefinitely postponed
. Though a full scale production couldn't be rehearsed and performed, a reading of the script featuring music, costumes, basic props, staging, choreography, a narrator (who describes settings and other visual elements the team wasn't able to put together) and a huge cast of Team StarKid actors was presented at LeakyCon 2012. In other words, they did everything they could to make it as much of a full scale production as they could, and succeeded. The script, soundtrack, and video of the reading were released in December 2012, while the play itself was released in March 2013. Borrowing mostly from books 2, 6, and 7, the story is about Harry's seventh and final year at Hogwarts.
The script for a fourth play, A Very Potter Christmas, was written and has been read at some conventions and been made available for some fans who donated to the Kickstarter of the StarKid show Firebringer. It involves a Marauders-era court case over what houses the Ghostbusters would be sorted into, and doesn't specifically parody the events of any book.
---
A Very Potter Musical and its sequels provide examples of the following tropes:
open/close all folders
A Very Potter Musical (AVPM)
Tropes A-M
Tropes N-Z
A Very Potter Sequel (AVPS)
Tropes A-M
Tropes N-Z
A Very Potter Senior Year (AVPSY)
Tropes A-M
Tropes N-Z
---
---