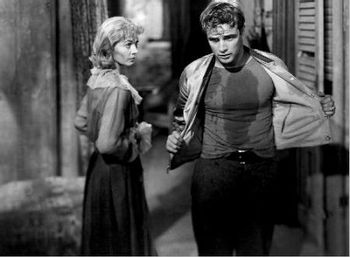 "In 1947, when Marlon Brando appeared on stage in a torn, sweaty T-shirt, there was an earthquake; and the male as sex object is still at our culture's center stage. In the age of Calvin Klein steaming hunks, it must be hard for
[kids today]
to realize that there was ever a time when a man was nothing but a suit of clothes, a shirt and tie, shined leather shoes, and a gray, felt hat."
Tennessee Williams' A Streetcar Named Desire is a Pulitzer Prize-winning 1947 play about a hundred different things: reality versus the imaginary, the old U.S. versus the new, social class, insanity, abuse, violence, appearances, purity, etc.
Most people are familiar with the 1951 movie directed by Elia Kazan and starring Vivien Leigh, Marlon Brando, and Kim Hunter, which was of course Oscar-tacular.note Although the best remembered performance — Marlon Brando as Stanley Kowalski — was passed over on Oscar night in favour of Humphrey Bogart in The African Queen. But there have been many other adaptations, including a 1995 Made-for-TV Movie starring Alec Baldwin and Jessica Lange, an opera, and even a ballet. Stuffed full of imagery and complex characters, it may be considered Williams' best known work, and the character of Blanche has been considered the most difficult female role in all of English literature.
The plot revolves around Blanche DuBois — a beauty in her youth who has now begun to fade — coming to stay with her pregnant sister Stella in New Orleans. Blanche has lost the women's ancestral home, Belle Reve, due to the financial strain of caring for their dying relatives, and has quit her job as a school teacher due to her nerves. Blanche meets Stella's husband Stanley and the two develop an almost instant disliking. Blanche finds Stanley vulgar and common, while Stanley hates Blanche's continual snobbery, despite the fact she is now just as poor as them. He is also suspicious of his sister-in-law, thinking that Blanche may have cheated Stella out of her share of the inheritance.
Throughout the play we start getting glimpses that Blanche is hiding something, and when her secrets are revealed, things get worse. Much worse.
Note: The title of the movie refers to old buses used for public transit, streetcars, what we now call "light rail" or "trams." They were usually named for the street they ran on, and one of New Orleans' streetcars ran along a street named "Desire." It probably sounds more exciting than "A Streetcar Named Broadway," "A Streetcar Named 42nd Street," or, definitely, "A Tram in New Orleans."
---
Tropes used:
The Ghost: Shep, a former suitor of Blanche. She talks about him a lot, but we never meet him

and he may not even exist.

Grievous Bottley Harm:

Before the rape scene, Blanche smashes a whiskey bottle so she can "twist the broken end in [Stanley's] face." Stanley calls her bluff.
Have a Gay Old Time: Some current viewers might have raised an eyebrow at Mitch's line; "I thought you were straight!"
Hot for Student:

Blanche, in the backstory, had a fling with a student in her class. He reminded her of Allen.
Interplay of Sex and Violence: Stella and Stanley's relationship. He throws things and breaks things, she's turned on by it. He beats her, she runs away... he screams for her to come back, and she does, and they immediately have sex. Next morning, he promises it'll never happen again. But it will, they both know it will, and they both seem to like it that way.
Insistent Terminology: Stanley, in general, doesn't mind it when Blanche insults him because of his ethnicity; he does get irritated when she calls him a Polack, and he insists that she should call him a Pole instead.
It's All About Me: Stanley's whole investigation into Blanche's past (and general dislike of her) is provoked because, due to New Orleans being run under the "Napoleonic Code", he might have indirectly lost a little bit of money if Blanche made a bad deal when selling her childhood home.
Selective Obliviousness:

Stella chooses to believe Blanche's claim that Stanley raped her was just another one of her delusions.
Skyward Scream: Oh, what the hell! SSTTTEEELLLAAA!!!!
Slobs vs. Snobs: The delicate, cultured, and slightly arrogant residents of Belle Reve versus the gritty, rude, and down-to-earth residents of New Orleans. (In itself probably something of a symbolic look at the Old South-New South conflict that was affecting the South at the time.) Most obviously, Stanley vs. Blanche.
Soundtrack Dissonance: The Varsouviana is a happy, upbeat polka tune. It is Blanche's "crazy music" and plays whenever she is losing it and/or her

husband's suicide comes up

.
---
STELLAAAAAAAAAAAAAAAAAAA!!!!!!!!!!!
---