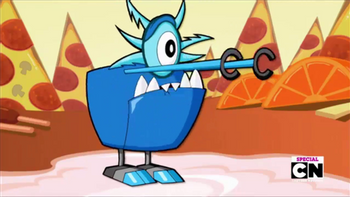 Despite comedy being a common thing that happens in
Mixels
,
there also happens to be a scene or two where you can't help feel sorry for them.
open/close all folders
In General
If you were in either Seismo, Scorpi, or Flamzer's shoes (in a metaphorical sense), then you'd probably know how it feels to be afraid of everything.
Season 1
"Coconapple"

Seismo in this episode. He spent all the time trying to get to the titular snack he wanted, only to get into trouble along with Zorch when the latter went wrecking their respective homes, and in the end, he got knocked out by the coconapple he wanted to eat, which Zorch ended up getting.
Season 2
"Mixel Moon Madness"
"The Quest For The Lost Mixamajig"

After Snoof ditches the 8 Mixels he teamed up with for the key, Krog becomes heartbroken, as seen in the page image. If that wasn't enough, he starts tearing up. That poor mixel sure needs a hug...

"Every Knight Has Its Day"
"Nixel, Nixel, Go Away"
Other Media