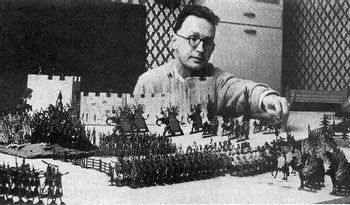 "As it happens, I enjoy organizing things...so working out systems of military service, taxation, family lineage and such items came easily to me and in fact gave me many hours of enjoyment... Howard...had worked into his stories far more background detail than exists in the normal fantasy. He had provided an outline map... and while the geographical picture was rather vague, featuring few cities, there was a wealth of ethnological detail available. On this I proceeded to build."
— Tony Bath on the original inspiration for the campaign, White Dwarf Issue #4
Before War Machine, and before Warhammer Fantasy, there was Conan the Barbarian.
Tony Bath was a noted Wargamer during the 1960s and 70s. He was likewise a ardent fan of Robert Howard's Conan the Barbarian series, and so it was natural that he would come to combine the two. What followed was what may be one of the most in-depth and influential fantasy wargaming campaigns conducted. This was not a mere lifting of the Conan the Barbarian: in order to provide a suitable background for a wargame, Bath expounded deeply into the world of Hyboria, describing its armies, society, and economy, and the end result was a setting that was as much Bath's as it was Howard's.
The rules, likewise were as in-depth and detailed as his Worldbuilding. Virtually every detail of warfare— movement, soldiers' pay, character traits, and economic resources, where elaborately expounded on in order to provide a realistic experience of warfare. Initially beginning as a two-player matter between Bath and his associate Donald Featherstone, it grew rapidly as more of their friends wished to join in the fighting. In the end the campaign lasted for several years, conducted not only on the tabletop but also in mail as players sent their orders and complete with a newsletter sent out to the players to keep track of everything that was occurring.
The rules, background and history of the Hyborian Campaign can be found in "Tony Bath's Ancient Wargaming", available on Lulu
. A digital memorial to Tony Bath and an overview of the campaign can be found here
.
Tropes of the Hyborian Campaign