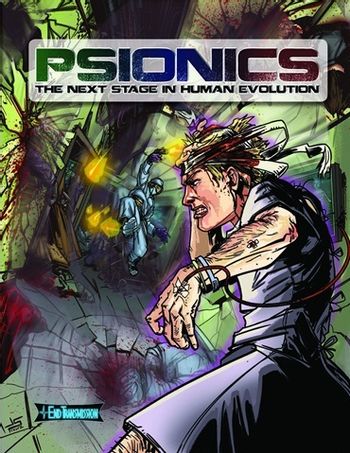 Psionics: The Next Stage In Human Evolution
is a tabletop RPG by End Transmission Games. Funded by a successful Kickstarter campaign in 2014, it was released on June 2nd 2015 and debuted at Origins Game Fair 2015. In addition to the setting and rules of the game, Psionics contains several short stories, written by the creators and some of the play testers. Tomorrow's Starlight, New World Water, Broken Things, The Kids From Yesterday, and Captured illustrate the realities faced by new and seasoned espers (humans with psychic powers), particularly members of The Zodiac Order. Set in the modern day, the in-game universe is superficially identical to our own. Underneath the veneer, however, things look very different. Pharmacological tampering by the US government, starting with Project MKUltra and advancing in the shadows ever since, has resulted in the creation of drugs that awaken psychic powers in the rare individuals that have the genetic potential for it. The children of these individuals also have a chance of developing psionic powers naturally. They can start fires, read minds, move objects, effect probability, stop hearts, see the future, and do a wide variety of other feats just by concentrating. What's more, they're physically and mentally superior to normal humans. These "espers" are the next stage in human evolution.
The overwhelming majority of people don't know that espers exist and for good reason. A number of massive, shadowy, conspiracies work behind the scenes to cover up their existence, and they will stop at nothing to manipulate, indoctrinate, and control espers to further their own goals. All of these conspiracies have their own agendas and see each other as competition that needs to be destroyed. As a newly awakened esper, you'll be conscripted into a war that you never knew was happening. The life you knew is gone. Your present is confusing. Your future is uncertain. Your friends and loved ones are far away from you.
Now, shut up and keep running.
The tropes below may include unmarked spoilers from the GM's Section.
---
Psionics contains examples of the following tropes: