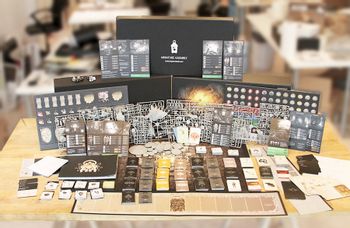 "Somewhere in the place of stone faces, nameless men stand together. They have nothing but a need to survive and a lantern to light their struggle."
—
kingdomdeathgame
A horror universe created by Adam Poots found here
. It is a hellish universe cloaked in utter darkness, where humans find themselves at the bottom of a vast, monstrous food chain. There's a very good chance that most humans will find themselves brutally murdered, devoured whole, or just plain dead for other reasons. Originally set to be released as a tabletop game of notable heroes fighting for the survival of the human race, it has since expanded into a line of miniatures, a boss rush
Tabletop Game featuring normal humans, and a potential hero style RPG. Known particularly for a set of monsters that could be called nightmare fuel, found here
◊, here
◊, and here
◊.
Originally a series of boutique collectors' miniatures, Kingdom Death: Monster launched its Kickstarter campaign on November 2012 with a goal of $35,000 and a release date targeted at November 2013. It was funded on January 2013 after having raised over $2 million which, at the time of its funding, made it the most funded tabletop game on the site. The game vastly increased in size and scope after having reached all its stretch goals, leading to a delay in the project. The new release date was in Q3 2014 where it was again delayed. Poots has provided steady updates on the project's progress. The base game was finally released to Kickstarter backers at the end of Q3 2015. The expansions started shipping out in Q1 2016.
In November 2016, a second Kickstarter for the 1.5 version of the game was launched. It smashed the funding level of the first campaign within hours, and at the end of its first day had amassed more than double that amount, over $4 million. It ended in early January 2017 and was the most funded game Kickstarter of all time until it was overtaken by Frosthaven in May 2020, and at the time the fourth overall with over $12 million.
The game itself has been described to be a boss game where players kill bosses for resources to make weapons and gear to fight bigger monsters. This mechanic makes it similar to Dark Souls or Monster Hunter.
---
Kingdom Death: Monster contains examples of:
---