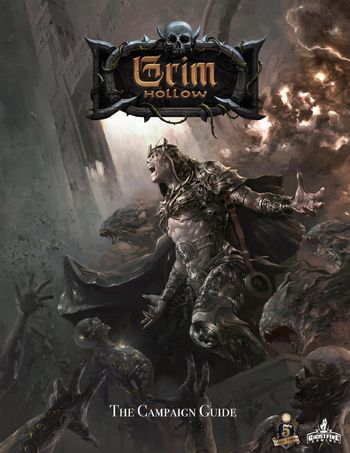 Welcome to Etharis. We'll see if you survive...
Grim Hollow is a setting for Dungeons & Dragons based around themes of Gothic Horror and Dark Fantasy. The setting is published by the third party company Ghostfire Gaming and funded through kickstarter. The first sourcebook, a guide to the world of Etharis containing rules for foul curses and vile transformations, was funded through kickstarter in 2019. After the immense success of the first kickstarter, one for a Player's Guide containing new subclasses, magic items and spells, was started and funded in 2020. A third kickstarter was funded in 2021, this time for a Monster Grimoire containing monsters, treasure tables and rules for designing your own gothic monsters.
The world of Etharis is a world besieged by darkness. From the windswept plains of Castinella, to the frozen reaches of Valika, monsters roam freely and humanity is their prey. Yet despite this, it is humanity that often pose the greatest threat. Religious zealots chase down and burn those they deem heretical, so-called great empires battle each other for dominance and sometimes literally bloodsucking aristocrats exploit their people for their own gain.
Then what of the gods? The great guardians of virtue and justice? They are long gone, slain in their heavenly wars. Now, only their servants remain to watch over the world, stretched to their limits, though some would rather take advantage of the spreading chaos...
---
Tropes that you may face in Etharis