Slasher Smiles in anime and manga.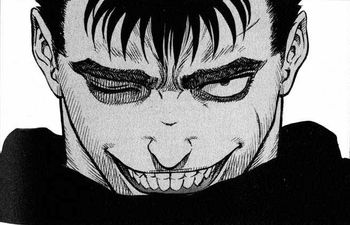 ---
open/close all folders
Anime
Attack on Titan: Armin pulls one of these in the second OVA when Jean suggests stealing meat from the commander's office. Makes you wonder how far off the deep end he truly is, doesn't it?
Black Butler: In the second season, Alois likes wearing either this or a Psychotic Smirk. The most notable example is the one he wears right before stabbing Hannah's eye out with his fingers.
Q from [C] - Control is usually the typical quiet Emotionless Girl, but when she starts to fight seriously all that goes down the drain. And when she uses "Cannibalization", this trope ensues◊.
Touma of A Certain Magical Index, episode nine. So very creepy and so very very awesome.

And intentional. Considering he's not even an antihero, the psychological warfare aspect is neat.
Accelerator is always seen with an evil smile when he is enjoying a good fight or a massacre, maybe because his awesome powers makes many times the fights boring, for example when an army tried to beat him,

when the Misaka sisters tried to fight him and one the most boring "fights" he had was when Mikoto Misaka tried to attack him, he really looked bored

.

Code Geass:

Lelouch right after he successfully orders a collective suicide with his handy-dandy new geass. Being only semi-crazy, he otherwise reserves it only for special occasions (such as having just added another few digits to his kill count).
This is also the apparent default expression for any Geass thralls ordered to kill someone. Including themselves.

V.V. has one during most of the time he's piloting the Siegfried against the Black Knights during their attack on the Geass Order.

Perpetual Frowner Vicious from Cowboy Bebop rarely smiles. This only makes it spookier when he flashes a particularly chilling slasher smile right as he's picking up the Anti-Hero lead by the neck and throwing him through a stained glass cathedral window.

Tongpu from "Pierrot Le Fou" sports one throughout the episode.

Senku's smiles from Dr. Stone border on this whenever he says, "Get excited."
Black Goku from Dragon Ball Super sports a big one when he is about to kill off Future Trunks.
In the filler "Garlic Jr. arc" in Dragon Ball Z, when Piccolo is infected with the Black Water Mist and turned evil the first thing he does to let us know this to break into one of these smiles.

Turns out he's actually faking being infected though

.
Anemone from Eureka Seven displays a few of these when she fights.
K of From the New World. Holy hell.◊ A kid should not have such a bloody face, let alone unleash a tranquil yet heart-stoppingly horrific smile after killing 1,000 people in a single day.
When

the fake Ashleigh Crichton

backstabs his allies in pursuit of a Philosopher's Stone in Fullmetal Alchemist: The Sacred Star of Milos, he moves from his relatively open and friendly smile to a sadistic grin. At this point his Affably Evil demeanour vanishes entirely.
Gundam:
Last Order: Final Fantasy VII Sephiroth who only ever has a Psychotic Smirk in the original game other media, cracks a surprising grin when clashing with Zack Fair in midair.
Hero Mask has designated Serial Killer Grimm. Check it out for yourself◊.
The Numbers Cyborg Due from Magical Girl Lyrical Nanoha StrikerS whenever she goes for the kill, which is almost every scene she's in.
Dr. Hell from Mazinger Z and Great Mazinger never smiled. He GRINNED (usually when he thought he was winning or believed he had won. Or simply when he felt people were frightened of him). And it was deeply disturbing. It was even creepier in Mazinkaiser.

Tetsuya Tsurugi, The Hero from Great Mazinger, was a Broken Ace usually wore a grim, angry or bitter expression. But when he grinned in battle, it was very eerie.

Asuka cracks a lovely example of this smile when fighting the Mass Production EVAs in Neon Genesis Evangelion: End of Evangelion.

And the EVA units gives it right back, as EVA Unit 01◊ and the Mass-Produced EVAs◊ demonstrate.
Even Shinji shows a couple, most of them during the battle with Zeruel.
Some people regard Rei's rare smiles this way as well.

Ookami Kakushi: The maid in the second half of episode 12 advances on Hiroshi while simultaneously unbuttoning her uniform top and flashing her best smile.

Issei indulges in this as well.
And in episode 11, whenever Sakaki, now having gone off the deep end, actually does smile, he alternates between this, and Smug Snake smirks. Naturally, the latter is a little less creepy.

Shonen Bat/Lil' Slugger from Paranoia Agent.
The first episode of Persona 4: The Animation has Yu with a (completely heroic and yet still disturbing) slasher smile on his face while summoning Izanagi for the first time.
Pokémon:

Jessie, in her crazy moments. Here's an example (Tracey Gets Bugged, episode 97)
If a Pokémon has sharp teeth and isn't Ugly Cute, expect its grin to look like this.
Played for Laughs with Sophocles. He's a little...too interested in the Rotom Dex; wanting to "examine" its "programming" while brandishing a screwdriver.

Drosselmeyer's smile◊ in Princess Tutu would almost seem like a Cheshire Cat Grin if it wasn't for the fact that he's stark raving mad and takes pleasure out of people's suffering.
Sayaka from Puella Magi Madoka Magica. After being pushed close to her Despair Event Horizon she is seen smiling and laughing while tearing into a witch with her sword. A witch that

looks like her love rival

. While covered in blood. While her best friend watches on. Poor girl.

Sayaka does that again during her conversation with Homura in Puella Magi Madoka Magica the Movie: Rebellion. She flashes a menacing-looking grin

as her reflection becomes that of Oktavia. Homura tries to attack her, but Sayaka transforms into Oktavia and vanishes, leaving only her cape behind.

Homura Akemi herself

very, very briefly develops one in Rebellion as

Madokami comes down to take her to heaven

. It serves as a short and extremely unsettling warning that something's about to go horribly wrong, confirmed about thirty seconds later when

Homura proceeds to hijack Madoka's powers

.

Queen's Blade: Right before she blows up a part of Vance Castle in episode 1 in an attempt to kill Reina, Melona flashes a grin that's all teeth and malice and WAY too big for her face.
In the 10th episode of Phantom ~Requiem for the Phantom, when Reiji begins chasing after Scythe Master, he starts breaking into this◊ twisted grin. Combined with his creepy laughing and this little piece playing in the background and the whole thing easily goes into Nightmare Fuel territory.
Chiri gets one completely out of the blue at the end of an episode of Sayonara, Zetsubou-Sensei. Its utterly random appearance combined with its large number of teeth made it horror in its purest form.
The Anti-Hero protagonist of Shamanic Princess directs one at her rival after completing her first Transformation Sequence, made even creepier by her weird eyes. It's one of your first clues that this is not your average Magical Girl anime.
Frequently sported by Viral from Tengen Toppa Gurren Lagann.

Which is fitting, given that he's part shark.
Simon also gets one of these when he

turns on Rossiu and yells at him about how Rossiu's "gods" killed Kamina

.
Lord Genome in episode 15 sports one while he is beating the shit out of a mecha with his bare hands.
Kittan gives us two very good Slasher Smiles; one in the Parallel Works video starring him,◊ and an especially badass one◊ in Episode 25.

Dilandau from The Vision of Escaflowne has every kind of slasher expression in the book.
At the end of the Weiß Kreuz OAV, Ken Hidaka perfectly calmly prepares to kill the man who tried to set up the deaths of his entire team. Then he actually pulls the trigger.
Yu-Gi-Oh! GX: Hell. Kaiser. Ryo.

Also from GX, Saiou/Sartorious at first only sports a Psychotic Smirk but graduates to this as a sign that he has been completely taken over by The Light.
Yu-Gi-Oh! ZEXAL: Vector, to highlight his insanity.
Yu-Gi-Oh! ARC-V: "Awakened" Yuya was capable giving these out constantly.
Manga
Kunitoshi Joukyuu, the protagonist of AIKI, loves using these.
Agito of Air Gear. He has this whole shark fang thing going on.
Iwao Washizu from Akagi. The smile gets wider and wider the more time he's on screen.
Angel Densetsu's Kitano.
Assassination Classroom: Koro-sensei is a Perpetual Smiler, who's almost always seen with a Cheshire Cat Grin. So when he becomes extremely angry and breaks out his Game Face, his smile turns into this trope full-force, with his teeth becoming a lot sharper and more menacing.
Attack on Titan:

Annie

smiles like this

when she is correctly accused of being the Female Titan. Made even creepier since this is the only smile (or any other expression other than indifference) she's given so far in the series

. Take a look at the way it's rendered at the manga◊. Sweet dreams.
This is also the default expression for some of the Titans due to the way the skin on their faces has stretched. Here is an epic specimen◊. No wonder

Reiner

, of all people, freaked out.
Eren frequently has one whenever he's thinking about killing Titans◊, or when he

threatens to make Reiner and Bertolt's deaths as "painful as possible."

Armin

of all characters, pulls one while

lying to Bertholt about how Annie is being subjected to torture.

It's actually kind of jarring.
In chapter 51,

Erwin

sports one after finding out that

Titans were once humans

. It was so unnerving that even Levi was disturbed by it.

Axis Powers Hetalia: Russia signature move when he's not being a Stepford Smiler or wearing a Psychotic Smirk.

Japan imagines Italy pulling one in the strip where he makes binoculars to read people's thoughts. "I'll touch the back of your head to my heart's content", indeed.

Osaka's attempt to "wake up" Yukari in Azumanga Daioh fell into this from a different angle. Osaka always looks a bit blank, and she was half-asleep when she tried it... which just resulted in her standing in the doorway with a blank, empty smile and a large knife. She had no violent intentions, but she sure looked like someone was gonna get stabbed.

Probably her. Earlier in the episode she expressed a lifelong dream of waking someone by banging a ladle on a pan next to their ear. The only thing keeping Osaka from cutting off her own hand was Yukari woke up when Osaka opened the door.
A slightly more trope-y Slasher Smile (more of a Slasher Smirk) is here, at about 0:40.

When Guts, the Anti-Hero from Berserk, smiles, it is usually one of these. This should be your signal to run, as he's usually in a blood-spilling mood when he's got that grin.
Black Butler has a few examples even in the original Manga adaptation:

Grell Sutcliff sports these on occasion, especially due to her shark teeth. Made even better and creepier by the fact she had just finished murdering someone a few seconds ago and is covered from head to toe in blood. Too bad it is rarely seen outside of action scenes, because she's too busy being a goofball, playing with safety scissors. But when she does show them, best not to stay around.
Surprisingly, Mey-Rin can flash one as well, as evidenced in Chapter 165.◊

Anti-Hero example and a subversion: Revy from Black Lagoon routinely wears this kind of grin when she's busy gunning down bad guys, particularly during the first major shootout of the series, where Rock sees her smile for the first time and is extremely creeped out. However, that's just Revy on a normal day. What you really want to watch out for is when she drops the grin and goes all emotionless and monotone, because that's when she stops pointing her guns at the bad guys and starts pointing them at everyone.

In the manga arc El Baile De La Muerte, Roberta, as her sanity continues to spiral downward into Ax Crazyville, starts sporting these. And so came the time when she snapped one of Shenhua's kukris, WITH HER TEETH, while wearing THE slasher smile of slasher smiles. Badass.
Creepy Twins Hansel and Gretel take this trope to a ridiculous level. Think vampires.
Balalaika's a kid in a candy store during the "Fujiyama Gangster Paradise" Arc. She's ordering hits, snapping necks, and

holding a gun to Rock's head

with that huge grin.
And, more and more, Rock has been showing a Slasher Smile. You first see it right at the beginning, when Revy challenges Rock, a Japanese salaryman, to a drinking duel.

Bleach:

This is used to identify characters who fight for the love or madness of fighting rather than higher ideals, such as with Kenpachi, Ichigo's inner Hollow, Ikkaku, Nnoitra, Ginjou,

and Unohana

. Ichigo sports one in battle sometimes as well, usually when under the control of his inner Hollow.
This is used to identify scientists unleashing their chance to experiment on others For Science! or reveal any bizarre inventions they have created. This tends to be as much a problem for their allies as for their enemies. Examples include Mayuri and Szayel..

Possibly one of Mayuri's greatest moments with this is in chapter 593, when

he injects a zombified Hitsugaya with a drug that forces him to repeat his past over and over again, asking him if he remembers when he was drugged

.

It is used to emphasise a character on the battlefield is unhinged and descending into insanity, such as with Tsukishima and Nianzol.

Joshua Christopher of Chrono Crusade has a tendency to smile like this, thanks to the demon's horns on his head driving him insane.
Riful from Claymore shows one when

she first encounters the Abyss Feeders

. Made creepier by the fact that

there's a large bite out of her head

.

Ophelia wears one as her usual facial expression because, well, she's what happens when you give The Ophelia a BFS.
Taking Ophelia's cruelty to new heights, Roxanne has an arsenal of rather unsettling smiles. In fact, some of her smiles are also her Nightmare Faces: for example, while losing all her limbs by a recently ressurected Cassandra's Awakened Being form she reacts like this.

Here is another example, occuring when she

pummels Cassandra with her claymore's handle

.

Go ahead, mess with

Shiro

from Deadman Wonderland. You're going to wish you never did once the Wretched Egg takes over and unleashes a unsettling grin◊ (complete with a skrkt sound effect, no less). Even moreso without◊ her mask.◊ Chapter 53 takes the best of both worlds and makes an already chilling smile incredibly worse.
Death Note:

As L dies,

before he

closes his eyes

he sees Light looking at him with one of these.

Higuchi, too,

after getting the Shinigami Eyes. One look at that creepy face and death will follow, without the Death Note.

Light again, during the finale (at least in the manga), sports one so big he gets cross-eyed.
Mikami Teru, one of the most psychopathic of the Kiras, also sports one of these on occasion.
The Death God Ryuk also has one permanently etched to his face, along with More Teeth than the Osmond Family. Light showed what a badass he is when he only was seriously freaked out for a few seconds, when Ryuk spontaneously appeared in his bedroom.

D.Gray-Man's Tyki Mikk will do this sometimes. This is a sign that he's about to pluck out your heart. The Millennium Earl is a cross between this, a Stepford Smiler, and a Monster Clown with his perpetual huge, cheery, and absolutely horrific grin. In fact, every single member of the Noah family seems to do this occasionally.

Which now includes the Fourteenth, which is downright disturbing considering his host is Allen Walker. Seriously, who expected the kid to ever look like this?

And now

Allen

doesn't even need the 14th Noah to do this. Somehow, he manages to make such smiles even worse.

And the when the Earl is pissed off, the preexisting smile goes so far off the deep end that hiding under the bed begins to seem like a very attractive option. Meep?
For someone who doesn't smile very often (or only smirks), Kanda seems just too creepishly happy when the room collapses on him and everything turns into empty space in the Ark. When he comes back, he starts his day by arguing with Allen rather than thinking about how he could've died.
Road Kamelot does this sometimes as well too, especially when she starts to get too much fun out of tormenting the main characters.

Dragon Ball Z: Zarbon manages one that's just twisted enough to be freaky, just before transforming into a... rather unattractive salamander-looking thing.

Captain Ginyu breaks into one

right before he uses his body change ability to switch bodies with Goku

.
Frieza often has one◊ on his face, taken Up to Eleven when committing genocide◊ on the Saiyans complete with Evil Laugh.

Golden Frieza has a particularity ugly one◊.

Who could forget Cell?◊ Imperfect◊ (with no teeth) and Semi-Perfect too◊
And Gohan, Gohan sporting a downright menacing one while blowing Cell away with a one-handed Kamehameha.
Vegeta gets a magnificent one after getting possessed by Babidi and becoming Majin Vegeta◊.

Even before that, he sports one◊ after he kills Jeice.

Super Buu and Kid Buu smile like this by default since they're both textbook definitions of Ax-Crazy characters (or forms in this case).
All the movie villains wear one, but Broly is the strongest example◊.
Super Android 17 from GT deserves a special mention◊ complete with drool.
Goku of all people sports one right before he turns Super Saiyan 3 for the first time.

Just about everyone in Drifters. It could even be said the heroes do it more than the villains.
Dusk Maiden of Amnesia gives us the horror that is Shadow Yuuko.◊
Hiruma Youichi from Eyeshield 21 has one of these, aided by his fang-like teeth and his habit of constantly carrying large guns when not on the field. In fact, he does it so often that he scares his teammates when he DOESN'T have a slasher smile, and uses it to his advantage against his opponents.
There's been a few characters who do this in Fairy Tail:

The crown for the most disturbing Slasher Smile goes to an all-around psychopath named Jackal, a member of Tartarus, which he sports while slaughtering the Magic Council, as well as forcing a Sadistic Choice on Lucy involving her choosing whether to save the life of a former Magic Councilor... or a pregnant woman, who was crying and trying to reassure her unborn child that everything would be okay. Yes, the Tartarus arc took the Darker and Edgier level of this series Up to Eleven like never before.
Though a machine manages to give him a good run for his money. The arc's Doomsday Device, Face, a large pillar with, well, a face on top, looked kinda stoic when we first see it. It turns out there's more though,and we see some with...rather creepy smiles on them.
That's nothing. Mard Geer, anyone?

Fruits Basket: Hatsuharu Sohma's Split Personality, Black Haru, has some pretty disturbing smiles that are nonetheless better than the alternative (in the vein of "I'm going to love kicking your ass" is better than "I'm going to kill you").
Fullmetal Alchemist:

Both Envy and Kimbley have serial slasher smiles.
Greed,

both his first body and in Ling's

, have this. Pride's shadows also usually have this default expression as does

his body after he eats Gluttony

. Must be a family trait since Father was shown to have one

back in the days where he was only a blob in a flask

and he can still pull it off as shown

When he leaves his 'human form' which is just a humanoid blob with these and eyes

.
Barry the Chopper has one built into his helmet.
Some of the minor characters even have these, such as General Raven, when he's trying to offer someone immortality and in his Eye Catch, and also some of the more unsympathetic State Alchemists that participated in the war.
In the manga and Brotherhood, Truth almost always has this expression on his face, because he's a sadistic dick who enjoys handing out ironic but disproportionate punishments to people who try to break the laws of the universe. The only exception is

when Ed correctly offers to sacrifice all of his alchemist powers to get Alphonse back

, Truth displays a real happy smile as he cheerfully

congratulates Ed on choosing the right answer and opens the way for him to retrieve Al and dissolves into nothingness

.
Wrath from the 2003 anime version constantly has these, especially when he's fighting.
Gluttony adopts a slasher smile after

Dante destroys his vestiges of humanity

in the 2003 anime.
Also in the 2003 series, Lust adopts an eerie one when she attacks Scar in the 18th episode.

Yuno Gasai of Future Diary has a combination of one of these and a Moe Stare on her face on a more or less permanent basis. She is... not well.

Minene also sports a kill grin as her default expression, though unlike Yuno, she keeps her cool most of the time.

Gankutsuou: The eponymous Count wears a rather terrifying example of this when everything is going according to plan (which usually involves a humiliating and/or painful death).
Yomi from Ga-Rei puts one on when she's under control of the Sesshouseki. It's even creepier when her eye colour inverts.
Kuroudo Akabane from Get Backers's happy face.
With Getter Robo, it'd be easier to list the characters who don't have one of these plastered on their faces most of the time. Ryoma in particular seems to have this as his natural expression.
Kagura from Gintama gets one when her Yato side kicks in harder than she can control.

Also her brother, Kamui.
Even Shimaru does this to Katsura while the latter gave him intoxicated tea.
Besides the above examples, this trope is usually Played for Laughs.

Ryuuhei Sawamura and Bryan Hawk of Hajime no Ippo.
The Master of Synapse from Heaven's Lost Property.
It's hard to find a minor/major character in Hellsing who doesn't invoke this trope.◊
Kohta Hirano, from Highschool of the Dead, often dons one when fighting "Them". Contradicts nicely with his usual personality.
Tsuchiya gets one in Holyland chapter 144 just before he turns a fight around.
Killua from Hunter × Hunter gets one, holding not a knife, but the still beating heart of his latest victim.
This is Koko Hekmatyar's default facial expression in Jormungand. Though she rarely does her own dirty work, the fact that she is a dealer of death makes this appropriate.

Also her older brother, Kasper and his bodyguard Chiquita.

Akura-ou from Kamisama Kiss, being a Psychopathic Manchild, has this as his default facial expression. One of the main protagonists, Tomoe, also tends to sport one when he is about to do something nasty.

Small surprise since he used to be Akura-ou's partner in crime.

Half the cast of Karakuridouji Ultimo probably has one. It doesn't matter who it is. Piss off anybody and you'll be greeted with any of these expressions.
Kare Kano: In His And Her Circumstances, there are instances where Yukino Miyazawa sports one of these.

In the anime Yukino gets an epic series of different slasher smiles in a rampage after

Tsubasa

presses her Berserk Button.

Katekyō Hitman Reborn!: Birds. And Mukuro as well. Hooo Boooy...

A few members of Tsuna's harem family do this sometimes too, namely Gokudera, and Hibari.
Xanxus too. His smile is terrifying and hot.
Bel

and his twin

. Who also adds Cheshire Cat Grin and evil giggles to the mix.
A certain Big Bad named Byakuran.

Kaguro from Kekkaishi almost constantly has one of these, and an endless supply of lethal blades to back it up.
In Kimi ni Todoke, when Sawako Kuronuma tries to smile it usually look like this.
Warsman, from Kinnikuman, is a cyborg. Predictably, he normally can't smile... unless he's in his batshit psychopathic personality, in which case he sports the Warsman Smile. He did use it once, while normal, to catch an arrow in his mouth, though.
One episode of Kyou no Go no Ni mentions how nobody remembers seeing Emotionless Girl Kazumi Aihara ever smile. If the first episode is any indication, it's because her smiles end up as one of these...
Mimi of Lovely Complex wears one of these when threatening Risa.
Mahou Sensei Negima! has Tsukuyomi doing one of these when she fights Setsuna.
Majin Tantei Nougami Neuro: Neuro has a psychotic grin most of the time, and then he reverts to a parrot-headed-Eldritch Abomination. There's also the twisted, insane looks of the criminals as they confess.
Michiko from Michiko & Hatchin sports one right before she breaks through a police roadblock.
In Monster, the unspeakably evil Johan Liebert, commits Mind Rape on a former cop who had killed a boy while drunk and is trying to atone, playing on his guilts. He eventually asks him how he would look his estranged daughter in the eyes and then realizes that he's got him, and then makes one of the most unsettling and terrifying smiles imaginable before asking "well Richard, how about a drink?"

The likes of Roberto, Peter Čapek, Hartmann, and Christof Sievernich have some quite unnerving slasher smiles in their own right.

Shark Fujishiro from My Bride is a Mermaid often pulls off a lot of these right before trying to eat Nagasumi.
My Hero Academia: Tomura Shigaraki's face is usually hidden by a disembodied hand covering it. However, when that hand is off and he shows his face, he's capable of making some pants-crappingly creepy smiles◊.
Akane and Akari seems to do this at least once per chapter in My Monster Secret. Considering the light-hearted tone of the series, the trope is completely Played for Laughs. Later, Karen seems to be playing the trope seriously, until she reveals her Nice Girl side and began saying adorable things while making this face.
Naruto:

Gaara displays a particularly frightening one of these during his fight with Rock Lee during the Chuunin Exams, after Lee knocks off the sand armor covering his face. It gets worse. Apparently he has that expression 24/7. It's only hidden by the sand armor. After his Heel–Face Turn, Gaara lost the creepy smiles.
During particularly grueling battles, Naruto (or rather the Kyuubi displays this, most notably when Sasuke talks to the Kyuubi in Naruto's mind).
Naruto also (by himself) displays two slasher smiles in the 101st episode of the anime.
And here's another exemplary performance from Gaara◊.
Hidan often wears one in battle.
Zetsu seems to have this whenever he's battling someone.
Kisame. The only times it usually leaves his face are when he's using a jutsu and has to expel water from his mouth.
Kabuto gains one after he

absorbs Orochimaru's DNA.

Sakura gets one in a comedic fashion after Konohamaru insults her.
The normally-stoic Madara Uchiha instantly develops an epic◊ one when he feels the First Hokage's chakra. Between him, Sasuke, and Itachi, it looks like terrifying expressions are just another part of the Big, Screwed-Up Family.
In Chapter 677, as Madara activates the Infinite Tsukiyomi, we get the wonderful picture of Kaguya gazing over the world with the moon as her Third Eye◊.

Even a nice guy like Monkey D. Luffy of One Piece gets one of these, in the 8th opening for the show after landing on a marine ship. Luffy is full of epic grins◊.

Zoro does this◊ often too, which is suitable for a character who is often accused of being insane…or a demon.
Sanji cracks some good ones in series, notably towards the end of his fight with Jabra◊ and later when fighting Oars◊. But his grin when talking about taking down Big Mom viva cake is the winner◊.

Sanji's brothers Yonji and Niji do this often, Yonji◊ when taunting the Straw Hats and later Niji who gives an especially creepy one◊ when he's about assault Cosette.

Gecko Moria has a permanent one, but it's most apparent during his Villainous Breakdown.
Donquixote Doflamingo has this as his default look, appropriate for what seems to be One Piece's counterpart to The Joker.
Eustass Kidd sports one almost all the time, Funnily enough, his face even looks quite similar to the Joker, but even he isn't quite as psychopathic as Doflamingo.
Blackbeard has had a few.
This happens to the Straw Hats (minus Luffy and Nami) when Oars has his horns stuck to the ground and unable to move. Cue the Straw Hats' slasher smiles and a nonchalant, epic, off-screen beatdown of Oars.
Much like the Oars example, Luffy, Robin and Zoro get slasher smiles (and Glowing Eyes of Doom in the anime) when they reach the cold side of Punk Hazard and see centaurs wearing warm clothes.
Trafalgar Law rarely shows any emotion, but when fighting Vergo he lets one◊ slip across his face.
Creepy Child Sugar gets one of these in Chapter 758 when she goes after Luffy.
Sabo is a nice guy but... oh jesus◊ one might start wondering if the Revolutionaries are completely good or not.
Ladies and gentleman, say hello to Sanji's blushing bride◊ to be.

Two teens of mass destruction of Out Code lapse into this when their real personalities are exposed (Psycho for Hire and Manipulative Bitch, respectively). Interestingly, both of these characters were frail-looking girls. The Mad Scientist who gave them their powers seems to owe his look to Dr. Tomoe.
Harry from Outlaw Star gives a creepy one when Gene figures out he's been trying to Mind Rape Melfina and another when talking to Melfina about how they're Not So Different.

Aisha Clanclan is usually found either smiling a mischievous smile or a genuine smile, due to being a bit of a Genki Girl. But when she gets an excuse to fight with the full power of a Ctarl-Ctarl, such as when she realizes her opponent in an MMA fight

is also a Ctarl-Ctarl in disguise

, her smile◊ becomes considerably more malicious.

Lots of characters in PandoraHearts pull one of these at times. Especially the Baskervilles and Will of the Abyss.

Break does this at times too.

Several characters in Rosario + Vampire pull this off nicely, but the best example would be Aono Tsukune in his "Ghoul Form." Bonus points for grinning at an attack just inches from his face and then proceeding to beat the shit out of everyone in front of him.
The various Blood Knights in Samurai Deeper Kyo often have this in their faces while really enjoying a fight. Top dog Onime no Kyo combines it with Red Eyes, Take Warning and the Glowing Eyes of Doom to create a visage unparalleled in its ominousness.
Gyororo from Sgt. Frog.

We also see Keroro with a manic grin on his face when he learns Natsumi is afraid of slugs.

In Soul Eater, Maka gets one of these when she goes completely nuts while fighting Chrona◊.
Legato Bluesummers from Trigun has probably the most nonchalant one ever.

His boss, Millions Knives, has quite a few of his own.

Kurogane from Tsubasa -RESERVoir CHRoNiCLE- often does this. In fact, that's the only way he ever smiles.
Vinland Saga: Thorfinn, when he does smile. Thorkell's is more of a Slasher Grin, with a big thumbs up thrown in there.
Haguro and Ryuuko of Wolf Guy - Wolfen Crest revel in this.
Yu-Gi-Oh!: Dark Marik constantly sports one.

Dark Bakura often has one as well, even moreso during the final arc.
Not so much in the anime, but during the Death-T arc in the manga both Kaiba brothers each get a couple at the prospect of killing Yugi and his friends.

Seto actually sports one a lot in the manga, especially when he's about to crush an opponent during a duel.

In the early chapters of the manga, when Dark Yugi just awakened from his 3000-year long slumber in the Millennium Puzzle, appearing like he still had a few screws loose, he almost always sported one... especially when he declared to a rival that they would undergo a "Penalty Game" if they lost to him. He sports it from time-to-time in later chapters, but by then he mostly favors the cocky grin and whenever he inflicted a Penalty Game, it was more of an intense, scary frown.
Dartz gets one when

he uses the Seal of Orichalcos in the final battle against Yami Yugi and Kaiba.

Quite a majority of the Duel Monsters themselves sport permanent slasher smiles, especially the more demonic ones. Heck, Slifer the Sky Dragon looks like he has TWO!

In Zatch Bell!, we have this little beauty from Zophise.
Mahiro Fuwa in Zetsuen no Tempest seems to have an emotional spectrum that ranges from 'indifferent' to this◊. Frighteningly enough, he's regarded as far less of a threat than his best friend.
Robo of Wasteful Days of High School Girls rarely ever smiles, but when she does it's rather unsettling if Ota is to be believed.

Akane: I haven't seen Robo smile like that in a long time.
---